Welcome to You Need Help! Where you seek advice and we try our very best to give it.
This has traditionally been done by way of individual Formspring accounts, Autostraddle's Tumblr and a Formspring Friday column, which has all been very fun and insightful. But, because Formspring has a character limit and we're wildly optimistic w/r/t our time-management skills, we thought we'd go one further and let you use our ASS private messaging to share advice-related feelings, too.
For more info on sending in questions, see the bottom of this post. Let's get down to bossing people around on the internet! Today we've got someone who is falling in love on the internet, as we are wont to do.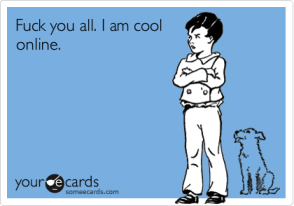 Q: What do you think about people who have long distance relationships online with people they've never met? Can it be real love if you haven't met the person in real life?
I'm answering this assuming that you've already done the following things:
+ video-chatted
+ talked to one or more of her friends on video or voice chat & vice versa
+ called her from a location other than your room
+ thoroughly vetted her facebook page
+ mailed her something
So, now for the answer! "Real love" is a difficult thing to define, but I think I know what you mean and um — [ready your keyboard-typing fingers to vehemently disagree with me, my long-distance lovers!] — I would have to say "not really."
Let me explain. I think you can love a friend you've never met in real life and you can even love a friend you'll never meet in real life. Sometimes it's even easier to build bonds online because you're less inhibited. There's actually a really interesting PBS/Frontline documentary called "Digital Nation" you should check out which addresses the fact that with so much of our lives online these days, maybe our cyber-relationships are just as important as our "physical" relationships.
I also think that the quality of your online relationship is pretty good indicator of how well it'd work in the "real world." I think the odds are absolutely in your favor.
But they're not guaranteed. Can you develop a genuine, sustainable relationship with someone you've not met IRL? In my opinion — no.  I'd say you can't be SURE that it's "real love" until you meet in person, see how you jibe romantically and, ideally, MAKE OUT. 
See, over the last five years I've probably been through the process of meeting someone online, developing a friendship with them online, and then, many days, weeks, months or even years later; meeting them in person, like a billion times. Not necessarily romantic interests, but friends. From this I've learned that there is so much you don't know about somebody 'til you meet them in real life. I don't want that to sound sinister, 'cause it's not — it's not like people turn out WORSE than you'd imagined or even BETTER. It's just — MORE.
There seems to be no exact science to predicting who will surprise you and who will be just as you'd imagined.
Ultimately, however, you really know very little about your overall relationship compatibility with a person based on one-on-one chats/phonecalls/video. You and your girlfriend can more or less control the image/story you present to one another (unlike in real life), and that can be really limiting even when it's not devious or even intentional.
You thoroughly know only one element of them: how they interact with YOU, one-on-one. That's it! Maybe you know a bit about their internet activities or they've told you things about their IRLives but that is so, so, so, so different than actaully witnessing their life.  (This "not real love yet" situation I'm discussing w/r/t online relationships applies to many IRL relationships which begin in tiny bubbles as well, like camp girlfriends or someone in another relationship with whom you can only cavort in private.)
It takes many months sometimes to really understand a person and subsequently understand if you can co-exist in a happy, mutually beneficial, world.
I also think that our increased focus on technology has devalued the importance of physical chemistry. This isn't just finding the other person attractive, it's feeling her in your bones before and after you've met her. It's one of the most magical things about being alive — when you just KNOW, when you literally feel those proverbial sparks when you touch her/she touches you. As women we're not socialized to value sex but the quality of your sex life is often the most important predictor of a relationship's sustainability. Also sexual activities are a place where you get to know each other, too, and where your relationship develops.
Sex is a big deal. You can't have sex with a computer.
In closing, if you want to get into a LDR with someone I really think you should meet asap! In the meantime, I suggest doing things like making each other videos of your lives, your friends, your families or even your job/school. I suggest talking to her friends/family. Also it wouldn't hurt to maybe talk about sex and see where you're at with that.
Also I don't know how old you are — I think when I was younger I may have been more likely to take the risk you're taking than I am now when anything less-than-perfect feels like a waste of time.
One last piece of advice: WHATEVER YOU DO, KITTEN, DO NOT SEND ANYONE NAKED PHOTOGRAPHS OF YOURSELF ON THE INTERNET!!
—
You should probably share your wisdom and overall feelings in the comments! There's a good chance I'm totally wrong or left something out or haven't been yelled at enough today.

To send your question via ASS personal messaging, choose an editor: Riese | Laneia | Rachel
Or ask any team member you'd like: Meet the Team
*If messaging is down, email us! There are so many options, you guys! You could send carrier pigeons!*
For 100% anonymity, contact us through Formspring:  Riese | Laneia | Rachel
Please keep your questions to around, at most, 100 words. Due to the high volume of questions and feelings, not every question or feeling will be answered or published on Autostraddle. We hope you know that we love you regardless.