Hello squirrel friends! Have you noticed something different about Autostraddle lately? Did we cut our hair? Maybe we've been working out? No, silly, we've been redesigned! And we look damn good, if I do say so myself. The redesign will let us do a lot of cool things, like posting actual recaps of Glee, Modern Family and Dexter as their own posts. Also Riese will be covering the Shane Parts of Three Rivers and Two and a Half Men (allegedly). And then every Tuesday I will give you my vision — of the most important and exciting things to happen in the world of Television this week.
This is what my vision looks like: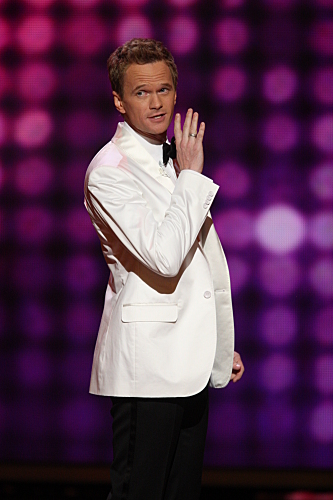 But first, news time! The Best Show Of All Time, Glee! Was officially picked up for a full season yesterday! Yay! In other news, the Emmys happened, and they were awesome! Neil Patrick Harris was the best host evarrr and everything was fabulous and funny and people won awards and Kristen Wiig wore a monocle (thanks to Amy Poehler) and Dr. Horrible showed up so everything was great:
Also, if you love True Blood, you'll love At Merlottes: A True Blood Sitcom (thanks IFC!) and this hilarious montage of Bill talking like Bill (thanks Matthew!).
And omg! THIS JUST IN: Dollhouse season 2 trailer! Yay! Something gay had better happen this season, is all I'm saying…
And now…
The Carlytron Television Awards
for the Week Ending 9/20/09!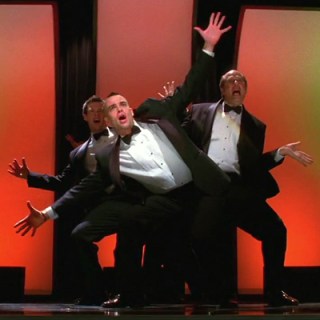 The Number One Feeling Award – Glee
Episode 103 – Acafellas
(by Carlytron)
"Sandy, we voted. When you're in the group it's creepy." – Will
My body has this crazy visceral response to seeing people embarrass themselves: my eyes well up uncontrollably every time someone dances when they shouldn't be dancing, or sings when they shouldn't be singing. This mostly applies to me, but it applies to friends, people on tv, and really anyone who is making a fool of themselves.
Glee has become the thing that makes my eyes water uncontrollably more than anything else ever has (well, Glee and the T-Pain Auto-Tune iPhone app, but that's another story and another album of songs I have yet to record and then weep to). Every musical number this episode made me well up in tears, all but one: Mercedes' rendition of Jazmine Sullivan's "Bust Your Windows," which was siiiick (and is worth a lot of drinks in our drinking game).
We learned so many things this week! Will and his wife are now having sex once a week, which is apparently a lot for them. Puck is into cougars and can apparently sing and play the guitar. And Jane Lynch wants a fog machine and only writes in red pens.
"Every moment of your life is an opportunity for fashion!" – Kurt
Lots of great stuff with adorable lil gay Kurt in this one. His scene where he comes out to Mercedes made me cry. And I never cry.
Rachel: "We need to have a gay-vention. That's a gay intervention."
Tina: "It's K-K-K-Kurt. He's lady fabulous."
Also did anyone else catch Lauren Gottlieb from Season 3 of So You Think You Can Dance as part of Vocal Adrenaline? She was right in the front near the end of their rendition of "Mercy."
The only thing I can say for Glee is to chill out a bit. It's really all over the place and a TON of stuff has happened in only 3 episodes.
This show makes me miss Sparky Polastri.


The Ashley Merriman Award – Top Chef
Episode 605 – Camping
(by Laneia)
What happened on last week's show? A lot! We found out that Ashley has two brothers and one's a twin — neat! And she's an Aunt, which is just as sweet as a butter bean. Oh look, BravoTV.com put up some personal photo diaries — here's Ashley's! Mmmmmm… bookshelves….
So Ashley's Quickfire offering was a cactus jelly doughnut. She obviously didn't win because you can't win anything with pasta salad or doughnuts. Probably not cookies or grilled cheese sandwiches, either. What can you win with? Something fancy. Fancier than a doughnut.
The Elimination Challenge took place in the scorching desert of Nevada, which's probably the most horrible thing the producers could've done to these chefs. I mean, I don't even go outside to check my mail because screw that — it's effing hot out there. Being hot in the desert is the exact opposite of 'ok'. Do you have any idea how much water you have to drink in that kind of heat? Gallons. And then they had to pee in an outhouse. I don't have a problem with outhouses, but I do have a problem with being forced to drink gallons of water which leads to having to take 85 pee breaks in two hours. Where are they washing their hands? Also, camping in general is my worst nightmare.
The good news is, Ashley's dish — Seared Halibut with Avocado Mousse, Tomatoes, Bacon & Braised Romaine — was one of the judge's favorites! It's been a while since the chef's were on their own for the Elimination Challenge, which was exciting because this isn't Top Team Work. Who the hell makes ceviche in the desert? Turns out, at least two people! Bryan was ultimately the winner and Mattin was sent home.


The Secret Gayness Award – Parks and Recreation/The Office
Episode 201 – Pawnee Zoo/Episode 601 – Gossip
(by Carlytron)
So Parks and Recreation came back with a total vengeance this week, this was probably the best episode of the series thusfar and it was totally gay. Leslie accidentally marries two gay penguins and then becomes an accidental gay celebrity. It's so amazing and almost makes me forget all about the horror that was the entirety of season one. Leslie raps, sings "Poker Face," and gets drunk at a gay bar. Then she goes on a talk show and gets yelled at by a cranky right-wing lady and gets all snarky and aggressive on her ass.
Then on The Office, Michael makes up a bunch of insane rumors about everyone to try and cover up the one true rumor, which is that Stanley is having an affair (gasp!). In the process he tells everyone that Andy is gay, which confuses Andy quite a bit. Andy spends most of the episode trying to figure out if he might be gay, and it's handled very well. Kudos to NBC this week for tackling the gay stuff in a smart and funny way, though the NBC comedies usually do just fine in this area. Also, cute alert — Jim and Pam confirm their pregnancy!


The Vidal Sassoon Award For Firing Your Show's Stylist – Gossip Girl
Episode 301 – Reversals of Fortune
(by Carlytron)
Hey, Gossip Girl cast, I know what you did last summer and I think you might have fired your hair stylist? Because I don't know how else to explain everyone's hair this episode. Vanessa's hair is somehow straddling the line between a bad weave and dreads, which is not a good place to be, to be perfectly honest. Dan's hair is longer and curlier and actually isn't all that terrible, but I think some people might not like it. I also don't like Nate's hair, which is sorta poofy.
Additionally, Vanessa's new boyfriend-slash-secret-son-of-Lily-and-Rufus is the worst actor I have ever seen. Wow. And where is Lily!? Gah! I am so worked up about all this that I can't even get into the plot or the hot girls or any of it. Last night's episode was really awesome though, so I'll get more into this next week.
Hot Girl of the Week Award:
The Lovely Comediennes of The Office
The 2009 Emmy Awards
Once again, awards shows make everybody sparkle just a little bit extra. Let's give it up for the ladies of The Office, who break the Hollywood cookie-cutter look every year (also, sometimes it's hard not to just give Mindy Kaling the award every week, b/c she is so funny all the time. Also Jenna Fischer, one-half of our Favorite Hetero Couple on a Comedy Series, an award which will be added to the Emmys next year. Will they beat Blair & Chuck? Time will tell.)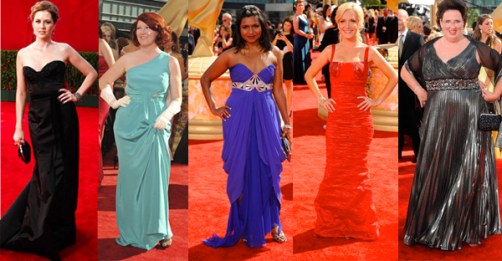 Tron out!