T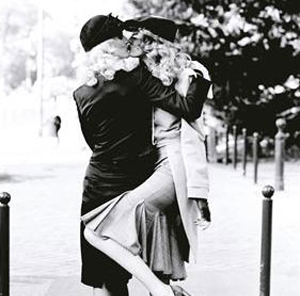 HE WANTING-TO-DATE-GIRLS BISEXUAL: "The Frisky" is on a roll this week! First the scissoring girl and now good advice for a 25-year old bisexual who's just left her male fiance and is nervous about revealing her dating history to all the judgey lesbians. Dear Wendy suggests: "If people are judging you or making you feel bad about yourself, move on to the next person!" She also adds that, "You don't have to share every detail of your past relationship(s) (I wouldn't recommend that at all), but doling out a few highlights … is how you build the blocks to a real relationship." So there you go. Just be who you are and love yourself. Easy!
As a queer lady with a pretty serious history of serious and not-so-serious relationships with men, I testify that this advice-seeker's fear is not unfounded. Well — I generally don't/didn't mind the scorn and teasing from my "Lesbian-Since-the-Sandbox" friends. I told myself that 'cause I'd been frolicking in semi-hysterical opportunity-rich heterosexual privilege for so many years while they'd been suffering in uber-emo alienation-rich homosexual under-privilege (this state of mind involves, we hear, fights with parents & fantasies about Dana Scully the Vampire Slayer or whatever), I could take the insults as payback for whatever hardships I'd consequentially evaded. But f*ck does it drive me crazy when my past-with-men becomes fair game for merciless critique & scorn from girls I date. Either show me The DeLorean or shut the frack up!  (@the frisky)
THE "POLYAMOROUS PUBLISHING PERSON": New York Magazine's Sex Diaries are kinda addictive and increasingly too good to be true, seriously. This week, PPP has a Boyfriend, another regular male lover, a Girl she Wants, and a bajillion orgasms! Also,  sometimes she says amazing things like, "Leave work early to go to Chad's house. We fuck like our ship is going down." (@nymag)
GENIUS GRANTS: It's a fascinating smorgasboard of people who are doing things that are way cooler than the coolest thought you've ever had. "A papermaker dedicated to preserving traditional Western and Japanese techniques; a scientist developing theories of global climate change; and a journalist who helps uncover details of unsolved murders from the civil rights era are among the 24 recipients of the $500,000 MacArthur "genius awards." (@nytimes)
NAVY GIRLS: Navy Women, Redefined: New Navy ads make questionable claims, draw on traits as "stereotypes": "The notion of a "man's workwp_postsis redefined in the Navy. Stereotypes are overridden by determination, by proven capabilities and by a shared appreciation for work that's driven by hands-on skills and adrenaline." (@sociological images)
KIDS THESE DAYS: Kirk Cameron gets it almost exactly wrong: "an entire generation [has been] brainwashed by Atheistic Evolution."
SEXY NURSES: Top Ten Sexiest Nurses: Includes Florence Nightingale and Daryl Hannah in Kill Bill. (@nerve)
ALTERNATIVE LIFESTYLE HAIRCUT GALLERY: Girl-on-Gallery: Alternative Lifestyle Haircuts on Autostraddle dot commmm is hot, print them out and bring them to your alternative lifestyle haircutter.