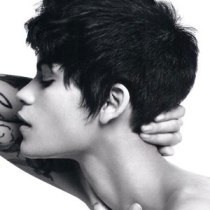 Every Monday we will share with you a gem from the Autostraddle Lesbian Lexicon. This week's definition is accompanied by an illustrated guide: The Autostraddle Alternative Lifestyle Haircut Girl-on-Gallery.
AUTOSTRADDLE LESBIAN LEXICON: "alternative lifestyle haircut"
alternative lifestyle haircut (n) – A haircut or style that indicates its owner leads a life contrary to that of the conservative or heterosexual world. Also known as "the significant lesbian haircut,wp_poststhe acquiring of an alternative lifestyle haircut is often seen as a rite of passage into lesbian adulthood, even if it is not maintained after the initial cut. Like a bat mitzvah, but on your head. Examples include: the mohawk, the fauxhawk, the mullet, the sidesweep, and the Tegan and Sara.
alternative lifestyle haircute (adj) – newly-realized attractiveness owing to a recently acquired alternative lifestyle haircut; alternative lifestyle haircuteness is usually realized through sudden attention from the ladies or the tendency to look better in a shirt and tie.
SECRET SEX: Someone at "The Frisky" (Love.Life.Stars.Style.) saw that episode of South Park where we learned how to pronounce "scissoring," and she's not impressed. She clears up a few things, like that "lesbains f*ck — women like to be penetrated, it doesn't matter if they are gay or straight." She makes a few broad/unfair generalizations, like that "Lesbians save [oral sex] for monogamous relationships and for people they love (or think they love)." The real secret of this article, published today, is in fine print at the very very end: "Originally published in 2007." The Frisky didn't even exist in 2007. In any event, I'm hoping this woman learned in 2008 that vaginal orgasms do, in fact, exist. Or so says The Authority on All Things Vagtastic – Planned Parenthood. (@thefrisky)
PRINCESS CULTURE: Is there a place for Princess Culture in the Life of the Moden Pre-Tween?  "As my niece showed me last night, kids, as always, are smarter than adults give them credit for, and often enough they are able to balance the super girlie princess storylines with many other pursuits."
HAPPY?: Happiness in the United States"It's not because of the multitude of crises we are facing. Women's happiness has been on a downward trend since the early 1970s, when the General Social Survey, a landmark study, began examining the social attitudes of women and men — who, by the way, have gotten progressively happier over the years." (@languagelog)
GENDER BENDER: How Do I Deal With People's Misperceptions of my Gender?"I apparently have a masculine facial structure. In the past three months, I have been referred to as male or called by male pronouns on at least two dozen different occasions, probably more." (@feministing)
COLLEGE LIFE: Right here on Autostraddle, we introduce Lily's College Lesbianage: This week, Lily is desperately seeking