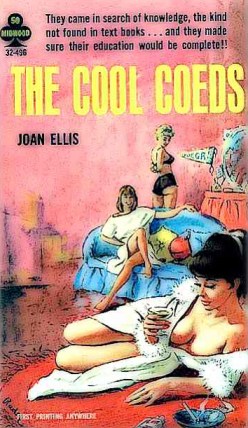 College: A time when straight girls experiment with gay girls, gay girls experiment with straight girls, and a lot of girls (so I hear) go completely wild! And while I've finished my first week at a women's college without experiencing any of the aforementioned experiments, I sense there's plenty of pent-up estrogen on this campus and it's only a matter of time before my lady-loving drama begins. This is of course one of many reasons why Riese so lovingly gave me this column; subtly titled "Lily's College Lesbianage."+
What is this new College Lesbianage column going to be about, you ask? Welll … in addition to sharing my experiences as a young lesbian in college — my attempts at making friends & my attempts at making out (JK I'm great at that) as well as my insider perspective on what the "sisterhood" of all-women colleges are really about — I'll also talk to y'all about the lives of queer ladies at other schools and hopefully snag some fun interviews & guest bloggers too. When I have a lot of money, which will be very soon, I'll be able travel to other colleges and have these experiences with you 'first-hand.'
So … my first week of college. Let's begin.


Always the Bridesmaids, Never the Brides
I'd thought, idealistically, that my first week of school at Barnard College of Columbia University in New York would instantly procure me a million friends, countless options for potential associates, scores of cute girls, many late nights, and a decent amount of alcohol.
However, my level of disillusionment becomes immediately clear during the elaborate convocation ceremony held on the first night of orientation, when the President of Barnard tells us to look at the 580 girls around us and think about how within this crowd we'll find "our future bridesmaids" and "our future best friends" — oh and not just any best friends, but the kind of friends who will one day hold our hand as we scream obscenities during child labor.
My level of disillusionment becomes immediately clear when the President of Barnard tells us how within this crowd of 580 freshmen girls, we'll probably find "our future bridesmaids."
UM…? I look around the crowd of girls hoping I can catch someone's eye to agree with me on this: Maybe I'm just really, really gay, but all I can think about during this prediction of our futures is, "What about those of us who can't get married? What about looking into the crowd and seeing the woman we'll be dating, marrying, the woman who's hand we'll be holding as she gives birth to our child?"
I guess I shouldn't expect to a find a crowd of young lesbians agreeing with me in this room—after all, immediately after getting my acceptance letter, I'd done what any self-respecting high schooler would and joined the Barnard Class of 2013 Facebook Group, preparing myself to get in quick with a bunch of Tegan and Sara-loving Samantha Ronson lookalikes chatting cleverly about their love/hatred for The L Word (like I saw on the Smith College class of 2013 Facebook group). I was wrong.
Not only was the most discussed group forum devoted entirely to how my future classmates were going to find boys, but the women's college = lesbian college stereotype was promptly debunked.
But also; as the week goes on I realize it isn't just because I like girls that I find the boy-obsessions of my future classmates annoying, it's 'cause I'd been hoping an all-women's college would be a departure from the 'hook up' focused girls I'd known back in high school and if anything – it's worse here!
Perhaps back in the day, women going to college was more about finding a husband than getting an education, but I'd figured that this mindset would have died out by now—especially at a liberal women's college like Barnard.


My Number One Feeling is Anxiety Attack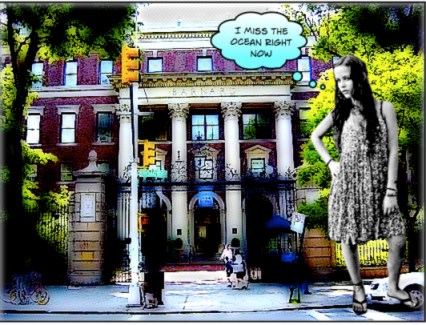 Ok. So. Really, these orientation week issues probably have less to do with being a gay girl in college than they do with being a chronically anxious eighteen-year-old Floridian living on her own for the first time in New York City. My emotions have been all over the map; from elated to miserable, comfortable to extreme, body-numbing anxiety … and though before arriving my biggest fear was "coming out to a new group of people," orientation week is presenting much more tangible obstacles … like that I've already lost three pounds because I'm afraid to eat alone in the dining hall. And! I don't even have the guts to ask anyone to come with me!
Also, I thought I was lucky to get a roommate who considers herself somewhere between "Questioning" and "Bisexual," but it turns out she goes to bed at nine o'clock, which isn't meshing too well with my insomnia and my Love of the Night.
Everyone I've spoken to about my first-week loneliness & misery told me they felt the same during their initial weeks of college … but I have to wonder, where are these people? And why does it seem like everyone else was having more fun than me?

My Lesbian College Life's in Turnaround
As the week plodded on and eventually came to an end — was I the only one looking forward to classes beginning? Yeah? Just me? This is becoming a pattern! — I realized that no, the identically-outfitted boy-hunting girl gang-les aren't the only people here, or even most of the people here. I guess you notice the things that make you uncomfortable most of all.
Truthfully these "annoying" girls are only a small contingency. Most of my classmates are more focused on education but they also wants what any human wants, including me — some kind of love life. Just not necessarily one that ends in marriage.
And luckily, smack-dab in the middle of my first anxious week, I attend a Barnard/Columbia LGBTQ breakfast to learn about all the on-campus queer groups, and being there, surrounded by people who've all been through the same tough thing I've been through, makes me feel a lot better.
It turns out that this community is an incredible thing to fall back on.


I'm Gay and I'm Weird
The weekend before classes begin, I suck it up and take a Columbia University field trip to the Museum of Modern Art. It's there that I finally face the fact that it's not because I'm gay that I'm not able to make instant friends but because I am, in essence, a bit strange.
It's there that I finally face the fact that it's not because I'm gay that I'm not able to make instant friends but because I am, in essence, a bit strange.
My personality, whether belonging to a gay or straight person, is not one that automatically makes new friends and finds perfect groups. I overanalyze every situation and stop being funny and loveable when faced with new people. I live with a total outsider mentality, one I've felt all my life and one most gay people are very familiar with. Perhaps this is why I feel so comfortable in groups of weirdos and misfits and why the museum — full of weirdo art — feels more like home than anything else I've experienced in my first week of school.
The more pretentious and ridiculous the artwork, the more I loved it. I found myself in what can only be described as a child-like bliss skipping between the Picassos, Kandinskys, Mirós, and every other piece of artwork I recognized from my Art History textbook.
I'm standing awestruck in front of a giant Rothko and the painting wraps itself around me like a childhood blanket, like the warmth of my hometown's sun, like the comfort of being surrounded by every person who knows and loves me. I listen to people next to me snidely remarking that they too could just paint a couple of colors on a giant canvas, and I'm glad to be me and not them, even if they are here with each other and I'm alone.
I'm aware that I'm gay, and I'm weird, and I'm okay. And that I'll definitely be here for another few years.
I even take the subway back to Barnard myself, without the seeming "comfortwp_postsof a Columbia tour group—and I think for the first time …
that I could maybe,
possibly,
actually
do this.

A Gay Blessing in Disguise
As the days went on, I kept seeing that it's the things that make me different that make me feel the most at home. Even my sexuality, something I once considered a burden I hadn't asked for, is one of my favorite aspects of life and ultimately the one place I found solace during an otherwise traumatic first week of college. The experience of being gay never ceases to amaze.
Luckily, my school's LGBTQAIDONTKNOWHOWMANYLETTERSTHEREARENOW potential is proving to be a lot higher than I'd expected after searching Facebook months ago.
I'm now on every Columbia University/Barnard College gay organization's email list, I have a very gay-friendly academic advisor (who teaches in the Women Studies department), and I've strolled by a ton of ladies sporting alternative lifestyle haircuts on campus. I've even found a friend to share ridiculous ex-girlfriend stories with (every lesbian's favorite past-time whether we want to admit it or not), showing me, yet again, that I'll always have this community to fall back on.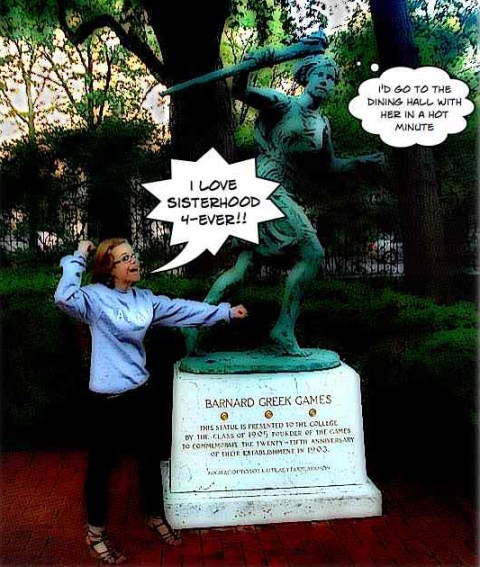 In no time Autostraddle will obvs be near and dear to the Columbia/Barnard community as I'll be dropping AS business cards everywhere I go. I mean … it has to get better, right?
Future posts will hopefully not be so "feelings-heavywp_postsas I explore the rest of the world here and all over the collegiate map.
But for right now all I have are my feelings … and my love for women. And I'm learning my way around.