We've been at this business of art for nearly six years, which means we've said a thing or two about a thing or two: like how to be a queer woman who meets, desires and romances women or otherwise-identified humans out there. So we thought it'd be cool to compile a Lesbian Dating 101 for you, comprised of all the fantastic how-to guides we've published over the last many moons. We've also published a lot of relationship advice on how to be gay and a lot of topical personal essays and reports from the field — about lesbian tinder, being bi on OK Cupid, dating while sober, dating on the autism spectrum, what you learn from moving in with your girlfriend, among so many others— but this post is all about the how-tos. (If you're looking for breakup advice, you better hold your horses for the next issue of Better Together!)
Without any further ado, here you go:
The definitive answer so we never have to answer again: how the hell do you meet other girls who like girls? BRING OUT YER LESBIANS.
How to Choose Dating App Photos That'll Have Babes Swiping Hell Yes, by Vanessa
Even taking personal tastes into account, there are some basic rules you can follow when choosing photos for your dating profile that will help your online dating life thrive.
Hey anyone want a little girl-on-girl culture … in your pants? Well you're not gonna get any if you don't have your pants on. That's one of many tips Phoenix would like to share with you — how to hit on chicks and get girls to go on dates with you or maybe one day have dinner, eat pizza, meet your mom, and have bang bang bang.
"It's okay to be angry. It's okay to feel misled. It's okay to feel stupid. It's okay to listen to 'Jar of Hearts' on repeat."
Forever and always our most popular post of all time.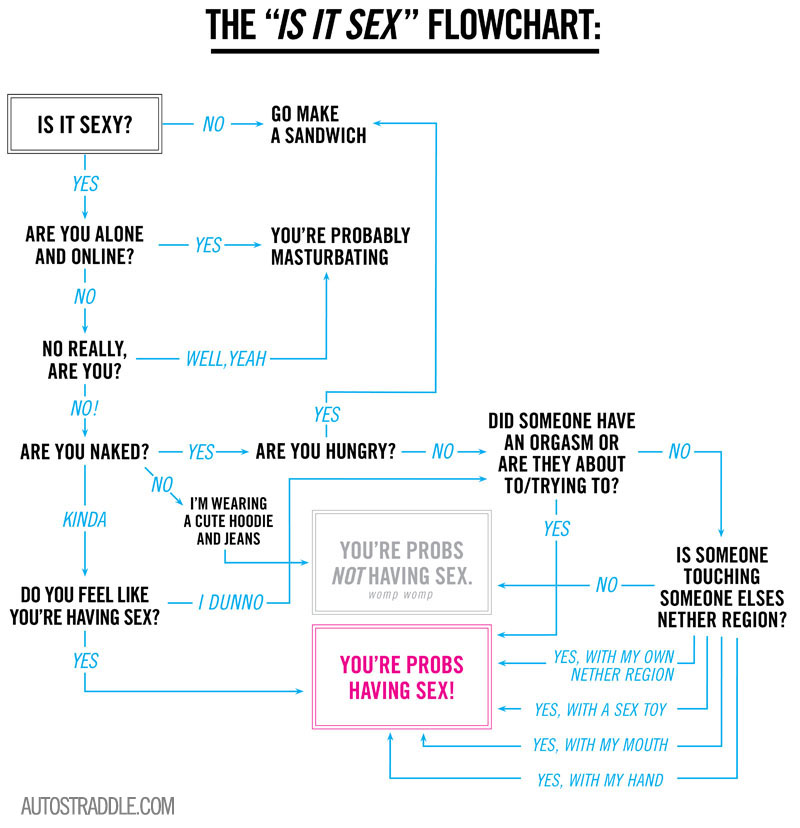 It's hard out there for a sexually active lesbo — how do you get the safe sex info you need when you're afraid of the gyno and lesbians are ignored in sex ed? WELL WE'VE GOT A DOCTOR IN THE HOUSE. Also; a cartoonist. Really you have to see the cartoons.
If you can speed date, you should! And to help you out, we reached deep into our community and compiled some tips and blurbs to get you through the wilderness.
Have you gotten over the giant hurdle of learning how to meet people/women? Are you now faced with the enormous task of convincing those people/women to stick around — properly? Lesbians have failed at romance long enough, it's time you learn how to do it up right. We've got a post for that!
"How long has it been since you last had sex? Are you starting to feel a little anxious? Is everyone starting to look like your type? Are you pulling batteries from the remote control to put into your vibrator? Are you developing irrational jealousy towards people who are having sex while also feeling stressed out and tense when you think about finding a hookup of your own? Well, I've got several options for meeting your next hookup and although it's not a definitive list, it should give you some new ideas — or opportunities."
Should I just go to the bathroom and never come out? Should I fake a heart attack? Tell them I got my period and it's just a beautiful MESS that I need to stop and worship?
I think it's weird that We As A People pretend like we can't date casually, and I think that many of us would actually enjoy the fine art of a casual connection if we could just stop laughing at memes about the Urge2Merge for like, ten seconds. I'm gonna tell you a few reasons why I personally think casual dating is rad and then we'll go over some tips and tricks to actually pull it off. If this is a thing you want, you can do it in 2019! This is our year! I believe in you / us / our ability to not get married on the third date.
Can you argue right? We have twelve rules that say you can. No biting!
A lot has been written about first dates — but what about the second date? The third? Beyond?
For those of you who want a little guidance in your queer bedrooms, you might find your horoscope can be of aid. "What's your sign?" is a totally valid pick-up line, and don't let anybody tell you otherwise. For this guide, I've chosen to deal with sun signs only, as the multitude of combinations involved with moon signs and ascendants and planets is an intense commitment, to say the least. If you're genuinely interested in your complex compatibility with someone else, think about getting a star chart done, as it will tell you multitudes more than sun sign alone.
As far as I'm concerned, barring illegality, there's no such thing as an age difference being "too big" unless it presents problems for the couple. The bigger the differences, the more potential problems. But the key word is potential.
I have put together some suggestions for cis women on thinking through some basic trans issues, including ideas on approaching trans women in a romantic or intimate context. And I want to be clear that working through this stuff applies the same in the context of a casual hookup as it does a romantic date.
"You don't have to be friends with the girl you met on Tinder (even if she says "wanna be friends instead?" after two dates and some exceedingly mediocre sex)."
Juggling multiple relationships at different levels with many different people requires a sturdy relationship skill set that makes poly relationships the PhD of human interaction — not better than other types of relationships, but definitely more complicated. Here are five principles central to successful consensual non-monogamous partnerships that can improve basically any relationship.
So, casual dating is dead, and I'm on a mission to bring it back with this handy guide to classifying what the hell is going on with you and that girl.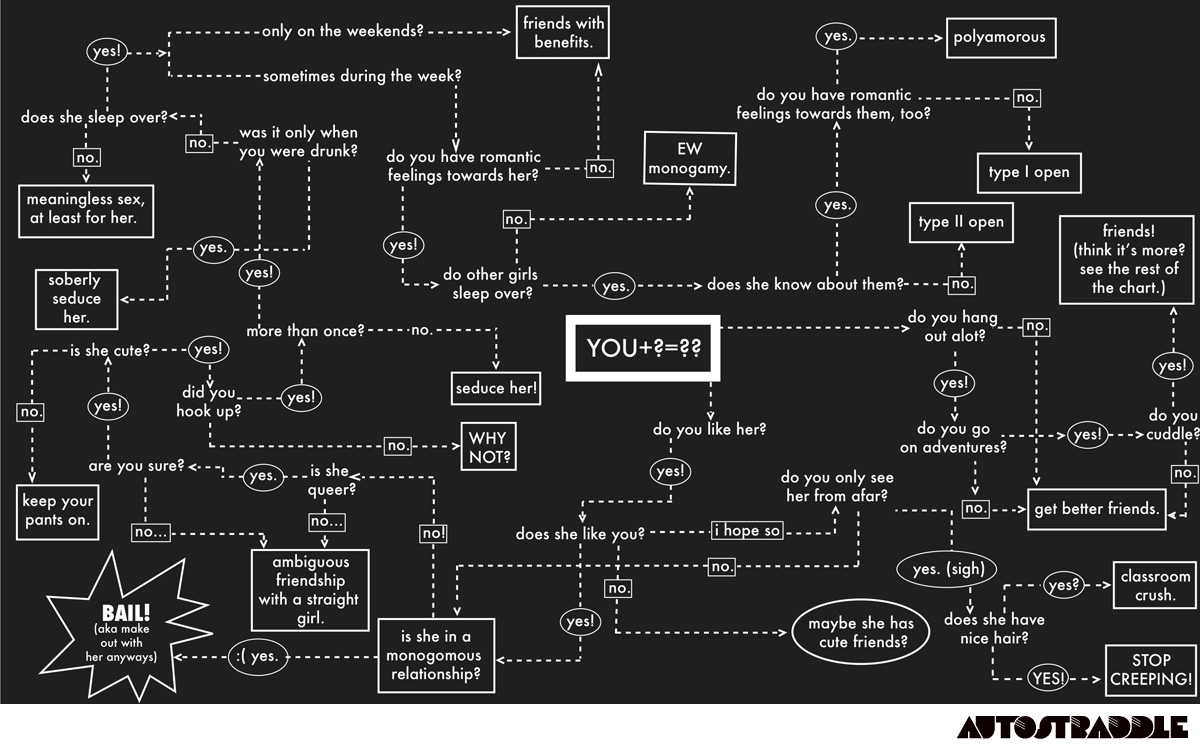 Sometimes having an OkCupid profile isn't about dating, networking, or making friends. Sometimes you think it is, but then it winds up being not. I'm here to tell you why there is no failure on OkCupid, only different angles of success.
"A relatable icon for adult dating is Real Women Have Curves' Ana García bringing index cards of conversation topics to her first date."
Coffee and drinks are easy, but why stick to what's easy? Get creative, but not so elaborate that your date thinks you're madly in love with them and about to propose.
Give her time, give her love and support and when she's ready to whack the rainbow flag bumper sticker on her car, then she will.
In which we discuss the most common misconceptions about polyamory and nonmonogamy in an attempt to help everyone.
As a relative outsider to the OkCupid game, I am proposing a possibly new approach to this online dating game to those willing to eschew norms and take a chance.
She just said, plainly, "We are going to sleep together tonight." And I said, "Oh, okay!"
Some Tinder philosophers maintain that you should never send the first message. I personally think that approach is bullshit. You swiped right; they swiped right. You've both expressed interest on a very surface level. Why wait? Send the first message!
Autostraddle team members share our thoughts about when we sext, why we sext and what sexting means for us.
I'll admit, sometimes my favorite part of past relationships have been the distance, but sometimes the distance was what broke us up. There is no right or wrong way to be in a long-distance relationship — maybe you thrive on independence or maybe you just need cuddles at night. Here are some of my protips on how to make it work and when to know that it's over.
What matters before you move in together is that you're ready because if you aren't, you may not experience the symbiotic bliss that Natalie and I do, then maybe you will get an impacted bowel because you don't feel close enough to talk about uncomfortable shit (literally).
"Whether you've just liked someone's thirst traps consistently for a month, engaged in some hot and heavy sexting in your DMs, or are accidentally in a full-blown long-distance situationship with someone you've yet to meet in person, this guide has got you covered on how to approach this Modern Queer Ritual: traveling a questionabe distance to meet someone you met online for sex, love, disaster, or all of the above."
You want to touch them, smell them and, if you're me, bite their ear. Why don't the forces of geography and physics rally to both your cries and fold the world up like origami until the front doors of your homes kiss?
In my first installment of How To Keep A Girl For Ten Years, I explore the notion of solidarity through individualism, selflessness and creativity.