feature image by red chair models
How long has it been since you last had sex? Are you starting to feel a little anxious? Is everyone starting to look like your type? Are you pulling batteries from the remote control to put into your vibrator? Are you developing irrational jealousy towards people who are having sex while also feeling stressed out and tense when you think about finding a hookup of your own? Well, below I've got several options for meeting your next hookup and although it's not a definitive list, it should give you some new ideas — or opportunities.
Facebook Graph Search, Vine and SnapChat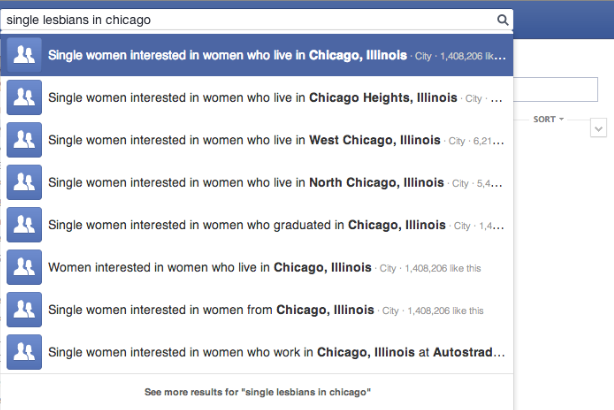 You can use Facebook Graph Search to look up new restaurants or dive bars, but more importantly — you can use it to cruise ladies in your city. I did, and I learned quickly that there are so many queer ladies in my city outside the bar scene.
You can use Vine to send short looping videos to social media sites like Facebook or by email. Vine offers a range of privacy settings to you can adjust to suit the content you're sending, and who you're sending it to.
You can use SnapChat to send pictures to anyone on your contact list. After sending, you'll set a timer determining how long the image will exist (shortest option = one second). This makes Snapchat a great choice to deliver a tease without risking your contact saving the picture to their phone or tablet.
Advantages: If you're using Facebook Graph Search, Vine or Snapchat, it's relatively easy to find out if she also likes women, which can be a challenge in other environments.
Tips: On Facebook, you can cruise without sounding creepy, and if you're lucky, you may have friends or groups in common with your object of affection, which makes for easier introductions. Try messaging her with a compliment, or asking for more info about something you saw on her page. Vine and Snapchat, which let you contact anyone you want, is a great way to flirt or share amusing things with a potential new partner (who you have already met in real life).
Keep in mind that Facebook, Vine and SnapChat are set up as social networking tools to connect family, friends and clients with one another – they're not explicitly sexual spaces. It's probably best to only reach out to people you've met, or people who know your friends. Use discretion when taking pics and videos on Vine, as they've been cracking down on safe-for-work material. Snapchat allows it, but if you send something racy, there's still a  small chance someone could take a picture of your picture from an alternate device, which is when one-second timers become handy.
The Gym
Your local gym, and women's gyms especially, can be a great place to meet women. I see lots of queers at my gym, Women's Workout World in Chicago. But how do you meet someone interested in working out a whole other set of msucles?
Advantages: If she's at the gym, she's all about health and self-improvement, even if it's just for the day, and probably is interested in improving things like her health and stamina!
Tips: If you're really bold, you can ask someone to show you how to use the gym equipment. A more subtle approach is just to make eye contact — it's how queers recognize and find one another. You'll look at her, she'll look at you, and if your eyes lock and she smiles that knowing smile, all your queer-lady questions will be answered. If her look doesn't give anything away, try name-dropping lesbian websites or spaces and see how she reacts, like "I do yoga at the (insert you LGBTQ center), once or twice a week, and I love the environment. Tasha's a really great teacher."
The local gym is a great place to meet new people, but its official purpose is providing a facility for people to improve their physical health and therefore it's not appropriate to stare or cruise or to assume that anybody there wants to socialize. If she doesn't respond warmly immediately, move on, and I'd advise against approaching a woman in the shower, sauna or changing spaces.
The Bathhouse
Bathhouses are beautiful spa-like spaces where nearly everything is communal. This can mean anything from showering in an open space or sharing a sauna with other nearly naked women. If you find that you're not comfortable being nude in front of people, clothing is sometimes optional so you can always wear a swimsuit, but check with the bathhouse before you visit. Within the LGBTQ community, bathhouses have traditionally been places for gay men to cruise, but many bathhouses are beginning to promote women-only days and times. Bathhouses that feature women-only days are generally not a queer space alone, but tend to be very gay friendly.
Advantages: You've already seen each other naked or barely dressed.
Tips: Proximity will be your friend. Instead of being all the way on the other side of the whirlpool, you could settle in at a closer, but still respectful, distance. You could comment on the water temperature, how relaxing it is, or how it's your first time at a bathhouse. Some women will love to chat with you, while others are there for a more serene experience, so take no personal offense and move on if she doesn't reply.
Remember, bathhouse are considered safe spaces to relax and unwind. Many bathhouse have strict rules about sex, and some even have rules about touching. Always check the rules before you visit.
Queer Erotic Readings or Poetry Nights
Words are sexy. The women that usually attend these shows tend to be articulate, smart, gender intellectuals, feminists and queer rebels in their own unique ways. Between writers and those who love the written word, it can be quite the diverse scene. Make sure you see erotica and queer writers, like Sinclair Sexsmith, Andrea Gibson and Michelle Tea, when they come to town. There's even a Naked Girls Reading series that happens across the country, and though it isn't specifically queer, it's definitely worth a visit.
Advantages: There are always lots of queer folk in spaces like these.
Tips: Start by asking her what her favorite poem or written piece was that night. If it's more of an open mic scene, you could go on stage, read one of your own pieces and then make yourself available for compliments and conversation.
A lot of women that attend these events are there to be a part of a space that allows room for performance art and is a safe space for queer individuality and sexuality. There can be a fine line between flirting and being offensive, so read her body language before you start telling your favorite fisting story.
Meetup.com
Meetup.com has been around for a while and it's a social networking site where you can meet new people with similar interests. You may have ventured to a Meetup before to make new friends or meet your future girlfriend, but you can also use it to meet other people who are likeminded sexually. There are many sex-related groups on Meetup for any iteration of sexuality, including poly, sex positivity, and kink, to name a few. Some of the groups will have social gatherings over tea and coffee, while others will have workshops, demos and field trips. Most  will include folks of different genders with all  variations of sexuality, and you can meet plenty of queer people in these mixed group settings.
Advantages: There is no way to misinterpret that the topic of the day is sex or sexual relationships.
Tips: Sometimes it can be easier to communicate with someone you find attractive in larger group settings where the pressure and her attention is not always on you. This is also a great option for anyone that tends to be shy, because the group conversation can turn into a more intimate conversation with that woman.
Hookups and dating happen often at Meetups, but try to get to know everyone a bit more before pursing any sexual encounters. Also, many of the sex related Meetups are not queer-only spaces, and so you may be coming out to lots of different people and may need to repeat yourself to any persistent persons who do not respect your sexual orientation. Remember, you always have the right to stand up for yourself and you always have the right to say no.
Dance Nights
It's old, it's tired, but it's true: the bar is always a great way to meet new women. The setting can include lots of queers who love queers, pounding music that invites closeness if you are at a dance bar and even the intimacy of conversation at a more casual gay bar.
Advantages: You are on your turf, you can play by your own rules, and you're super visible, in this setting, which really helps if you want to get laid.
Tips: You could always buy her a drink. Sending a drink over, or letting the bartender know her next drink – even if it's bottled water – is on you, is still for some quite a classy way to catch a woman's attention. Or try starting a conversation in the bathroom line.
You could also invite her to dance. Nothing spells sex like closely knit bodies bouncing to the beat. Make sure you read her body and her words, and ask first.
Burlesque Shows
A great way to crank up the heat and make you sweat till you just can't help yourself from making your way alongside that sexy geeky girl down the bar aisle from you. If you've never been to a burlesque show, let me tell you, it's all about the art of seduction. You may even walk away with a few new tricks under your belt. Most of the queer burlesque shows I've attended have been in total dive bars, which for me is the perfect setting. It can really free up the performers to take risks they might not in a different setting. The ones made for audience member who are new to burlesque tend to be in the theaters and other large venues. You can see everything from butches stripping, to the very hot angle grinders, fire spinners and femmes rocking out their sexual energy.
Advantages: It's a sex-positive space.
Tips: If you're interested in a performer, compliment them. Compliments never go out of style. Don't be afraid of your blushing cheeks or how your body responded to the show. Saying, "Hi, your performance was really great and very hot. I just wanted to say you are really good at what you do and I loved it," is totally an appropriate way to thank and validate a performer you liked. If you're into an audience member, you could always just start talking about how great a performance was and ask about her favorite part of the show that night.
On the other hand, be careful how descriptive your compliments towards the performers become. Sure, she may have just given a very sensual performance, but always have respect for her intelligence and personality as well, and remember that a physical performance doesn't entitle you to her body. As for fellow spectators, keep in mind that being in a sex-positive space doesn't always mean being sex-positive.
Sex-Ed Workshops
Sex ed is ever-evolving and your local sex toy shop, feminist bookstore or sex advocacy organization is probably promoting some very diverse sex workshops. You can learn about anything from how to find a g-spot, anal pleasure, getting into kink and giving good butch head. The workshops are created for your pleasure. You're bound to meet others interested in the same topic and may even walk out sharing your personalized tips!
Advantages: Workshops are a space that validates positive sexuality and conscious sexual well-being. You may also need to partner up for some interactive learning, which can be a good way to meet people.
Tips: You could always feel free to share some of your experiences, listen in on others' experiences or ask a group of people for a few extra tips. Opening yourself up to discussions might help you catch the attention of a woman who peaks your interests.
Remember that sex-ed spaces are often meant as fun, safe spaces where it's okay to talk about sex freely, and that respecting and maintaining the value of that safe space may mean being discreet about your attraction. Also, be cautious with asking too many personal questions about someone's sexuality and sex life, unless she brings it up first.
Queer Strip Club Night
Some strip clubs are now starting to have nights that are exclusively for queer women. It's your normal strip club night, but in this case, you are surrounded by other queers. If your city doesn't have one already, ask around and see if your lesbian and queer event promoters are interested in starting a similar event.
Advantages: It's queer night at a strip club..
Tips: Be ready to have an adventure and be open to meeting new people. You could also chat with the promoters, since they are usually really good at making introductions if you need a little boost.
As always, respect boundaries. Even in sex positive spaces, sex can be an awkward thing to approach or begin talking about. Also know that many strip clubs have a "no touch" regulation about their dancers, and may not like the idea of any other "touching" either. Be cautious, subtle and true to yourself.
So what other places have you gone to get some nookie? To give it to the clam? To go diving in the great down under?
---
DeDe Deylnn is a sexy erotica writer and performance artist in Chicago, IL, residing in the lezyhood of Andersonville. She's a Pisces, a lover, a sensualist, a revolutionary, a queer, a proud femme and is always pushing her own boundaries and exploring new sexual adventures both on paper and in bed. You can always find more of her writings at www.deviantdyke.blogspot.com and on Facebook at DeDeDeylnn.