There comes a point in every relationship when it makes sense for you to think about cohabitation. If you're like most gaydies, within a few months of hooking up with a cutie, your toothbrush and spare underwear has slowly migrated to their apartment, and after all the nights of splitting Thai food and swearing their mattress is so much comfier than yours, you might as well throw in the towel and buy the (dog) farm. Moving in with your girlfriend, either to hers or yours or a whole new place you pick out together, can be simultaneously magical and terrifying. You're about to figure out a lot of things about yourself and about her and about this crazy thing you are doing together. Here are a few things you'll recognize if you have also joined the U-Haul Club.
---
1. One of you is inevitably the person running around the house turning off lights and heat. This person tolerates the same environment as a polar bear with sensitive skin. The other one wants to live in a Finnish sauna with enough lighting to perform pore surgery.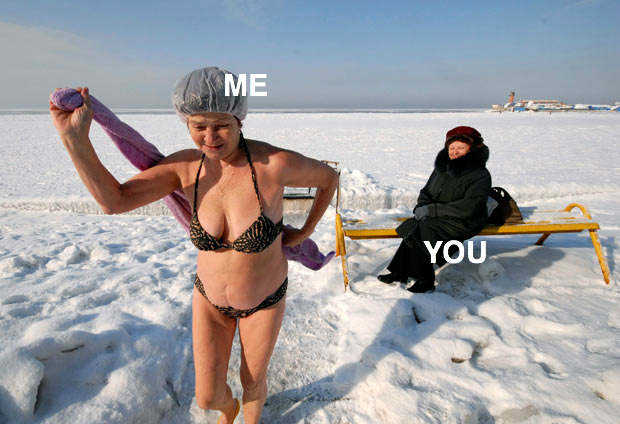 2. Chores are about roles, not about the actual chore's pressing need to be done. One of you is the dish washer and the other is the dish dryer and putter-awayer. One of you is the bearer of the vacuum and one of you will clean toilets because the other person makes a gagging noise. These roles are similar to the feudal caste system, unbreakable even in dire emergency. If there are dirty dishes but the dish washer is not home, the dish dryer will stare at the pile of dirty dishes and then serve their food on a frisbee or paper towel.
3. One person's tastes in decor will slowly start to dominate the other's. The former bachelor pad with its gig posters and dumpster furniture will start looking like a pastel-themed Pinterest board. The self-identified House of Femme will be invaded by leather accents and dirty work boots. If you moved into the house together, someone's style will inevitably rise to the top as victor, and before you know it, there is a definitive theme in all the new furniture. Hope you like polka dots and nautical paraphernalia.
4. If you don't make a conscious decision to rotate who chooses the Netflix movie, plague and pestilence will befall your house. Woe to the partner who thinks they can get away with watching Rocky III for the ninth night in a row.
5. On that note, you have to make time so you can each watch the entertainment too decisive for you to both enjoy simultaneously. The one who likes Downton Abbey gets her private hour to watch Downton Abbey, and the one who thinks British class dramas have all the appeal of foot fungus can watch her teen soap operas on her own time.
6. When you're first dating someone, it's likely that you are seeing them at their manufactured best. You're seeing the product of hours of painstaking personal grooming, which could include intensive hair removal procedures, the use of an actual iron, and vigorous washing of certain body parts that rarely see the light of day. When you're living with someone, you are going to see that person leaving the bathroom in a dirty pair of sweatpants with last week's chicken tikka masala stuck to their tank top. Sometimes you have to remind that person to shower. Sometimes that person will point out that you have gum disease. In spite of all this, you will somehow still want to have sex with each other.
7. One of you may be revealed as a blanket stealer. The other person might think that blanket stealing is a crime punishable on the same scale as manslaughter and corporate espionage, but a decent round of cuddling usually cures this orneriness.On that note, you will definitely find out who is the space heater and who is the living icicle. It probably is in direct correlation to the stealing of blankets.
8. How is it possible that one person can leave so many half-empty glasses of water around the house in a matter of hours? How is this a thing?!
9. It turns out that there is a limit to how many U-Haul jokes your friends can make, and the limit is one. Unless you two are making them about yourselves, then U-Haul jokes are hilarious and will be trotted out when your periods align, or when you're making joint purchases of kitchen appliances, or when you accidentally use the other person's toothbrush.
10. Learning how to share a bathroom is a lot like learning to drive: could be seamless, could be disastrous. Some of us will concoct labyrinthine plots to get the bathroom to ourselves. Giving your girlfriend a long list of pointless errands is a good tactic. You will learn who is the morning shower taker and who religiously showers at night. Even if you have to dance complicated dances around each other in order to coexist in the tiniest bathroom on earth, there's something a little bit sweet about meeting each other's eye in the mirror and laughing about how you both look like toothpaste monsters.
11. IKEA: High Temple of Moving In With Your Girlfriend.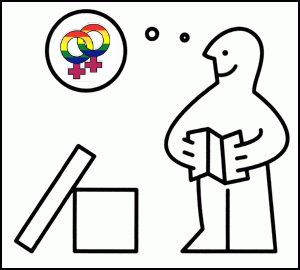 12. Hopefully you both know how to cook. If all you're bringing to the table is ramen and microwavable dinners, prepare for a shock to the system. Grocery store trips can become beautiful adventures full of bargain-hunting and pretending that this hunk of expensive cheese is an essential item. It's also important to have someone who can keep you from eating an entire bag of Doritos for dinner.
13. Someone inevitably becomes the house DJ, usually the person with a paid Spotify subscription. Either you both were lucky enough to be born with an appreciation for Björk, or someone is going to have to suck it up and deal with it.
14. Money, money, money. Or, more accurately, bills, bills, bills. Having to be up front and honest about spending and sharing expenses can be absolutely terrifying, even for a generation of individuals who are so used to exorbitant student loans that debt is as much a fact of life as peanuts or death. Money isn't always a fun topic, but learning how to talk about it with your partner makes you feel that much less like a stack of babies wearing an adult costume. At the same time, money seems to go away a lot faster when you're living with someone. Whereas the single life may include choosing not to buy Kleenex because the napkins are free at McDonalds, sharing a house with your girlfriend means that your girlfriend may want to use real tissues. Being on your own means that when you make your own budget, you can choose to only eat cheese sticks for a week so that you can save enough money for a holographic backpack. Your girlfriend probably will not share this budgeting technique, and now you have to buy toilet paper and stop replacing meals with gummy snacks.
15. Agreeing to live with someone you're in a relationship with is a huge big crazy thing. There are going to be really good times, and there are going to be times when you want to tear your hair out and cry in the corner for a few days. Learning how to deal with each other's quirks and habits and broccoli farts is a journey, but it's a journey that can turn out amazing in the end. Enjoy the journey, y'all.