Welcome to Oh Gay Cupid! Autostraddle's OkCupid series. We get lots of questions on Formspring regarding online dating, so we finally got a bunch of people together to talk about it. While OkCupid isn't the only online dating site for queers, and maybe isn't even the best, it does seem to be the one we use most often. We'll be discussing all things OkC, including meeting friends, first dates, profiles, fuck-ups, letdowns and more. Even though it's the 'OkCupid Series,' the advice given in this series could easily be applied to any online dating site.
 Oh Gay Cupid! illustrations by Rory Midhani
Sometimes having an OkCupid profile isn't about dating, networking, or making friends. Sometimes you think it is, but then it winds up being not. I'm here to tell you why there is no failure on OkCupid, only different angles of success. And I have had some pretty bald-faced OkC fails. Let's pull out the trusty Oh Gay Cupid board game and see what the dating cards have it store for us this time!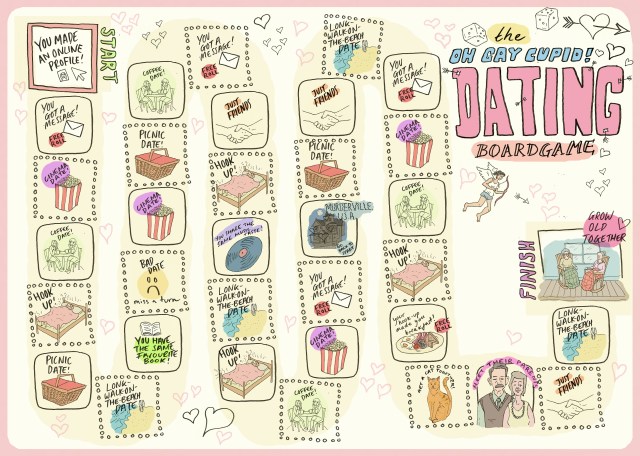 +
Sometimes Dates Can Teach You About Your Own Self-Worth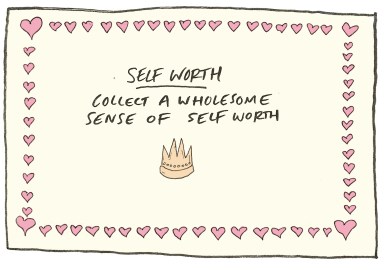 I met her on OkC, went on dates with her for hot two weeks and of course I slept with her on the first night. I wasn't over my previous heartbreak, so it was a good thing to have some nice, consensual touching, kissing and fucking. I think our expectations of each other may have been different. I wanted a no-strings-attached-sex-buddy-but-still-friends relationship, and she wanted…well, I'm not sure exactly. Maybe she just wanted a vagina to put things in? It seemed she was in a similar place about the heartbreak, but she wasn't nice about it. There was definitely name calling. And there was definitely inviting me places where I wasn't really welcome and then making me feel bad about coming. And there were definitely definitely several moments where my presentation was called into question:  she said I didn't look gay enough, didn't act gay enough and that I had too many straight friends. I mean, WTF?  I ate your pussy, honey. I'm pretty sure that's gay with a side of rainbows. On the train home I couldn't take it anymore. I got out four stops early and went to my ex-boyfriend's current girlfriend's house to meet up with both of them. Yes. YOU READ THAT RIGHT. They got me wasted and disparaged the human race with me.  And while I was crying over how shitty people can be and heaving my guts into the toilet bowl because I'd had maybe three too many, I remember telling him, "This isn't worth it. No one is worth this. I shouldn't let other people make me feel like this." And being the perfect man (if I were straight, I would have married him), he has never let me forget it.
+
Even Shitty Relationships Can Get You Jobs and Roommates
So, I was in that shitty relationship. Everyone knows about that shitty relationship because I feel like maybe everyone has had one of these? Or if not, at least witnessed the downfall of one. I went all in and U-Hauled and I couldn't even finish out my lease with the girl. Right about the time when my ex-girlfriend threw a garbage bag full of my own clothes at me when I came back to collect them, I was pretty down in the dumps on this OkCupid adventure. I swore never to internet date again because clearly this did not work even a little.
But then I reflected and I came up with the following list of things that I never would have had if I hadn't dated this girl.
+ I left my hometown. I got the hell out. I didn't even see a gay adult growing up, so you can imagine how imperative this was.
+ She referred me for my day job, and thus my health insurance. And, you know, my paycheck.
+ My cat. She insisted I adopt the cat to keep her dog company when he was going insane by himself in our apartment, and then couldn't really remember suggesting that. However I got the cat, he is the best.
+ She inadvertently introduced me to higher standards. As in, here, here are all the things you don't want in a relationship. Don't do that again.
+ She introduced to me to my former roommates, whom I love very much.
+ I'm a sex blogger. Seriously. This person convinced me that I should just go be a sex blogger, just because I've always wanted to. I've since been published as an erotica author. It's been tremendous fun.
+
Dates Can Tell You About Awesome Things You Should Be Doing In Your Life
I went on one date with her and I haven't spoken to her since, haven't even laid eyes on her. I was still living with my ex-girlfriend at the time and we were on the rocks, but I wanted someone to talk to. I wanted something new and interesting, so we agreed to go on this date. She was a circus performer, a stilt-walker. Ever seen a stilt-walker? That's something that scares the shit out of me. I don't even like being tall, that's how much I like heights. And danger isn't really something that I'd put on my top ten list of things I want to do on a daily basis. But I was intrigued. I told her I'd always wanted to get more into the circus thing, but had zero acrobatic skills
because when I was growing up my sister convinced me that if I took gymnastics, it automatically meant I would break my thumb (and my sister has this weird double jointed thumb, so then she'd do this thing with her thumb and I'd get grossed out and I didn't take gymnastics). So I enrolled in ballet instead and managed to knock down the entire class of girls on parents night, and then my mother burst out laughing and was shunned by the other parents. After that, we made the switch to acting, because funny is all I have; I never got to realize my circusy dreams and was scarred forever with things that involved graceful movement. This girl who barely knew me listened with sympathy and then told me about LAVA. LAVA is an all-female, feminist performance group in Brooklyn and they're very welcoming of beginners in their classes. My mother, seeing how sad I was about my imploding relationship and life in general, signed me up and assured me that things like taking your entire class to the ground happen only once in your life.
When I got there, I realized that having an all-female space in Brooklyn means you have a heavy queer presence. I found a queer community that got me through my break up, got my body strong, will support me through difficult and dangerous tasks and will reassure me when my confidence is lacking. I found an activity that is my therapy. And I can do a handstand.
+
And Sometimes You Aren't Looking for a Girlfriend, But You Get One Anyways
What happens when you have a high self-worth, a good starting place in life that includes a feline and a job, an understanding of the kind of person you want to date and a community that loves and supports you? Well, here's what happens: you don't want a girlfriend. You absolutely, no question, don't want a girlfriend. You want to sleep with someone, you want to fuck. But you Don't. Want. A. Girlfriend. And then you send a cute girl a quick message about baking mini-pies. She messages you back, and you meet her and you're still thinking, "But I don't want a girlfriend. I don't want to do that again. I don't have time for one." But she's awesome and sane and stable and intelligent and passionate and beautiful and TALLER THAN YOU which never fucking happens because you're five feet ten inches. She reads with you and listens to classical music with you and takes walks in the park with you and doesn't mind when you fart. Then when she is cool with you not wanting a girlfriend and sticks around and keeps dating you, you realize you're already treating her like your girlfriend. So you ask her your to be your girlfriend and you are happy and she is happy and everyone's happy. YAY RAINBOWS AND HAPPINESS!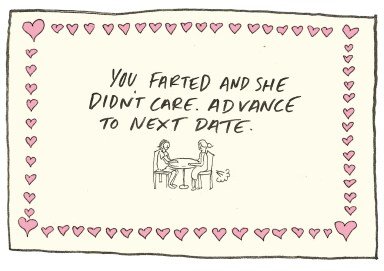 It may sound hokey, but online dating on OkCupid has had a good deal to do with where I am today, with the friends I have and with the things I know to be true about myself. The queer community is so spread out and if we think of OkC as meeting place, a queer space, then we can go there to find each other. Interacting with each other isn't just how we find girlfriends or fuck buddies or people that may hire us, it's how we learn how to be ourselves. OkCupid taught me how to be gay in the context of community and society.  It taught me how to be a sex blogger, a pet owner, a hand-stander, and, eventually, it taught me how to be a girlfriend. And from all those spectacular failures came some really, really smash-up successes.

Special Note: Autostraddle's "First Person" column exists for individual queer people to tell their own personal stories and share compelling experiences. These personal essays do not necessarily reflect the ideals of Autostraddle or its editors, nor do any First Person writers intend to speak on behalf of anyone other than themselves. First Person writers are simply speaking honestly from their own hearts.