It's been a busy week, Autostraddle. Very official business has occurred across the nation. But what about the stories we missed? I didn't want them to feel left out, so I collected them all for you right here. (And if you're worried you'll forget if Obama is President should you stop reading about his re-election for .5 seconds, I have you covered.)
Let's dig in!
Blasts from the Past
This week, people felt straight-up nostalgic. New York Magazine created a retrospective gallery of women voting throughout the years, for example, most likely because nothing charms a crowd like Young Hillary Clinton. And to put all of this in perspective: suffrage happened in the 1920's, and now we've elected the first Hindu congresswoman. Cue Bob Dylan, 'cause the times, they are a-changing terribly fast. And it's amazing.
Things got more personal at The New Yorker, where Alex Ross looked back on the gay rights movement through his own eyeballs in "Love On The March."
By the time Reagan first spoke at length about AIDS, in May, 1987, the death toll in the U.S. had surpassed twenty thousand. What I remember most about my first sexual experience is the fear.

Today, gay people of a certain age may feel as though they had stepped out of a lavender time machine. That's the sensation that hit me when I watched the young man in Tempe shout down a homophobe in the name of the President-elect. Gay marriage is legal in six states and in Washington, D.C. Gays can serve in the military without hiding their sexuality. We've seen openly gay judges, congresspeople, mayors (including a four-term mayor of Tempe), movie stars, and talk-show hosts. Gay film and TV characters are almost annoyingly ubiquitous. The Supreme Court, which finally annulled sodomy laws in 2003, is set to begin examining the marriage issue. […] gay rights have made such rapid progress that there is an urge to look back and assess what has happened.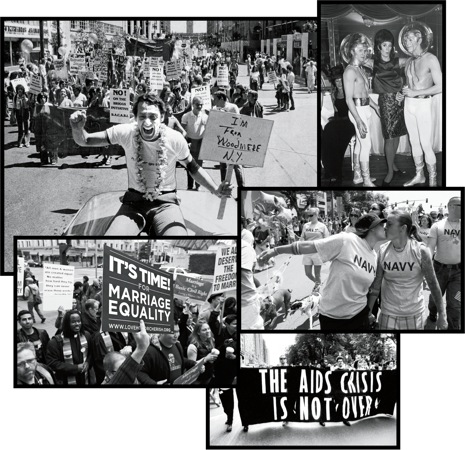 Ultimately, though, Bradley Stern's interview with t.A.t.u. that focuses entirely around the upcoming re-release of their debut album is the best relic of the past to surface this week.
10 years later, as Top 40 radio in America has moved away from R&B and become increasingly saturated with Euro-infused club-pop anthems, t.A.T.u's musical legacy has never felt quite so relevant. And perhaps even more important than their music, their message: Across the world, tension continues to mount in t.A.T.u's homeland, where leaders have only shown themselves to be increasingly intolerant of LGBT equality in their policies, including a recent ban of pro-LGBT speech in St. Petersburg (which Madonna recently protested during her MDNA Tour stop in the city.)

That the group managed to find worldwide popularity a decade prior now seems nothing less than revolutionary.

A few weeks ago, Cherrytree Records announced that the group's acclaimed debut, 200 km/h In The Wrong Lane, would be getting a full re-release this November in honor of the album's 10th anniversary, including new remixes and a previously unheard track ("A Simple Motion.") I had the opportunity to talk to the girls about their debut, the recording process, the music industry, and looking forward at what lies ahead. As a massive t.A.T.u. fan (to nearly embarrassing levels), it was a major treat.

And now, without further ado, a few words with t.A.T.u.

 Gay Stuff
On top of our numerous victories this week – which spanned drugs, marriage, and rock 'n roll – lots has been going on in the Homo World. For example: did you know they redid the website for Lesbian Family? It's so fancy and Vikki was involved, you guys! She's like, the best.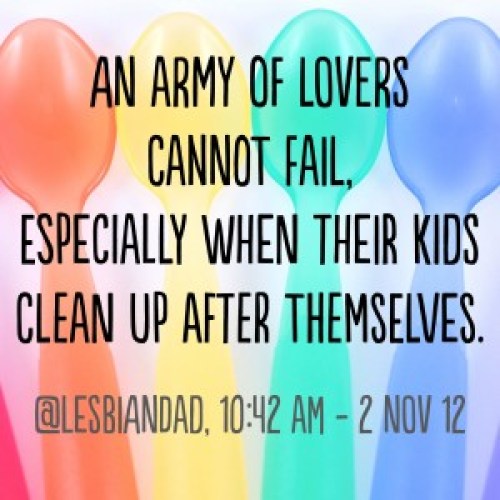 Mostly I just felt the need also to let you know that Tomorrow, the magazine I waited for for many Todays, wrote up a great list of today's queer teen YouTube stars:
Ton Do-Nguyen has uploaded just three videos, but it'll be hard to click away until he satisfies our need for a fourth. The 16-year-old straight boy's shot-for-shot remakes of Beyoncé's music videos for "Countdown" and "Love on Top" have captured the attention of queer bloggers everywhere—not to mention Queen B herself, who called his work "brilliant." Ton's videos rely on more than just his dance and costuming talents (that Snuggie!); his editing skills are tops, too. His remake of the kinetic "Countdown" has an alternate split-screen version showcasing his precision. I think I speak for us all when I beg him for "Crazy in Love."
(And I regret to inform you that We Are Homo Mafia, Lil Carmen's YouTube channel, was not selected.)
As far as the rest of the important stuff, this week there was only a handful of bad news on the gay front, but it's worth talking about. After all, a gay former foster child claims to have suffered years of mental abuse in a Christian children's home and 75 percent of LGBT Italians have experienced discrimination. This stuff is serious and needs to get better. And I know it will. Especially when filmmakers overseas promote the acceptance of gay families, Jewish-American LGBT media is experiencing growth, and the Royal Dutch Football Association is trying to do good and defeat homophobia in sports with this crazy goofy vid.
Good Reads
Nothing like a good, old critical analysis of RuPaul's Drag Race. Drop the mic and walk off the stage, because nobody's college thesis is gonna top this shit:
I want to take RuPaul's conscious — and perhaps unconscious — performances seriously. I will go on to argue that RuPaul's multiple personas offer a kind of metacommentary on talent contest reality television conventions and specifically the roles of Tyra Banks and Tim Gunn from America's Next Top Model and Project Runway. RuPaul's television performances offer "readings" of their performances, as well as revisions of her own iconic "Supermodel of the World" persona. RuPaul's Drag Race is thus a form of "meta-reality television."
And excuse me but, did I mention Biz Hurst's final judgement call about and answer to The Question Which Terrorizes Us All? Whoops. I totally meant to do that first thing this morning when you woke up to complete your life.
How do I do it? Without a penis, that's how. Google it, if you're really that curious, dude. I'm sure you'll find a plethora of articles about cunnilingus and strap-ons. I don't approach random people at the bar, asking them about their sex lives. That would be rude, wouldn't it?

I'm pretty sure if I walked up to some random straight couple at the bar and asked, "So, how big is it?" I'd get a slap across the mouth, instead of an answer. I understand that I do things a little differently in the bedroom, when compared to most of the population, but I don't sodomize animals, and I'm not sleeping with my cousin, so I'm not sure why what I do is so crazy that it warrants intimate questions from strangers. 

I'm only going to say this once, to hopefully put an end to these questions. Please, stay calm. I'm about to explain the most common lesbian sexual activities that I've been exposed to in my 6 years of being part of this elusive community. Also, I'm not going to tell you which ones of these I do or don't do. You're welcome, Mom.