WE'VE BEEN WAITING SO LONG TO TELL YOU ABOUT THIS THING! Now it's here, it's right here in our hands and it's in the Autostraddle Store for your hearts so now it's real, it's a real thing that's happening and you want one, right?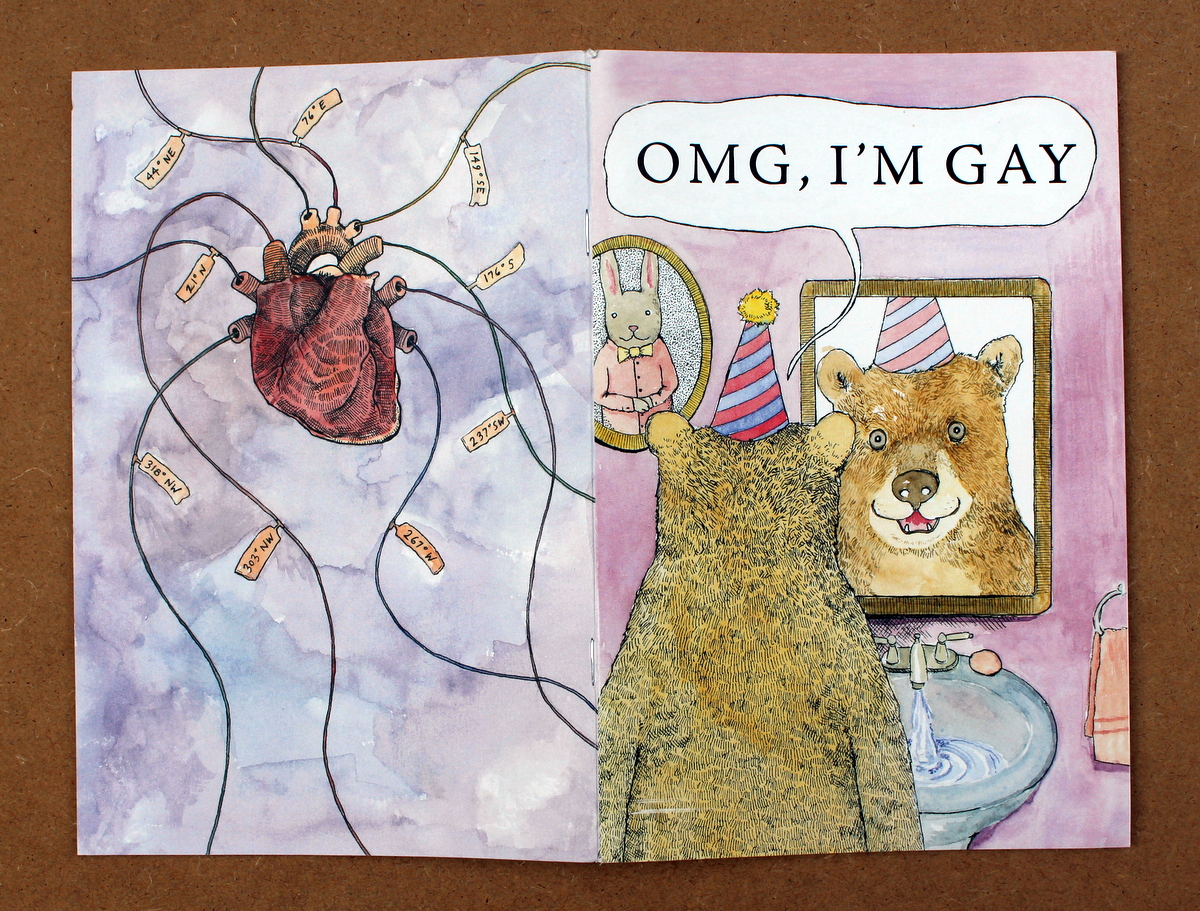 OMG I'M GAY is the first edition of the "Better Together" series, a collaboration between Autostraddle.com and Everyone is Gay in which we thematically unite some of our most important internet-writings and put them on paper for you to have and hold forever. We hope this series will make you laugh and/or cry and/or go "omg" and hide your face, and we're thrilled about smashing the work of so many diverse writers into one tiny eternal booklet, accompanied by the work of a different queer artist for every issue.
The topic of our first issue is "coming out to yourself" — reflecting on that special moment when you realized OMG I'M A LEZ or OMG I'M QUEER or OMG I'M BISEXUAL or OMG I HAVE A CRUSH ON SHANE or OMG THAT CIARA VIDEO JUST MADE ME GAY.  Nearly 70 pages of words and illustrations reflect on the process of coming to terms with your sexuality and finding the strength to live your truth.
We hope this 'zine will reflect a vast diversity of coming-out-to-yourself experiences. (The title is just what sounded best because nobody has ever looked in the mirror and thought OMG I'M LGBQ, although it'd be real funny if they did.) Topics include not knowing what to "come out" as when your sexuality is wildly fluid, realizing you like girls while married to a man, attempting to reconcile a straight past with a queer future, reckoning with your intense homosexuality while in an oppressively religious environment and so much more.
Laneia and Riese have been working with Kristin and Dannielle on this project for many months along with illustrator Sophie Argetsinger. It was all put together with the generous assistance of editor Alyse Knorr.
OMG I'M GAY includes some of your favorite Autostraddle essays, quotes from Everyone is Gay and Autostraddle interviews, advice from Kristin Russo and Dannielle Owens-Reid, a playlist from Jenny Owen Youngs, and a really triumphant Shane collage by Riese.
Authors with their Autostraddle work featured in this issue include Riese Bernard, Laneia Jones, Gabby Rivera, Djuan Trent, Stef Schwartz, Laura Wooley, DJ Carlytron, Intern Lily, Heather Hogan , Carmen Rios, Kate Severance and Audrey White.
You can get your copy now for a mere $16 in the Autostraddle store! All profits support the writers of Everyone is Gay and Autostraddle.com. Quantities are limited so get yours STAT!