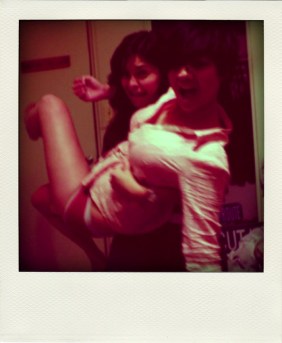 Hellllloooooo ladiesss, you're lookin' good today. As you may or may not know, after a few years of coming out, dating, and general lesbian tomfoolery, Katrina C. Danger is off the market. I know, I know, this is shocking/appalling, as we all expected me to lesbian bromance my days away in the sunkissed shores of an eternal Dinah Shore right here at my East Coast university, but alas, these days of lesbian playerhood are not forever, and I need someone to take my place.
Namely you.
Yeah, you. I see you over there thinking about getting that cute new alternative lifestyle haircut to attract the ladies. You can do it, and Autostraddle can help. Here are some Dos and Don'ts for picking up chicks, KC Danger style.
(Sidenote: While I am, in fact, a doctor of such things as lesbian bromance, I recommend that my guidance on chicks be taken with a grain of salt, as giving advice on this kind of thing makes me feel like I'm wearing a silly leopard print pimp hat.)
Do's for Picking Up Chicks:
+
Make gay eye contact.
You know what I'm talking about, bros. It's that moment where you spot a girl down the street or from across the room. Something seems different. Maybe it's the extra bit of swagger or the conspicuous skinny jeans and Chuck Taylors. Maybe you overheard her say "Tegan and Sara" or "Turkish oil wrestling."
Maybe she looked at you first–did she? Well, look back!
I know, this is a relatively simple concept, looking at people you're interested in, but there's a special brand of eye contact that goes on between two girls who like girls. It lasts barely half a second, but that flit of eye contact can mean so much. Like an agreement or an acknowledgement or membership in a (not-so) secret club–a club called 'lesbians.' It's a "you're gay, I'm gay" kinda thing. Very preliminary in picking up chicks, but also very important, especially if you're not in a specifically queer environment. Gay eye contact allows you to circumvent all that hassle of accidentally hitting on straight girls. Unless, you know, you're into that kind of thing.
Be confident.
Does that sound cliche? It might, but that's because it's true. No one's going to believe in your game if you don't believe in your game (even if you're not the gaming type). And confidence, not to be confused with cockiness or flashiness, is attractive. It's convincing. And it's totally visible. Seriously, whoever you're talking to is going to read off your cues, and so if you're putting yourself down or always apologizing, she'll believe you have reason to do so. You're good at something, I promise, so talk about that a little. And even if you're not good at anything, know–not think–that you're cute and charming enough to pull it off. Play to your strengths, and you'll come of as charming and worth getting to know.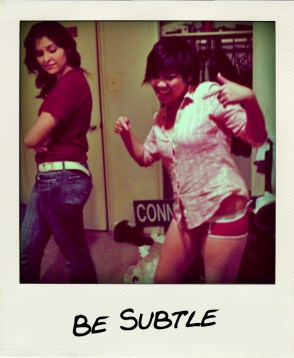 Be subtle.
As in, don't show up with your pants off (this only works sometimes). Yeah, you want her to know you're into her, but there's no need to throw yourself all over anyone. Sometimes it's fun to be kept guessing. Leaving a little out will keep her guessing, which means she'll want to talk to you more.
Have a signature move.
To pull this one off, you're first going to have to master being confident. Figure out what makes you look cute and do it. I like to smirk and nod. My girlfriend apparently used to wink to pick up girls. Did you know that people still winked? That's because they don't, and that's why it worked.
Make her laugh/Say nice things.
You don't even really need to be funny for this one, as 'charmingly awkward' usually works too. This is very convenient because awkward lesbians are a plentiful species. Did you just fall over yourself after trying to chase a dropped cigarette into the street? That's fine, laugh it off, it looks like you did it on purpose. As far as saying nice things go, that's pretty self-explanatory. Everyone likes to be complimented! Make sure you mean it though. And make sure it's not too out there. "Hey, I like that plaid shirtwp_postsis okay. "Hey, you have really nice armpitswp_posts(this has actually happened to me) is not.
Touch.
This doesn't mean grope. This doesn't mean yawn and put your arm around or sticking hands inside of pockets and keeping them warm while I'm still here. This means putting your hand on her arm when you laugh or putting your arm around her shoulders (no fake yawning allowed). You don't have to rush this part, as success in the rest of these tips will result in more of this later. If you know what I'm sayin'.
Drop Autostraddle's name.
Autostraddle makes the panties drop. The end. Fo reals though, there are just certain things that lesbians love to talk about. Between talking, laughing, loving, breathing, fighting, etc etc, we're up to a lot. Don't be afraid to bring it up, you'll probably get a few laughs.
Get in with her friends.
When the Spice Girls told this to baby gay KC Danger over ten years ago, I had no idea how relevant this would be. Your friends know you more than you give them credit for, and they're always (usually?) looking out for your best interest. The same goes for her. Besides, birds (gays?) of a feather pick up chicks together, and you can tell a lot about a girl by who she's hanging out with.
Go for it.
Don't be shy! Everyone's at least a little nervous, and besides, what good is it going to do you if you're just standing in the corner waiting to be approached? I mean, some girls are this lucky, but most probably aren't. You have to take initiative! Come on bros, just by being out you're fighting the good fight and resisting the patriarchy etc. etc. The hard part is already over! Your hair looks fine, she'll totally think you're interesting, now go out there and pick up chicks, man.
Don'ts for Picking Up Chicks
+
Ask for her number unless you actually mean it.
And don't say you'll call back if you won't. This is only stressful! There are only so many times you can pretend you were in the bathroom or didn't hear the phone ringing or were busy mackin' on another girl before you finally have to pick up and say you're not interested. I mean, you could keep ignoring the calls until they go away, because sometimes they go away…and sometimes they show up outside your house. Don't take this risk, you may end up committing an interrobang!
Also, be serious about why you may or may not be calling someone back.
I never called this one girl back because she had a really boring name, and I thought that if things worked out, it would look dumb to have her listed on my Facebook profile. This is where my priorities lie, apparently, and this is probably why I work on the Internet. Though it seemed totally reasonable at the time, I realize the absurdity now and should probably offer her some sort of public apology or perhaps a brainstorming session for a cool new nickname. My point is that if you're interested, you're interested, and if you're not, then you're not. No big deal, just make sure you're not making excuses so that you don't have to call back when you say you will.
Have a business card.
There was legitimately a point last year where I thought it might be hilarious to carry around this business card:
I then, for some reason, thought it would be just as good (if not better!) as a calling card. I never went through with using it for either of these purposes, which is good because that shit is tacky.
Handing out a business card with a silhouette of a sexy lady probably hasn't been a problem for most of you, but what I'm trying to say is keep it fun. You may have a mullet, but that doesn't mean you have to act like one–this means business isn't always in the front. Have fun, be fun, you're fun, you look great in that shirt!
Be subtle.
I know I just told you to do this, but now I'm going to tell you not to. Subtlety is good, but not to the point where a girl has no idea you're interested in her. Flirt, be a little suggestive, tell her she's cute–there's no one who doesn't like being told that they're attractive.
Bold moves are admirable when executed correctly.
Last year I was running the first meeting of my school's Queer Women's Advocacy Committee, and a girl walked in late. We were going around the room introducing ourselves and saying why we were interested in the organization. While most girls answered, "My name is _____, and I'm here because I believe in visibility/outreach/magic," this girl introduced herself and said, "I'm here because I think Katrina is really cute." Sold. We went out later that night.
You have to be careful with overt statements like this though. As easily as you can be considered confident and outgoing, you can also be considered totally cray-cray. These moves are short-term attention-grabbers, not an ongoing way of interaction.
Use lines…bad ones.
"Are you the ocean? Because I want you, right now.wp_postsDon't use these, everyone knows they're lines! And worse off, the girl you're talking to will know you've used it to try to get other girls before. This will not, in fact, score you an invitation into anyone's pants–it probably won't even score you an invitation into a conversation. In spite of the fact that I'm writing this how-to guide on picking up ladies, I want to emphasize the importance of the fact that all girls are different! So don't come at them with generic lines. Whoever you're pursuing should be your only romantic focus at that very moment; flirting with someone you're not interested in just because you can do it is usually boring and pretty unsatisfying.
Be too drunk.
Let's admit it: being a little inebriated is temping when you're trying to fight off that girl-on-girl nervousness. This is understandable and usually enabled by the fact that meeting other lesbians is something that tends to happen in very social settings.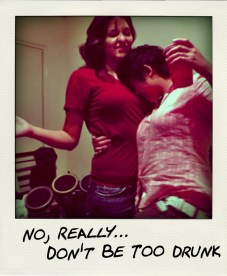 It's cool to want to calm your nerves, but don't let it get too far, because that tends to get messy. Literally. You can buy her a drank, but if you find that you're actually saying the word 'drank' out loud as a noun, you probably have had one too many of them.No one likes being sloppily hit on, and you're not making a good first impression by spilling your beer and slurring your words. You'll probably feel embarrassed about it afterward anyway, so save everyone. Know your limits. If you exceed them, that's fine–there's nothing wrong with just having a night out with friends.
Be an asshole.
We all know we're conditioned to equate someone being playfully mean with you with them being interested, and sometimes that's the case. But also sometimes it's not. Occasional teasing is fine, especially if you know her already, but excessive use of this can go embarrassingly awry.
Flaunt your promiscuity.
I was going to call this 'Don't be a ho,' but the use of that word seemed somehow feministly offensive, and you get the point. There's something to be said for leaving a little bit up to the imagination. Booty dancing in gold lame shorts does not scream "date me!wp_postsBut maybe that's not what you're looking for, in which case, go for it.
Be flashy.
No bragging, no absurd lesbian bling (I don't even know what that would consist of), and no insisting on paying for everyone's everything after they refuse time and time again. It's awkward and unattractive and sometimes a little funny, just not in the way that you want. You don't need to throw material things around to win someone over. Unless you're trying to be an Autostraddle intern's sugar mama, in which case we can probably talk later. Kidding. Mostly.
Think you're Shane.
You're not! No one is, really. Because here's the thing: Shane is not real. Yeah, chick magnets exist, but you always know that skinny girl with the straightened hair and the eyeliner brooding in the corner thinking she's in the L Word. She's not, and everyone knows. Besides, being a lesbian player isn't something you chose—it chooses you, so it'll happen if it's meant to be, and if not, the player thing gets kind of old anyway.
Get discouraged.
Barely anyone's batting a thousand when it comes to picking up chicks. You're always going to have to be willing to get rejected, especially when all them cute girls seem to always have girlfriends. Don't take it personally, especially since you're going to be rejecting people too. If it's not right, then it's not right. There are plenty of girl-on-girls out there waiting to be Autostraddled, so get out there and get on it!
Photos courtesy of: The lovely and talented Rachel Horesovsky.