EMMYS: We half-watched The Emmy Awards last night and boy did they seem like they could potentially be interesting! I made the whole room quiet down to see if Cherry Jones (best supporting actress, 24) would refer to Sarah Paulson as her "girlfriend," "partner," or simply by name … but … nothing. Was Sarah in the building and if not … why not? Don't worry too much, Intern Jess reports they are still very much together and were cute as two lesbian pies at the Sandra Bernhard show a few weeks back.
Furthermore, Drew Barrymore was notably sans the Love of Her Life Ellen Page, and was instead canoodling with that dopey guy from Waiting. Some of the night's most attractive women include Olivia Wilde, Mariska Hargitay, and all the ladies from The Office. Well really everyone looked fantastic.
Also, our exclusive source reports that despite reports to the contrary Kristin Chenowith did not, in fact, require emergency medical services last night after receiving her Emmy for Best Actress (Comedy) in Pushing Daisies, but simply had a migraine headache, and is now totally fine. In fact is totally glowing for totally winning an award for a show that was totally unjustly canceled, according to the Academy and to our exclusive source, all of whom watch the TV.
Winners included Two and a Half Men (best actor supporting actor (obvs only one man cannot do the work of two and a half men) comedy) for mysterious reasons we hope to uncover this fall, Grey Gardens, 30 Rock (best comedy), Mad Men (best drama), and Mad About You. Is that not on anymore? Um, Doogie Howser is super cute, and once again proved that when something needs to be hosted, one must hire a gay.
Alex asked an interesting question: why is it that we still must divide these awards by gender? I feel it serves some ancient, important purpose … but will that ever change?
Our number one feelings are as follows:
LINDSAY LOHAN: The night began earnestly on Twitter — announcing her happiness that her friends & family approved of her love (likely a distraction tactic, to not focus on the fact that her love does not approve of her love these days).  And then …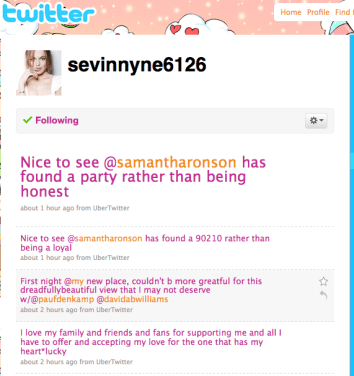 Then we degenerated into that old-fashioned kind of Lindsay Lohan love that makes us cringe and want to hug her or take her to pinkberry. Although if she was serious about the '90210' thing … we want details.
PRECIOUS: Lee Daniels's film "Precious: Based on the Novel 'Push' by Sapphire,wp_postsabout an abused teenage girl in Harlem, won the Cadillac People's Choice Award at the Toronto Film Festival on Saturday. (@nytimes)
SHUT UP MEGAN FOX: See the more everyone hates her, the more I want to like her. "Listen, Megan — I've been to college. I've met enough girls pretending to be into Sapphic action at parties to last me a lifetime. I'm sure your supposed bisexuality is a large part of your appeal, but if you must talk about it, could you at least make the story realistic?" (@nerve)