Previously on Pretty Little Liars, the Liars returned from their lucrative*, fresh-from-college careers to their hometown, the murder capital of the United States of America, the place where they grew up getting perpetually murdered while also standing trial for doing murders, during which visit one of their murderers was herself murdered, and also during which visit they became suspects once again for the murder of their murderer.
(*Except for Emily, who is too broke to park her car, due to not having a career, due to dropping out of college in a cloud of debilitating depression, due to her father — the only honorable adult male in Rosewood, PA — dying.)
Radley Sanitarium may no longer be the world's worst mental health treatment facility, but one thing remains the same: Those sapphic vibes! Rather than doing the lesbian ghost waltz and whispering about how "practicing" kissing girls is better than kissing boys, like the days of yore, the Liars have opted for a couples massage. Sara Harvey is there, too, and she's blind because of some mystery they were involved in, but is she really blind? Wait, no. It's her hands. Her hands are covered up because of some mystery they were involved in, but is she really fingertip-less? Emily wants to know what the heck Sara was doing in the cemetery the other night, and Sara says it's none of her beeswax, she was communing with a dead friend, deal with it, do you want her to take her gloves off, Emily, huh, is that what you want? IS IT?
That is not what Emily wants.
And nobody is getting what they want today! For example, do you think Ashley Marin wants to spend her days trying to explain away this or that crime committed by her daughter? No, she does not. But that's what she's doing. Instead of shoplifting, instead of renting a storage locker filled with killin' tools and decomposing bodies, this time it's deleting hotel security camera footage. Ashley tells Lorenzo she doesn't know why the homicides started up again and why the evidence of the homicides started disappearing again when Hanna swooped back into town, but let her observe, let us all observe, that Spencer Hastings arrived at the exact same time, okay? And Ashley doesn't want to point fingers, but there's never been a dead body in her yard. Hanna may have buried a gun in a frat house garden one time, but she never got addicted to Study Drug. She never got admitted to an institution known for housing criminally insane people.
Ashley: Hello, Detective Lorenzo just realized the hotel lobby security footage from the night of Charlotte's murder is missing.
Hanna: Well, don't look at me. I haven't tampered with evidence in a murder investigation since the third year of senior year.
Hanna, you'll remember, spent the majority of her high school days with a hacker who was so good with computer stuff that he one time wiped a hard drive clean with his mind while he was in police custody. So who does she turn to for help with this security footage debacle? Lucas Gottesman, obviously. This 23-year-old "game app" maker rolls back to Rosewood in a "silver Jag," just enjoying a little downtime between decorating his town houses in Los Angeles, New York, and Tokyo. Just hanging out and remembering the time Hanna pushed him out of a canoe in the middle of a river in the middle of the night. That time Hanna danced with him at homecoming for a hundred dollars a jig. That time Mona blackmailed him into doing A stuff and Toby, who was fake-dead at the time and also working for Mona, almost ran him under with an SUV. Good times, good times. He's back here remembering those times.
He agrees to be Hanna's alibi for the night the security footage was deleted and gets off on weaving this elaborate yarn about how he brought in greasy food and then served her the most ice cold iciest ice champagne from the ice machine that didn't exist on the third floor and then they had sexual intercourse. Hanna stops him at that point in his deposition to say they just talked, no intercourse, but Lorenzo doesn't believe any of it.
Melissa has returned home from jolly old England because she's helping her mom get elected to the state senate. She tries to coach Spencer about how to give an interview to FuzzFeed Wesbsite Page, but keeps getting distracted by the way Spencer and Caleb are flirting with each other. Melissa assumes that when Spencer tells Caleb she wants him to burn her toast what she really means is that she wants Caleb to put his P in her V. She also assumes that this potential consensual sex act between two single adults is the same thing as when her grown-up boyfriends seduced her underage sister and filmed her and her friends at their slumber parties. "Shopping in other people's carts" is what she calls it, as opposed to the thing I've always heard it called, which is "being the victim of a felony."
Maybe that's what I'll call victim-blaming from now on. "Shopping in other people's carts."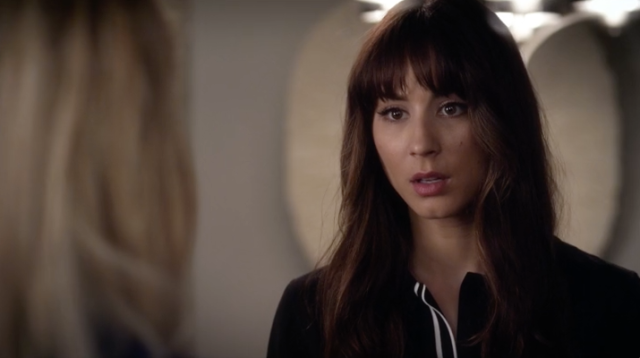 Spencer asks Hanna if she can get with Caleb, and, like, this will be the first time for them, in terms of getting with it, because she definitely would not have gotten with it with him in Europe without consulting Hanna first because ovaries before brovaries. Hanna grimaces and turns it into a smile and says Spencer should go for it.
Pages: 1 2See entire article on one page