LIVEBLOG STARTS HERE.
Jump to the drinking game if you haven't already seen it.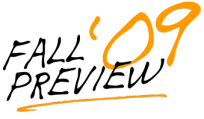 11:04: Obama won tonight. Freak it won tonight. We all won tonight. Except that Wilson guy, I reckon according to his people he'll have quite a bit to contend with when he reaches the pearly gates I'M SORRY IF!
10:02: Robert Gibbs burn!! Oh, America. "I do hope the viewers of FOX will find a way to watch this speech tonight. I know the network, instead of dealing with the reality of millions of people on health insurance reform have decided to show a reality show called 'So You Think You Can Dance?'"
9:54: They should've played "Take a Bow" at the end of the Obama Show
9:49: I like that this show is making a commentary on sex ed and celibacy nonsense.
9:44: The sex scene in Spring Awakening was so much better.
9:34:
Carly: OHHH PUSH IT
Riese: i don't even know what to say
Carly: they're still too white possibly. but it's amazing jayma mays FTW
9:29:
Alex: Aw I want them to kiss and I don't even care about straight people!
Riese: But they're weirdos, all that matters is that they're weirdos!
Carly: a chorus of "awwws" just erupted in my living room OCD confsession time
9:27: RACHEL IN GLEE FOR THE WIN!
9:22: "Republicans are always on the wrong side of history" – true (We're talking about the marie claire issue with Drew Barrymore and Ellen Page.)
9:17: Jane Lynch can do no wrong. Jane Lynch & Barack Obama FTW tonight.
9:11:
Carly: its still a little like, is this lame? i dont know
ROBIN: more jane lynch! less of this!
Alexandra: hahaha
Riese: um, they need a new sound mixer
9:08: Well, she is doing a good analogy for the American problem with wanting things we can't afford and thinking we somehow deserve said things.
9:05
Riese: drink
Carly: drink!
Alexandra:"AW HELL TO THA NAW!"
9:00: GLEE
Riese: THE RIGHT WING WON, THEY GOT US TO STOP WATCHING THE HEALTH CARE SPEECH FOR GLEE ON FOX!
Carly: lol
Riese: we were being moved by obama and they made us change the channel for GLEE! showing us on the inside we are not good poeple!
Carly: the terrorists won
Riese: omg, we don't deserve health care!
Carly: we only are watching glee now because of the liveblog
8:57: At stake are fundamental purposes of social justice and the character of our country. I thought about that phrase at length the last several days. one of the most unique things about Americans … has been our healthy skepticism of government.
8:48: dum dum dum duh duh duh duh duh duh duh DON'T STOP BELIEVING! HOLD ON TO THAT FEELING! HEALTH CARE! AND LIFE FAIR! ALL THE WAY!
8:47: The key to the Christian Right's domination is that they have convinced so many people that what happens after life (death) is the point of life! That's such propaganda! That's so fucking clever of those assholes. Also someone is twittering from their crackberry.
8:44: In other news, Ellen is replacing Paula Abdul as the fourth judge on American Idol! Damn, I wish she had been there for Adam, that would've been interesting. Have you seen Hey Paula?
8:42: It's insane the amount of disrespect this president endures. The Right is strong b/c they have mastered the art of controlling stupid people. Religion is one of their tools, unfortunately for people who have more noble relationships to religion. Anyhow.
8:36: How long have we been waiting for Obama to call these asshats out for being such manipulative weirdos.
8:32:
Alex: "You know how George W. Bush went to war even though everyone was against it? Can't Obama just do that with health care? Like 'rah rah rah' I'm going to war bahh!'
8:27: OMG OBAMA IS CALLING EVERYONE OUT HAHAHA!
8:22: Um, btw. Obama's speech is really good so far. Although I can't stop hearing the opening chords of Journey's "Don't Stop Believing." It would be awesome for a musical segue … nah. This is pretty awesome as is.
8:19: All the ladies in the best outfits have already stood up! Good sign!
8:14: Omg, the right is going to FREAK that this is so media-friendly, like he's a rock star and not a president. Whatever.
Intern Lily: If John McCain was that adorable, he could stand in front of everyone too and get this kind of attention. They don't have anyone this adorable.
Anyhow, I think what we need to save universal health care is A REALLY GOOD SATURDAY NIGHT LIVE SKIT. It's like Sarah Palin. We need Tina Fey!
8:10: Keith Olberman says it's the right of the citizens against the wants of the corporations and that's what it's always been, and always will be. If this goes over, are they gonna interrupt Glee? If that happens I think it will be the last straw between Obama and the gays.
8:05: Hillary Clinton looks great. This show is so gay!
8:01 PM: Wouldn't it be cool if The Obama Show had singing and dancing? Can an intern draw me a version of The Obama Show mixed up with Glee?
8:00 PM: The Obama Show has a lesbian character! Her name is Rachel Maddow and she's a foxy news anchor for a fancy network with a lot of Opinions! VISIBILITY MATTERS!
7:58 PM: I think we need an ObamaCare Drinking Game too!
Tonight at 9 P.M. EST Glee! will premiere on the Fox Network. As this is possibly the most hyped show in the history of television, we will be live-blogging it right here in this very post, so that you can watch along with Riese, Alex, Carlytron, Robin and Intern Lily!
One Drink each time…
1. Homosexuality is alluded to indirectly.
Example: Tossing the gay kid in the dumpster as he squeals, "this is from Marc Jacob's new collection!"
2. FoxNews, Fox Sports, or really anything involving the Fox media empire is directly referenced.
Example: "My performers didn't get on FoxSports last year 'cause they ate at Bacon Junket."
3. A student signs on to MySpace.
Which is also owned by Fox!
4. Camera shooting someone on stage from behind with appropriately suspenseful light gleaming onto the stage, e.g.:
5. Glee Club wears matching outfits and the Asian girl adds some Avril Lavigne spice to her outfit.
6. Jocks use wordplay/bad puns to insult Glee Club, like calling it "Homo Explosion."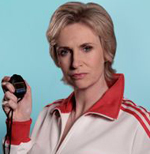 7. Coach Sue uses war-time speech to describe high school or Jane Lynch says or does anything that makes you think, "The Lynch can do no wrong."
8. Rachel & Finn give each other dreamy-eyes!
9. Quinn does something or references something that could be featured on "Stuff Christian Culture Likes," like praying in the middle of making out.
10.  Mercedes says something that on America's Next Top Model would inspire Tyra to say, "standing before me is a girl who many call 'a diva'."

10a. Rachel say something that on America's Next Top Model would inspire Tyra to say she's the next Elyse Sewell and should stop thinking she's better than everyone else 'cause she's smart. But the camera loves her.

11. The Glee Club or a Glee Club member sings a song from Broadway that you recognize as being from Broadway.
TWO DRINKS: Rachel (Broadway's Lea Michelle) sings a Broadway song.
THREE DRINKS: Rachel sings a song that was actually sung on Broadway by Broadway's Lea Michelle. For example, "On my Own" from Les Miserables, or anything from Les Mis, Fiddler on the Roof or Spring Awakening (actually if anything gets sung from Spring Awakening, our heads will explode).
12. Rachel gets any form of beverage thrown in her face.
13. Your eyes water at a very moving part of a musical number.
14. Will defers to his wife when she says something totally insane and divorce-worthy.
15. You feel shocked that Glee airs on the FOX Network.
16. While watching Glee, you read a negative Twitter or Facebook update about Glee from someone you used to think was a friend.
17. A young person makes a moving speech to a group of people about how we need to believe in ourselves, or we're all losers, we need to follow our dreams, etc.
18. Special Drink-a-Thons
Two drinks: if we ever see Rachel's two Dads for real (not in a photo).
Three drinks: Matthew & Emma make out, or Rachel & Finn make out.
Four drinks: Homosexual action.
Five drinks: The show gets canceled.