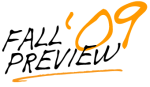 We kick off our first ever "issue" (you know, like a magazine!) with Autostraddle's Fall Preview '09! Got started yesterday with theBig Gay Fall TV Preview, which offers you lots of LOLs and our roundtable-esque witty banter on The Wednesday Night Gay Conspiracy, V, Flash Forward, Glee, Modern Family, Community, Bored to Death, Spartacus, Stargate Universe, Three Rivers, The Beautiful Life, Melrose Place … and so much more!
This just in: Alex has created for your viewing pleasure our first ever Terrible/Awesome Forecast Grid – the Fall Preview Edition!
We'll have a guide to the Fall Preview for you to navigate the whole issue seamlessly later in the week!
Last night we live-blogged Glee (and the presidential address a little) and played the Glee Drinking Game!
Yesterdays Daily Fix: in which Drew Barrymore and Ellen Page show each other some love in Marie Claire mag: Universal Health Care, Universal Glee, Universal Makeovers for Female Athletes and more.
If you haven't read it yet: Autostraddle's Natalie interviews Knights Out member Lissa Young, a 1986 West Point graduate and current Harvard grad student and 2002 Don't Ask Don't Tell discharge: DADT Discharge Lissa Young: The Autostraddle Interview.
This week's Tuesday Televisionary: We lose Vogue Evolution on America's Best Dance Crew, Weeds ends with a nosedive, and Top Chef can't win with pasta salad.
+ Top Stories
OBAMA: Obama's speech about health care was awesome. It's cool to have a president who consistently manages to defiy expectation. As did the Republicans, with their hearty asshattery, expressed via unruly discourse via Wilson from South Carolina. He has since apologized, but who cares, let's impeach him. We kinda live-blogged The Obama Show AND Glee last night.
ELLEN: Lesbian takeover! Ellen DeGeneres will replace Paula Abdul as the fourth judge on "American Idol." Hopefully she'll bring more Adam Lambert, and do funny stuff like she did on her show today breaking up a big Real Housewives of Atlanta. (@people)
ELLEN PAGE & DREW BARRYMORE: If you missed it in yesterday's daily fix, Ellen Page & Drew Barrymore kissed in Marie Claire and the whole world changed! The article is even better, openeing with "Drew Barrymore and Ellen Page can't keep their hands off each other, followed with lots of gushing about each other's sexy bodies. Howevs, though Drew is known as "bi," the evidence is a bit hard to pin down. She's said to New Woman Magazine, "when I was younger I used to go out with a lot of women but I don't think I could ever just solely be with a woman … it's just not enough for me." In '95, rumors about her leaving her boyfriend for Jen Pratt were denied, as were rumors in '01 that the divorce from Tom Green was partially due to him being over her lesbian flings, and in '02 US Weekly, the most reliable news source ever, reported,  "Newly single actress Drew Barrymore has shown the world she's over her split by passionately kissing a pair of women at a Los Angeles nightspot," (and much more!) The kiss photo rocked our tumblr, and we love roller derby even more than before.
Also in Marie Claire right now? Do Nudie pics of Chicks Turn You On? Just saying.
IPOD: The lowdown on the 2009 iPod lineup.  Nano that shoots video! 3rd generation iPod Touch!  iTunes is now a DJ! (mashable)
+Arts & Culture
'NOT GAY': KC speaks to Heat and is asked yet again about her weight and  those persistent gay rumors.  KC would go gay for Ellen, and is only bothered by being called a lesbian when its used as an insult. Queen Latifah goes to a party and shares a cute boyfriend story, which is totally transparent. Whatever. I give up on you people!
KATHY GRIFFIN: Kathy G. has been making the rounds hardcore this week promoting her autobiography, Official Book Club Selection.  Among her stops have been to the 4th hour of The Today Show to talk with the cray-cray Kathie Lee Gifford and Hoda and CNN with Campbell Brown, where she spoke candidly about her pedophile, crack addicted brother who died in her mother's arms, Obama's speech to schoolchildren, Levi Johnston, women in entertainment, Michelle Obama's arms, Oprah, and her own botched liposuction.   (@time)
MADDOW: Rachel Maddow Show Hits One-Year Anniversary: What's Your Favorite Maddow Moment? Too many!
BRITNEY: Britney shocks her live audience by actually performing live! Check out babygirl performing a cover of 'You Oughta Know' by Alanis Morissette.
THE LYNCH CAN DO NO WRONG: Jane Lynch promoting Glee on Chelsea Lately:
L WORD: Laurel Holloman was spotted out with her family at the Malibu Fair this weekend. Stop the presses for real, someone watch Angelica. (@celebritybabyscoop)
GAGA: Lady Gaga performed "LoveGame" on the season premiere of Ellen:
+News & Politics
HEALTH CARE: Bill Clinton gave an extensive interview to Esquire magazine in which he advised President Barack Obama to forge ahead on health reform without the Republicans. (@advocate)
OH GOOD, MORE "CURED" HOMOSEXUALS: A nurse in Australia who claimed he wrote to President Barack Obama asking for "changewp_poststo rid the world of homosexuals has been suspended from the health care profession.  Matthew George Price, who declared himself a "curedwp_postshomosexual, published an antigay letter in the alumni newsletter of Xavier College in New South Wales in April. (@brisbanetimes)

Auto-Straddler of the Day

from Intern Jess:
I don't even know what to say about this, but it's entertaining nonetheless: menwholooklikeoldlesbians.blogspot.com.
+
+

from Riese:
My favorite reviewer/man Sam Anderson on How Dan Brown Feeds the Brain: "The great unsolved mystery at the core of The Da Vinci Code is not whether Jesus had a child (of course!) or whether the Catholic Church is a deadly machine of transhistorical truth suppression (big time!) but something far more interesting: How did an artwork so objectively horrendous manage to conquer Planet Earth?"

from Carly: Apartment Therapy Unplugged has a list of 15 iPhone apps useful in interior design. These are totally awesome, and most have uses outside the realm of home decorating, too!