Greetings squirrel friends! I'm going to make this brief, because we're saving the good stuff for tomorrow, when we will unleash our Fall TV Preview upon you and you will be super excited about that, trust. The only news I've got for you today is that Saturday Night Live had some shakeups last week, firing Michaela Watkins and Casey Wilson and hiring two new ladies, as well as promoting Autostraddle favorite Kristen Wiig to Weekend Update Anchor, which means more Wiig which means more awesome!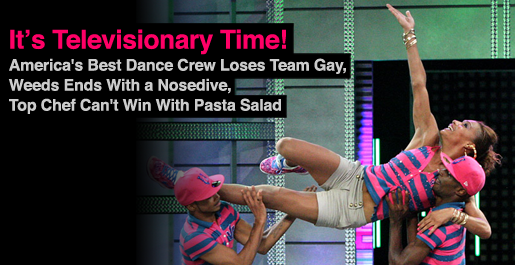 And now, without further ado, onto the awards!

Weeds Episode 513 – "All About my Mom" (Finale)
(by Carlytron)
The WTF Award For Sporting Equipment
Finale time! We start with a healthy dose of foreshadowing — a lady diving into a pool. Not just any pool, Pilar's pool! Keep that in mind as we go on.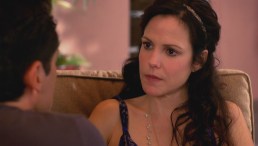 Speaking of Pilar, she sends a lady to give Nancy a massage. You know, I have some tension in my shoulders, Pilar could you send her to me next? Nancy is mad at Esteban for disappearing and getting onto Pilar's ticket without telling her. He confides in her that Pilar has dirt on him that would ruin him, and is blackmailing him into doing whatever she wants. Nancy seems like she's about to forgive him when he smells himself on her (she's wearing his deodorant because she likes the smell). He TOTALLY FLIPS OUT on her about how she smells like a man and forbids her from wearing it again.
Guillermo is free in Mexico, so Nancy held up her end of the bargain. She tells him to kill Pilar TODAY, I WANT IT DONE TODAY and he's like, hey sure, I'm your boy. Or is he?
Adelita ODs on heroin and part of her body goes numb so she tries to get Silas to help her and then she throws up. Andy sells General Lee for a sensible automobile and asks her to marry him, giving her the ring he got back from Nancy last week. She doesn't get a chance to say yes, because she has to go save Adelita. So they go over to Esteban's palace. Nancy finds out that Adelita is a junkie and then has to break the news to Esteban. His world is completely ROCKED (Andy also says that he's addicted to Intervention, Tinkerbell shoutout!). Andy and Nancy talk for a bit, it's bittersweet.
Nancy: "I can't rely on men. Doesn't mean I don't love them, doesn't mean I walk out… it just means I have adjusted my expectations. Men are weak."

Andy: "I'm not, I'm fucking steel."

Nancy: "Yes, you are. And you're… getting married."

Andy: "We're like an O Henry story."

Nancy: "No. We're our own… fucked up little story."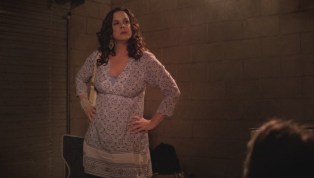 Off in Crazytown, Celia wants to assemble her own weed team, just like Nancy! Celia, no one should ever base any sort of career move or major life decision on anything Nancy Botwin has ever done, as she is a terrible example. Hiding out in a storage space, she gets Doug to admit that he sent Dean in blackface to freak her out, so she clocks him in the head with a Kool Aid Man pitcher full of Tang and vodka and he agrees to team up. In an homage to the end of Season 1, the team introduces themselves: Celia (Team Leader), Doug (Finance, Co-Team Leader), Dean (Legal), Ignacio (Supply), Perro Insano (Muscle, also this is just Ignacio in his crazy mask), Sanjay (Sales), and Isabel (Brains).
Ok cliffhanger time! Andy and Dr. Alanis return home, only to find the crazy anti-abortion dude has broken into the house with a bunch of weapons and is about to shoot them with a crossbow. Andy TAKES OFF, leaving her with the crazy dude. Nice one, Andy.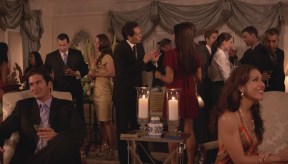 So we're at this party at Pilar's house. Nancy is there with Esteban and her kids. Pilar wants her to leave after a 30 minute appearance. She and Nancy walk outside, by the pool. Pilar tells Nancy that Guillermo works for her, and that he still hates Nancy for landing him in jail, so she should choose better assassins in the future. Oh, she has no idea about her assassins and the future. She threatens Shane and Silas, implying that she's going to kill them. Nancy says she'll kill Pilar herself if she hurts her kids.
Pilar goes on and on like this until she's clobbered in the head with a croquet mallet and falls into the pool, mirroring the opening shot of the episode (see what we did there — we came full circle!). But who killed Pilar? Why none other than mini-Nancy himself, Shane Botwin. Standing there, looking totally put-together and calm, he says to his mother, "I couldn't find a golf club." Nancy is stunned. Have to admit, I didn't see that coming. I thought it was Esteban, I should've expected it would be Shane.

What did you think, squirrel friends? Did you like the finale? What about this season as a whole? Has this show lasted past its prime? Sound off in the comments!

Top Chef Episode 603 – Thunderbird
(by Laneia)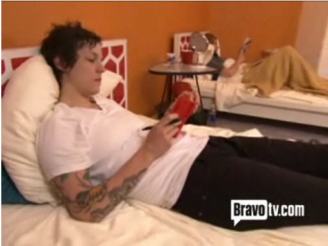 This week was all about our servicemen and women, a subject close to my heart. So close, in fact, that I'm having a difficult time not turning this blurb into a rant about the exploitation of military families and the collective forgetfulness of a country when it comes to the overall well-being of military members and their loved ones. Howevs! I'm not here to complain/make friends. J/k I'm totally here to make friends! With Ashley Merriman!
Oh hello speaking of Ashley Merriman, head on over to TheStranger.com [where Number One Feeling, Dan Savage, answers your sex and relationship questions!] and read this really interesting Q+A with Ashley! 'Top Chef': An Interview Highlights include Ashley's real feelings towards Michael Isabella [she loves him!] and what she's working on with Alex Guarnaschelli. It's crucial that I note how much I lalalove Alex Guarnaschelli and that I almost squeeled when I read the news! [Watch Alex on her show, The Cooking Loft, on Food Network.]
Don't you think potato is a funny word? In the Quickfire Challenge, contestants had to make dishes using potatoes. Apparently the trendiest thing you can do with something as silly as a potato is prepare it three ways. Because nothing is more exciting than three tiny bites of differently-prepared potatoes. Nothing. I can think of nothing. Laurine Wickett, the chef we've dubbed "The Forgettable One" because the editing department hasn't given us anything to remember her by, made a vegetarian burger! I know it's practically the quickest way to get kicked off the show [R.I.P Jen], but I really like it when chefs prepare vegan and vegetarian meals.
Guess what else happened during the Quickfire — Padma was so pretty! And Jennifer Carroll won, which gave her immunity and a very interesting position in the Elimination Challenge.
For the Elimination Challenge, chefs had to prepare a meal for 300 military personnel using the mostly canned and dried ingredients found in the galley kitchen, where there are no burners or regular pots. That sounds… less than fun. The decision was made to divide up into teams of two with Jennifer acting as executive chef/problem solver/bad-ass. This was obviously a smart approach in that it produced mostly solid dishes, but it was slightly awkward when Mike I. was in both the winning and losing brackets.
"If I was told that I could only cook one way for the rest of my life, it would be cooking traditional Southern foods." -Kevin Gillespie, #2 fave chef
In the end, a bunch of people who give up more than you can ever appreciate/imagine were served some yummy food and got to be on teevee, which is neat and fun. Somewhere Sarah Palin was probably weeping tears of UNABASHED PATRIOTISM. Preeti was booted for making a pasta salad, because you can't win with pasta salad, and we were left with one less lesbian to cheer for.

The Hot Girl of the Week Award
(by Intern Lola)
On June 25, Michael Jackson's death cast a shadow over all news that day. MSNBC opted to forgo their usual news programming, dedicating 100% of airtime to the Jackson story instead. While I, too, love and respect the King of Pop, this was an outrage! Why? Because, Ana Marie Cox was scheduled to guest host The Rachel Maddow Show for the first time ever. For those crazy viewers like myself, who watched in rapt anticipation for months hoping the oft inappropriate and always adorable Ana Marie Cox might guest host, the moment finally arrived last Friday. 'Lo and behold! Rachel Maddow decided to take a fishing trip (literally), leaving my biggest politicrush at the helm (figuratively). She stumbled over her words a bit, and I cringed when she accidentally called Kent Jones by Keith Olbermann's name – proving once again that LIVE TV is harder than it looks – but all was easily redeemed by the slow reveal of her awesome Ted Kennedy t-shirt. What a minx.

America's Best Dance Crew Episode 405 – Dance Craze Challenge
(by Intern Vashti)
This week's challenge was so bizarre. In theory, mixing high energy dancing with trampolines should equal sloppy moves and busted heads. In practice though, everyone did really well! Go team!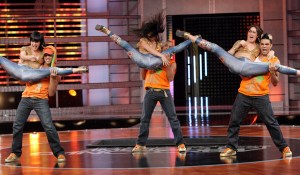 AfroBorike
Challenge: Swag Surfin'
I have mixed feelings about this performance. On one hand, I was really excited that AfroBorike managed to do well two weeks in a row. On the other hand, they were kind of raunchy. This crew has always focused on being really sexy but the guys grinding in the girls' faces was over the top.
+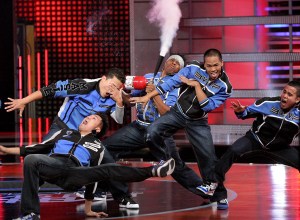 Massive Monkees
Challenge: Do The Ricky Bobby
I will never understand the appeal of Massive Monkees. Yes, their performance was good, I admit but week after week I am so underwhelmed. ABDC has featured several amazing bboy groups and I don't think Massive Monkees are at the same level as those groups. However, just looking at who is left, I'm guessing they will be in the top three.
+

Rhythm City
Challenge: Jerking
The judges loved Rhythm City's performance. Lil Mama even said it was the most exciting performance of the night. I thought it was one of their weaker routines. Maybe I'm being a little harsh but it's all out of love. I still think/hope they'll win the show.
+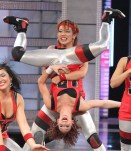 We Are Heroes
Challenge: Stanky Leg
I love these girls. Despite two of them dealing with significant injuries, We Are Heroes delivers every week. I think they will be giving Rhythm City a run for their money in the final two [as long as voters wake up and stop voting them into the bottom two].
+
+
Vogue Evolution
Challenge: Halle Berry
Let us all have a moment silence for the elimination of Vogue Evolution. Every week they graced our television screens [or computer screens if you 're like me and don't own a tv] and entertained us with their unique, high energy performances. Also, let's not forget that they are all openly gay or transgender. They are positive image of the LGBT community on a show where you just. don't. see. that. They will be missed and we wish them well in the future.
Here's a Special Behind-the-Scenes video of Vogue Evolution after being eliminated: