Ah, fall. My favorite season. Crisp air, layered clothing, sweaters (it's like wearing a hug all day! tm Carlytron), and fall television — the most robust and interesting of all the television seasons! We here at Autostraddle are super excited about fall! So many things are going on! But for now, we're going to talk about "the teevee," as Riese likes to call it. So please sit back and relax while we tell you what is worth watching this fall!
Basically, we looked at the shows that were generating a lot of buzz all over the internets and then we tried to find a way to talk about them that would be somehow different from the 385 other Fall TV Previews out there already. We figured the best way to do that was with our sparkling, charming personalities (aside from Tinkerbell, it's all we've got).
So we held a mini roundtable and broke the schedule down to tell you why you might care about these new shows and how we feel about them ourselves. This lunacy was patiently edited by Interns Emily and X, and for that we are eternally grateful (other intern shoutouts go to Lola, Vashti, and Laura! Hey girl hey!). If you loved The Autostraddle L Word Recaps, you will love our chat!

Before we get to the fun stuff, though, we need to get serious for a second. In researching the fall tv schedule, we noticed a few things about the timeslots.
For more on that now, here's Riese:
THE ANTI-GAY
TELEVISION CONSPIRACY
by Riese
As you know, there's a worldwide conspiracy against gay people; generally attempting to hold us back from our dreams, steamy makeout sessions and multi-episode arcs. This fall, the conspiracy will explode on a television set near you on Wednesday nights at 9pm. I don't care how many Moms you have, there aren't enough Tivos to handle this shit. (Personally, I don't have any Tivos, so I'm shit out of luck). (I do have two Moms though!)
So networks listen up: if you want to complain that everyone is watching your shows online instead of while broadcast, why don't you make it a little easier for the gays to gather their gay asses around the nannyf*cking television to bask in your gay glow every night of the week, instead of pitting gays against gays all on the same night.
Family Gays! ABC – The Modern Family 9-9:30 – Forget that tired canned-laughter studio-audienced laugh-tracked tradtional sitcom formula. The Modern Family breaks the half-hour suburban family-centric program mold both conceptually and structurally with a focus on three, rather than one, quirky family units. The gay characters Mitchell & Cameron seem stereotypical at first (they choose to adopt a Vietnamese baby rather than ask a lesbian friend to get pregnant, 'cause "can you imagine how mean a lesbian would be pregnant?") but early critics say the show will be gay-friendly. IF IT DOESN'T GET ITS ASS KICKED BY GLEE!
High School Gays! FOX – Glee – 9-10 – Forget that tired moralistic heavy-handed soapy high school drama formula. Glee breaks the "Pretty People Make Out, Fight & Do Drugs" mold both conceptually and structurally with a quirky hour-long Musical that focuses on a motley Glee Club of geeks & outcasts (and one hunky football player), spearheaded by the ambitious Spanish teacher forced to face-off with the female cheerleading coach, played by lesbian Jane Lynch. The token gay character, 14-year-old Kurt, seems stereotypical at first (he's stuffed into a garbage disposal by bullies, mourns his fashionable jacket getting fucked up), but creator Ryan Murphy (Nip/Tuck) promises Kurt will go beyond the stereotypical gay cliche.
Marc Malkin says, "Glee looks like it could be the next gayest show on television. Can't wait."
Glamorous Gays! CW – The Beautiful Life – 9-10 – Remember that tired "behind the scenes of fashion model" formula that consistently falls flat on its face and disappoints? They're gonna do that for a little while. We'll see how long it lasts! Anyhow, there'll be lots of hot male models who want to do each other up the butt in this one, so I would potentially check it out were it not for the competition.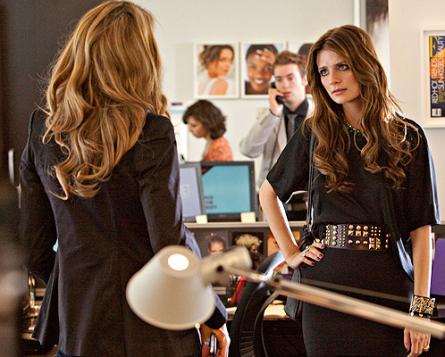 Dead Gays! NBC – Law & Order: Special Victims Unit – 9-10 – Honestly this is what I'll end up watching, b/c my love for Mariska Hargitay and the formulaic cops-and-detective show plot is eternal. I will never, ever, ever, ever get sick of Law & Order. Play it again, Sam, the gays can duke it out in the other room, let's kill some trannies and rape some children!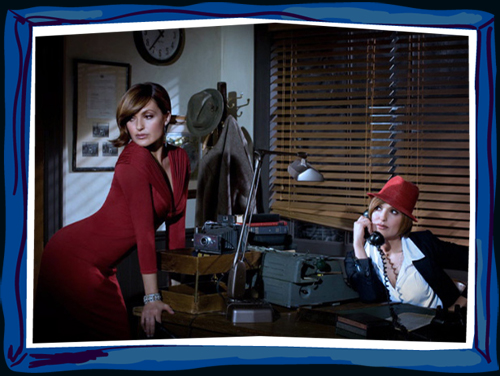 Now onto the GIANT TV PREVIEW! I know it seems long, but if you skip over it, you are missing out on some major LOLing opportunities!!
Your commentators for the Fall TV Preview are: Riese, CEO of Ideas and Haver of Feelings; Carlytron, your Televisionary Extraordinaire; Modest Moderator; Robin, Photographer to the Stars; and Laneia and her homosexual life partner Cheryl, a.k.a. SLOGANX/SLOGREENX (formerly of Lesbian Interweb Epicenter Slogan-X) reunited!
And make sure you stick around to the end, where we will announce what shows we will be recapping this season (and something extra special too!).
Get ready, we're about to blow your MIND.
This is how it started:
Riese: Carly, you have to moderate like you are hosting a panel at the Grace Paley Institute of Media.
Carlytron: I am now wearing my Moderator hat and my Analrapist shoes.
Cheryl: Why isn't Alex here?
Riese: Alex is redesigning.
Carlytron: Well then this isn't a triple date! Anyhow, as moderator I would like to begin this evening's programme! The delegates from Phoenix, New Jersey, and Manhattan are all present. Greetings all, welcome to the most bonkers thing we've attempted in a while!
So here's how this will work! we'll go show by show, and try to stay on the topic of that show (as best we can as we are prone to tangents and by 'we' I mean 'me' and I also mean 'Riese')
I will announce when we are done with a show and moving on to the next show, and i will start each show with a quick bit of info on each.
+
Riese: This is so cute!
Laneia: This is very strategic.
Carlytron: I'm all about strategery.
Laneia: I wish I was wearing a headset.
Robin: :)
Riese: Thundercats!
And now, without further ado…

Autostraddle's Big Gay Fall 2009 TV Preview!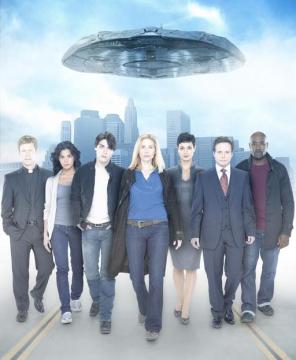 V
WHEN: Tuesdays at 8pm EST on ABC (Premiering November 3rd)
WHAT: (from ABC's press release, August 2009) V is a re-imagining of the 1980s miniseries about the world's first encounter with an alien race. Simultaneously appearing over every major city in the world, the Visitors (or V's) promote a message of peace. Through their generous offer to share advanced technology, the V's build a following that may actually hide a more malevolent agenda, one that twists a very deep component of human nature — devotion.
WHY: Because you like sci-fi, because you think Elizabeth Mitchell is awesome (she is!), because you enjoy buzz-worthy serialized dramas, because you think the main alien lady is hottt!
WHERE: Official V Site


Riese: I saw this preview and I thought THIS SHIT IS BANANAS!
Robin: Omg hot short haired sexy aliens… I hate science fiction normally but I'll make my exceptions.
Carlytron: It's sci-fi but it's also about blind faith and mass phenomena.
Cheryl: Omg I think I might be the only one who watched the original show, y'all were like 4-10 years old right?
Carlytron: Yeah I've never seen it.
Robin: Nope.
Riese: There was an original show? I have been alive for almost 28 years.
Carlytron: It was a miniseries.
Laneia: I feel like the most this show should be is a miniseries.
Riese: Probs it'll get canceled after three episodes, which is much like a miniseries. JK! I feel like this show wants to be the "watercooler show."
Cheryl: Omg but y'all don't know THE SECRET to the VISITORS!!!
Laneia: They are all on their periods?
Riese: Are they replicants? Is it The Matrix? Is it Neverending Story 4?
Carlytron: Is it Ourchart?
Riese: Wait so was the original a good show?
Cheryl: UMMM no the original show was canceled after one season.
Laneia: I want to watch it b/c of the blind faith angle.
Carlytron: Yeah I am into that angle too.
Riese: You like blind faith? Oh, like The Handmaid's Tale. Or America, the country.
Laneia: I like watching other ppl have blind faith! That's why I sit outside churches w/ popcorn!
Cheryl: So did anyone watch Firefly b/c some of the actors are from that show.
Carlytron: And the rest of the actors are from The Nine which I loved.
Riese: It will be either a phenom or a failure. And if it is a phenom I will be skeptical.
Robin: I agree.
Laneia: I say fail.
Carlytron: I think this could burn out fast, people could get tired of it depending on the pacing since it was formerly a miniseries.
Riese: It seems like you have to watch it from the get-go.
Cheryl: My prediction is once the audience knows who "the Visitors" really are they will lose all interest in the show, just like in 1984.
Carlytron: And like how long can they wait to tell us that?
Robin: Yea like what can happen after that?
Laneia: I wish that was your tagline, Cheryl! "JUST LIKE IN 1984."
Riese: I mean Cheryl is about to tell us already, and it hasn't even started.
Carlytron: I sorta want Cheryl to spoil it.
Robin: I want to know, I'll never watch this.
Carlytron: The aliens look like lizards in the preview.
Riese: Tinkerbell likes lizards.
Robin: Tinkerbell you slut!
Cheryl: See Carly got it and I didn't even have to spoil it.
Carlytron: Wait that's it? It's in the GODDAMN PREVIEW TRAILER!
Cheryl: G-A-Y.
Carlytron: They peel of a person's face and it's a lizard, at the end of the trailer!!!
Laneia: Heavy-handed editing.
Carlytron: Are you kidding me?! That's all it is?
Robin: Wow, srsly?
Riese: WHAT?! WAIT A SECOND: LIZARDS?
Laneia: But wait — what KIND of lizards???
Riese: They are lizards?
Laneia: Geckos?
Riese: Lizards of the sea or of the land?
Robin: Leopard geckos?
Laneia: Bearded dragons?
Riese: It's like MY TEACHER IS AN ALIEN, the classic YA novel!
Cheryl: Oh but wait, they have a mission too.
Carlytron: Are they just on earth to sell us insurance? is that the mission?
Riese: OMG that's a good one Carly!
Carlytron: I was excited about this show until about two minutes ago.
Riese: Like most things on television, I prefer talking about it to watching it.
Cheryl: Anyone who watched the original (like me) said "why the hell are they re-making THAT SHOW?"
Riese: I wish it was the Natalie Portman movie, V for Vendetta, as a tv series.
Carlytron: Me too.
Cheryl: I'm over it.

NEXT PAGE: Flash Forward, Modern Family, Community, Melrose Place, Glee, Bored to Death…
Pages: 1 2 3See entire article on one page