I don't know about you, but I have a serious case of the old butterfly mind going on right now. Maybe it's because I just moved to a new home on this big, wild, beautiful piece of land and there is So. Much. Potential it's filling up my brain like nobody's business. Maybe it's because I'm an Aquarius. Maybe it's because I have a girlfriend who is even worse than me and every time I try to stop having so many damn ideas, along she comes with a winning smile and a cup of strong coffee and off we go again with the mind maps and the scheming and the dreaming.
I truly love the maxim 'do one thing well', but when it comes to living by those words, I confess I struggle. There's always something exciting to do, never mind if I'm halfway through a project I started last week. Often, that's a fun thing! I'm happy having lots of plates spinning, I enjoy dipping in and out of my many and changing interests. It's part of being a multipotentialite and I love my life when it's filled with diverse projects.
Right now, though, that ain't working for me. I need to quiet the clamour in my head and get some peace, so I can focus on one thing instead of flitting around in all directions. To this end, I made this super short, super quick little tarot spread to help me zoom in on what I want to be doing right now.
It's simple as one two three:
1. Do this!
2. Ditch this!
3. Yeah, okay, but not until tomorrow.
I dug out the weird and wonderful Tarot of the Cat People, and threw down my cards.
1. Do this! Queen of Pentacles
So gardening has been big on my list. Learning from Sandy (the matriarch of the aforementioned land I've just moved to, a goddess of permaculture growing and nicknamed 'head gardener' by all who hang out here. This isn't just about gardening though. As the Queen, this is about creating my own garden. A patch to call my own, to sow my seeds and tend the plants I really, really want to grow, with pride and confidence and love.
I'm literally running towards those seeds I ordered right now…
Except, hang on, there are two more cards.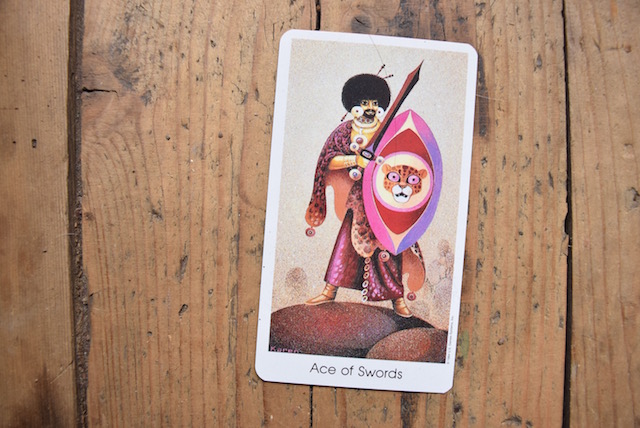 2. Ditch this! Ace of Swords
Dang. I'm thinking this is about the (many and various) books I've ordered. I've got new books on tarot, on herbs, on seasonal celebrations and on gardening. I've got new poetry books written by friends, three novels on my wish-list and Juliet Takes a Breath waiting on my bedside table.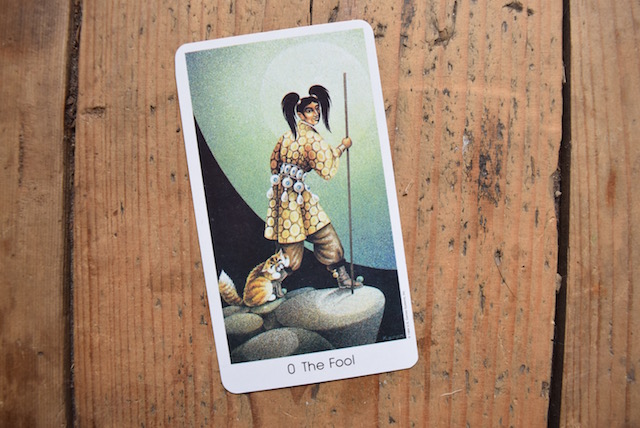 3. Yeah, okay, but not until tomorrow. The Fool
Agh, the Fool could literally be any project I've been dreaming of — any new start, any plan to begin something new! So let's get into the image on this specific card. Looking back over her shoulder, this woman seems like she's anywhere but in the present — setting forth on a new adventure before enjoying the one she's already in (I'm projecting here, cos that's how this tarot thing works.) Meanwhile her cat clings on to her leg for dear life, meowing 'stay!'
So to me, right now, it feels like this card is about my tendency to go running off towards the next big shiny thing, rather than being present in the moment.
One of my favourite things about tarot is that nothing is hard and fast. You interpret your cards, you feel your feelings, and you're free to do with that whatever you like. Now I've read these cards and I can see my tangled mind down on the table, everything looks a lot simpler. I think I'm going to swoosh these cards around a bit to get closer to what I actually want.
I'll keep the Queen of Pentacles and creative gardening in position one. It's a sunny day and I've been saying I'm going to create a garden for literally five years. Today is the day! But I'm going to swap 2 and 3 over. I'm going to try to ditch this mentality I've gotten into that I have to go running into every little opportunity that comes my way. I'm going to work on being in the present. And tomorrow, when it rains, I'm free to curl up with my gardening books. Bingo.
If you're brain is doing the butterfly dance too, try this out and share your findings in the comments!