In Follow Your Arrow, we're talking a lot about 'following your passion' and building a business out of doing what you love. But what if you don't have just one thing? What if you have so many interests you wouldn't know where to start creating a business? And what if — shock, horror — you know yourself well enough to be sure that whatever you're totally obsessed with right now, you'll gradually lose interest in and drift away… so that you can do something new and exciting instead?
Portland-based Emilie Wapnick felt the same. Confused by the question 'what do you want to be when you grow up?' and later on frustrated by society's pressure to choose a 'calling', she set out to find a different approach to entrepreneurship. In 2010 Emilie coined the term multipotentialite and founded Puttylike.com — an online resource and community for folks who have many different interests. Emilie has gone on to write a book — Renaissance Business — which helps multipotentialite entrepreneurs to combine their interests and build sustainable businesses, and recently delivered an inspiring TED Talk.
Ironically, this has become Emilie's 'thing!' In the following interview she explains how her multipotentialism informs and powers her business, and how, even though she has a central topic, she'll never consider herself a 'specialist'.
Emilie Wapnick, Founder and Creative Director, Puttylike
Age 31, Portland OR, USA
Tell us about your business. What's your mission? Who do you serve? What are your key products or services?
Puttylike is a home for multipotentialites: people with many passions and creative pursuits. Instead of choosing one path and denying your many interests, we believe that you can integrate your many passions into your life. We provide resources and support in the form of a blog, a digital guide, courses, and an online community. (More info on our offerings can be found in the Puttylike shop.)
I describe my role as Founder and Creative Director, which in more corporate terms is basically the CEO. Puttylike currently employs a team of four people.
How would you describe your approach to business? Are you super smart and professional, a big planner, are you just totally winging it? What personal qualities inform your approach?
I'm some combination of the above. I think I'm pretty sharp, I definitely like to plan and set goals, but I also push myself to experiment constantly. I don't have a background in business, at least not a formal one. I've devoured many books and blog posts on business. But I also picked up a lot of business skills when I was younger and playing in bands or designing websites. I didn't know that was what I was doing at the time, but it turns out that a lot of those skills were transferable across disciplines and came in handy many years later when I launched Puttylike.
I try to strike a balance in my business between being open and vulnerable with my community, and being professional and disciplined with my marketing strategy, systems, and team.
What does a typical day look like for you? And what is your workspace like?
I've experimented with different morning routines over the years. Currently, I get up, stretch, meditate for 10-15 minutes, eat, walk my dog, and head to a coffee shop to work for 2-3 hours. I have a hard time working at home, but get me in a space with other people quietly working away, some music in the background and a warm tea, and I'm good to go. I try to leave my afternoons and evenings open for hanging out with my partner, seeing friends, getting outside, and exploring my other interests, though I sometimes do another hour of work in the late afternoon or evening.
The kind of work I do each day varies quite a bit. Sometimes I write an article or newsletter, other times I work on a product, prepare a talk, reply to posts in the Puttytribe, do some outreach, give an interview, or reply to emails. I work about 20 hours a week on my business.
I've been moving around a lot these last few days, and I'm in the process of moving into a new apartment now, so I don't really have a set workplace. But if it did, it would be pretty simple. Laptop, Moleskine notebook, pen, mug of tea, and maybe a few meaningful trinkets.
When did you know that this was what you wanted to do? And what were your early goals, your first steps? 
I was in my final year of law school (I've studied a lot of different things — film, music, art, and yes, law), and I knew that I didn't want to become a lawyer. It just wasn't the life for me. I was introduced to the idea of entrepreneurship through a music policy course that I took in my third year. The final assignment involved getting into interdisciplinary teams and creating a business idea/plan. It was so much fun! I began reading business blogs, listening to podcasts, and when I stumbled across the book The Four-Hour Workweek I was hooked. (That book has a tendency to change lives, and it definitely did that for me.)
In the Fall of 2010, I decided to study abroad in Copenhagen. It was a hard time. I was dealing with some health problems at the time, and was pretty lonely and isolated. But I was completely obsessed with the idea of starting my own business. I would sort of hide in my dorm room for hours on end and work on Puttylike. I hired a business coach, took a course, and devoured every free resource I could find.
My early goals involved simply seeing if my business idea would interest anybody. Were there other people out there who had trouble picking just one thing? Could we really build a community of people determined to build lives around our MANY passions? I realized very quickly how much this idea resonated with others. That said, Puttylike's growth did not happen overnight. It was a slow process. Our community was highly enthusiastic, but it was a slow climb. The site didn't go viral overnight or anything like that.
Puttylike was about three months old when I graduated from law school. I returned to North America and did some freelance web design (something I had done throughout my studies) to hold me over until the business was profitable enough to support me. It took 1-2 years before I was bringing in enough revenue to live off of.
You hired a business coach? Can you tell us a little more about that?
I decided to hire a coach because I needed some fire under my butt. I didn't have the money, but I knew that not being able to afford it was exactly what would force me to take action. I had to make it count. Graduation was also approaching and it was now or never.
The drive, more than anything, was what I got out of coaching. There are plenty of great free resources out there to help you start your business, but there's nothing like a financial investment that you can't quite afford to make you haul ass.
Why do you do this? What makes you spring out of bed in the morning? What's the best thing about the work you do?
For one thing, it's fun work. I get to work in several media and write/think about many different topics (as you can imagine, variety is important for a multipotentialite). I also care deeply about our community. I used to have a lot of anxiety around my inability to stick with one field, and I know a lot of other people struggle with the fact that they don't seem to have "one true calling." I really want people to realize that being a multipotentialite isn't a curse, but a gift, and that you can integrate your many passions into your life and be financially comfortable at the same time.
The best thing about my work is connecting with the incredible multipotentialites in our community; hearing their stories, and helping them build fulfilling, multifaceted lives.
And the worst?
I don't love working alone for hours on end. Running an online business can be lonely. I deal with this by working in public, at coffee shops, as well as taking breaks to be with friends and go outside.
What are the key challenges you face in your work? What are your tactics for overcoming these?
One of my biggest challenges was feeling overwhelmed by my inbox, and the everyday maintenance of the site (updating plugins, loading up newsletters, editing blog posts, tech support, etc.)
The best thing I did to help me with this was to hire a team. Now that I have that in place, much of the daily maintenance work is taken care of, which means that I can focus on the bigger projects like preparing the TED talk I just gave or writing my new book.
Can you tell us a bit more about your team, how and when you hired people and how that works?
We have four people on the Puttyteam right now. I'll admit that I was very nervous about this at first, but it all happened kind of organically. I hired the team over several years, bringing in people as needed, and usually hiring from within the Puttylike community. I would notice that someone was exceptionally good at helping out other members of the Puttytribe, and I would reach out to them to see if they would like to do this in a more official (paid) way. When the billing became too complicated, I reached out to a multipotentialite that I knew who used to work in finance, and was already in our community. We added team members as the need became evident. I definitely wouldn't recommend hiring everyone at once when you're starting out.
I have different arrangements with different team members depending on the kind of tasks they perform. For some, it makes sense to have them bill me hourly. With others, we have a set monthly payment and specific tasks that they perform each month. I don't care when they work, and there are no set hours. Everyone works remotely and has other projects and clients.
They're also all multipotentialites, which is great because it means that I can occasionally throw them assignments that are slightly beyond their "job descriptions," and they'll usually either already know how to do it, or be able to learn very quickly.
Where would you like to see yourself in five, ten years' time?
I have no idea. Haven't you been paying attention? I'm a multipotentialite. ;)
I have a feeling that Puttylike will still be running, though I may step away in some capacity in order to focus on new projects. As far as what those projects are, only time will tell.
How do you market your business?
My marketing pretty much consists of sharing blog posts on social media, doing podcast and written interviews, and pitching articles to larger sites.
How does being LGBTQ impact on your business (if at all?)
I don't usually mention that I'm queer, but it recently occurred to me that perhaps I should. When my TED talk came out on YouTube, I contacted hundred of bloggers and journalists and found that some were receptive, but many ignored me. I know other bloggers who promoted their TED talks in similar ways and got a much more positive response. The difference wasn't the quality of our talks (in a lot of cases, I felt my talk was stronger), it was that they were men. I began to get the feeling that my gender might have something to do with the lack of interest. The entrepreneurial/lifestyle design world is heavily dominated by straight white men. It's a problem.
A friend of mine suggested I share the talk with a queer Facebook group here in Portland, and so I did. They loved it. I decided to experiment further by emailing the staff editor at AfterEllen, and to my amazement, they shared my TED talk the following morning (in an article that also featured Miley Cyrus and Jane Lynch, which was both hilarious and incredible. I was officially a "lesbian celebrity." Heh). I found it was so much easier getting the attention of editors who worked at LGBTQ magazines. They actually took me seriously and took the time to watch my talk.
This experience made me realize just how patriarchal the mainstream media still is, but that queer people really have some great alternatives. The fact that it is easier to get these resources to pay attention (almost) makes up for for how hard it is for us in the mainstream world.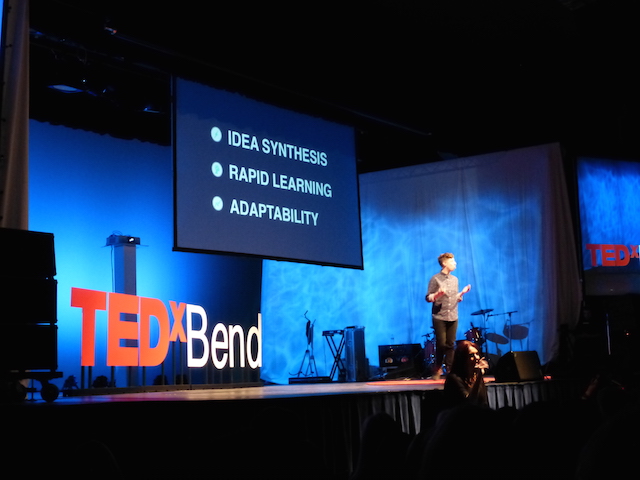 What 3 websites, blogs, books or people do you rate for business advice or ideas about your work?
The Art of Asking by Amanda Palmer, The Four-Hour Workweek by Tim Ferriss, and The War of Art by Steven Pressfield.
Finally, what's your hot tip for queer women who want to start their own business?
Do it! We desperately need more queers to bring their ideas, perspectives, and aesthetic to the business world.
---
Find Emilie (along with a gazillion resources for multipotentialites!) online at puttylike.com, or follow her on Twitter @emiliewapnick. And you can watch that awesome TED Talk here (I really recommend you do!)