I recently had the distinct pleasure of hanging out with YouTube sensation and universal plaid-clad heartthrob Hannah Hart. Hart is the sole proprietor of My Drunk Kitchen, an explosively popular web series in which she imbibes freely while attempting feats of culinary greatness.
By 'sole proprietor' I mean that she films it on a MacBook by herself, and by 'feats of culinary greatness' I mean she sort of tries to cook stuff like meatballs — "the easiest thing in the whole goddamn world." (Spoiler: She never succeeds in making much of anything, but that's both the point and the charm.)
Her rise to stardom on the fickle web has been — like anything that turns out remotely edible in her kitchen — wholly an accident.
Hannah "Harto" grew up in the Bay Area and moved to Brooklyn earlier this year, like so many queer, quasi-bohemian couchsurfing pioneers before her. She created My Drunk Kitchen's first episode as a long-distance internet missive to her best friend — also named Hannah — who now lives in Berkeley. After gaining traction online thanks to an appearance on Reddit's front page, suddenly My Drunk Kitchen had millions of YouTube views, not to mention a fiercely adoring fanbase who have been known to call themselves 'Hartosexuals' — maybe in some seriousness.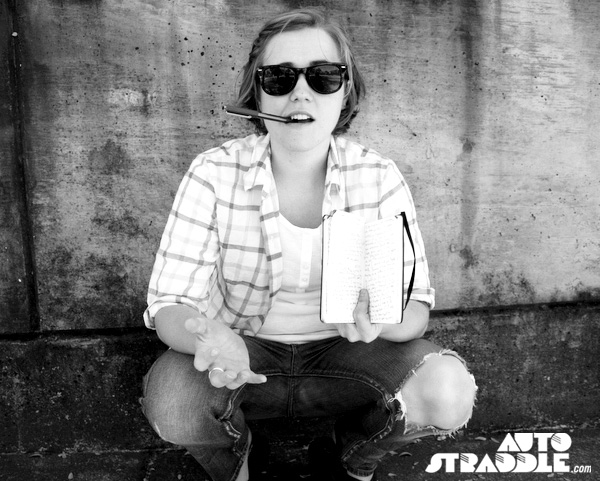 A twentysomething gay-girl-next-door with a predilection for button downs, frenetic jump cuts, and pitch-perfect self-deprecating humor, Hart's success tells a sort of a queer internet Cinderella story. (Hart still insists she is but a small blip among the 'YouTubers.') My Drunk Kitchen is a perhaps unlikely crossover hit between our big gay universe and the viral web at large, which is usually averse to gays of all stripes, funny women sans cleavage and perhaps funny women at all.
Watch one of her episodes and you'll see that her universal appeal is no mystery — but it's still a wonder that a self-proclaimed homo with a rotating arsenal of flannel shirts has accidentally crafted a web phenomenon based almost solely on being so damned likable (it doesn't hurt that she's extremely funny). It's strange and wonderful to see Hart — a reflection of our ridiculous, unglamorous, sailor-mouthed selves — score a photoshoot with Time, and a feature on CBS.
I met up with her over coffee and vegan doughnuts in Berkeley, where she was nervously biding her time before "My Drunk Iron Chef Kitchen" her first live event in San Francisco that night. In person Hart radiated the easy charm, rapid-fire wit and textbook shaggy-haired cute that her army of devotees have come to expect. As we settled in, she kindly seemed to humor the fact that I'd neurotically set up a full stereoscopic arsenal of recording devices around her. That done, I barreled on nobly toward over-caffeination, armed only with iced coffee, a meandering set of questions and approximately 25 tape recorders.

On Heart Flowers and Being Soft Butch in Japan:
Taylor: [Checking the assorted recording devices and prepping a notebook]
Hannah: I have my notebook too. I could take notes for you. 'My interview with Taylor Hatmaker.'
T: Neat name, huh? [makes suspicious, narrowed-eye expression] Is Hart your real last name?
H: Yeah, people ask me if it's a stage name, but it's not. And Harto's just a nickname we came up with when we were in Japan. [Hart studied abroad in Japan during college]
T: I think the Harto thing is really sticky. People are into it.
H: I like 'follow your Harto.' If my last name was 'table'…
Best-Friend-Other-Hannah: So when we were in Japan, Hannah's name was pronounced 'Hannah Harto' [said with authentic-sounding Japanese accent] which literally translates to 'flower heart.'
H: It literally translates to 'flower heartshape.' So I'm all in Japan trying to be all soft-butchy B.A. and I'm like 'Hi guys, my name's flower heart.' You know? I mean, literally flower heart.
T: How long were you in Japan? You're a Japanese translator, which sounds hard. I creeped on you, that's how I know that.
H: I proofread for a translation firm, but I recently parted ways with my job because of the time commitment that I'm now pouring into developing the online thing. It's not like I'm able to quit my job, like I can fully support myself, but I'm taking the risk. I can either put more energy into MDK and start developing more frequently or I can continue to develop and maintain a day job. It's the moment where you decide to take the risk. That's this exact moment of my life. So I should probably just have no caffeine and meditate all the time. [downs coffee] I meditate with my mouth moving a lot.
I learned Japanese entirely for a girl.
T: No way. That's a gem. Write that one down. [writes that one down]
H: No it's true, the only reason I took a Japanese class is because I was like, a big Sailor Moon fan as a kid…then in my Japanese class…[music in cafe gets really quiet suddenly]
[Quietly] My drunk kitchen secret fact: Hannah's kind of shy!
I was totally conservative, straight — my life was such a shitstorm before college, I couldn't care less whether or not I was gay or bi or straight or whatever. So in my Japanese class, this girl who sits behind me is like 'oh, I like your jacket' and I was like 'Thanks!…Pretty girl. So that's why I got a degree in Japanese…I was chasing this girl.
And I wasn't even out. I wasn't like, comfortable being gay. In Fall of 2006 I lived in Japan. And then I graduated from college in May 2009. And then I officially like 'came out' in the last year or so. Being out at work, being out on a less than 'need to know' basis. My friends knew, the chicks I was dating knew.
T: So you like, exploded out.
H: Yeah, I burned the closet down.

On Her My Drunk Kitchen Live Event That Night:
H: I'm super nervous about tonight. This thing is like…I have to go and host, I'm gonna be onstage improvising and emceeing as three teams cook in a kinda Iron Chef style. How do I pee? I'm really concerned about that. It's a solid 2 hours and I'm gonna be drinking.
T: Who are the cooks?
H: San Francisco chefs.
T: Oh, like real chefs? Er, not to say you're not a real chef.
H: Oh no, I'm not a real chef. We can squash that rumor.
T: I think with the amount of devotion that people have for you, you could just go up there and be unintelligibly drunk and it would be fine.
H:  That's actually why I didn't really want to do a live My Drunk Kitchen. I would like to start to move the comedy away from constantly being associated with drunkenness.
T: Understandably.
H: It's a one-dimensional joke.
T: I like that joke too. I've been telling it for years now. You seem to execute it to more success.
H: It's the editing. It's all in the editing.
T: You have a very frenetic editing style, which is part of what makes it so hilarious. What's that process like?
H: I edit in iMovie. The editing takes like 6 hours…it's very panic-inducing. I shoot for an hour or an hour and a half, and then I edit that hour and a half down to 20 minutes. And the I edit that 20 minutes down to 10. And then I send the 8 to 10 minute draft to my sister Naomi, and then she rips it up saying 'this is shit.' No, basically she picks the best of the best jokes, and then I cut it down from there to 5. She's such a big part of it.

NEXT: "I really like that I can be a "lady" and be messy and be a little crass, you know? I feel a lot of freedom in that."
Pages: 1 2 3See entire article on one page