The #1 Question:
T: I tried to crowdsource some questions for our interview, and as it turns out, the crowd isn't very creative. There's only one question. [imaginary drumroll…] Are you single?
H: Incredibly.
T: I find that hard to believe, given how many people asked if you were single.
H: I know. Everyone finds it hard to believe that I'm single, but my friends know…that I'm very, very single. How could I possibly be single, right? You know, all my friends are straight, I actually don't really know many gay people in my life.
T: Really? Wow, I only know gay people. Straight people are a novelty.
H: I grew up in the Bay Area, and I went to college here, and all my friends have been the friends I've had for years and years and years and years one of them turned out to be gay, and that one was me. And the end! I mean, but we never meet any lesbians ever.
T: I watched the CBS thing where you were like 'I moved to Brooklyn because I heard that's where all the hot lesbians are!''
H: I did! I live out of a bag right now. Like a duffel bag. I'm just couchsurfing. They call it suitcase dramz, you know, dropping toothpaste all over my books and not having any clean clothes.
I don't know what it is. I'm much more inclined to meet somebody at an event that I care about or a fun thing or hanging out at a party with people I know. It's so hard for me to go to a bar and meet a girl.
T: It's really weird. I think straight people do that. I'm not really sure.
H: I guess the thing is that's one of those universal non-straight, non-gay problems: It's hard to meet people. Period. I think it's easier for our straight single friends, because most of our friends are straight. Straight up. Gay down. That'll be the new slogan.
I mean a) I grew up really homophobic. and b) In college, in the queer community stuff, I would go and…I'm not really that cool. I'm just being candid. A lot of the queer community was like 'you have to be super vegan and have lots of piercings and give lots of fucks about everything!' And i just wanted to be like oh my god you guys, did you see 40 Year Old Virgin? That shit was hilariousss.
T: So you probably didn't have a fixed gear bike.
H: I didn't even know how to ride a bike. This has been a big impediment.
T: And…you're not vegan?
H: I'm not. There's no hope for me.

LIGHTNING ROUND:
1. How many plaid shirts do you own? Rough estimate.
Okay, let me do it chronologically. I love plaid, it's like, my favorite color. I own roughly 10. I try and expand my collection as often as possible. Back in the day (in 2004), people called them 'cowboy shirts'. 'Oh Hannah and her cowboy shirts!' Now they're like 'you're a hipster.' Nah, I'm just gay. I've been building coming out for years. I am the plaid movement.
2. Can you cook?
No.
3. Favorite L Word character?
H: Um…either Bette or Tina.
T: What?! Who likes Tina and Bette?
H: I also like Dana. RIP.
T: Let's do Fuck/Marry/Kill.
H: Yeah, fuck Bette, marry Tina, kill Dana.
T: Kill Dana? She's already dead.
H: We should do another F/M/K. Can we do Glee?
T: Yes.
H: [without prompt] Fuck Rachel. Yeah, I would totally hit that. Marry Santana. I would kill Sam, because I want to be Sam on the show. Kill Sam so I can replace him. Floppy hair, plaid…come on.
T: [baffled silence re: Rachel]
3. Most hated kitchen item?
H: Sliced deli meats.
T: This went in a weird direction.
4. Tell me about your terrible poetry.
H: I like to write poetry. I'll write you a poem right now. Let's do a haiku.
[Takes piece of paper, writes hastily]
[Reading aloud]
Dear Taylor,
The sun…of the moon
Left spots of…light
In my eyes…
Where…you…stood.
T: I'm going to sell it on eBay.
[A Beat]
H: Is any of this relevant content for you?


At the My Drunk Kitchen event that night, Hart commanded the mic as three teams with a wildly varying understanding of the rules raced to cook something — I have no idea what. Needless to say, the event was BYOB, and seemed to be in full swing even before it had begun. And while I can't capture the particular blurry wonder of what exactly transpired at that oddly unmarked and eminently fire code-violating venue in the South Mission, Drinking and Kitchens both factored in prominently, which I think means it kept with the theme.
Just minutes into the competition (a term I use loosely), Hart had dissolved the boundary of the audience and swept a room of 100+ delighted MDK devotees into a full-blown interactive drinking game, punctuated by endearingly lisped, ever-hilarious narrative gems. With the plaid-claid rising YouTube star confidently at the wheel, an ostensible cook-off evolved into a rollicking, chaotic house party with 100 former-strangers-turned-drinking-buddies.
Given the preponderance of half-empty bottles of Stoli resting next to open flame, it's a wonder anyone made it through in one piece. But lo, at the end of the night, the audience poured out onto Cesar Chavez Street, sated and abuzz, alive above all. This Harto, I have a feeling she's going places.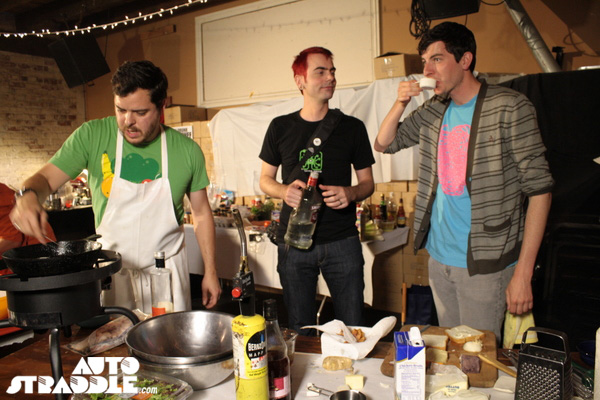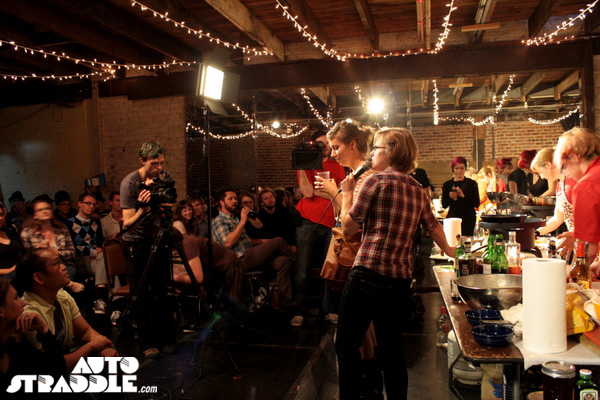 Can't get enough of Hannah Hart & MDK?
Follow @Harto on Twitter and visit the My Drunk Kitchen website, for yet more untold wonders!
Pages: 1 2 3See entire article on one page