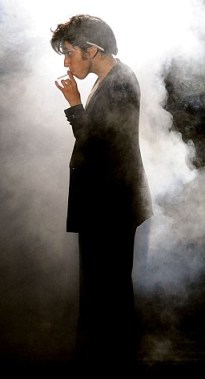 In what was most definitely her longest time spent on camera without a costume change, Gaga opened the 2011 VMAs with a four-minute monologue as Jo Calderone (last spotted in the You & I video) and stayed in character for the entire two hours —  even through the awkward-as-hell Britney Spears tribute and acceptance for Best Female Video for "Born This Way."
"Hey. My name is Jo Calderone and I was an asshole. Gaga? Yeah her. Lady Gaga. She left me. She said it always starts out good and then the guys, meaning me, I'm one of the guys, we get crazy. I did. I got crazy, but she's fucking crazy too, right? I mean, she's fucking crazy. For example, she gets out of the bed, puts on the heels. She goes into the bathroom. I hear the water go on. She comes out of the bathroom, dripping wet. She still has the heels on. And what's with the hair? At first it was sexy but now I'm just confused.
She said I'm just like the last one. I'm not like the last one… And I think it's great, you know? I think it's really fucking great that she's such a star, a big beautiful star in the sky, but how am I supposed to shine? I mean, I think I'd be okay with it, you know, if I felt like she really was being herself with me. And maybe she is. I'm starting to think she is, 'cause when she gets on the stage, she holds nothing back — that spotlight, that big rounded spotlight follows her everywhere she goes. Sometimes I think it follows her home. I know it does. I got to get in there.
When she fucks, it's like she covers her face 'cause she doesn't want me to see, but she can't stand to have one honest moment where nobody's watching. I want her to be real, but she says, 'Jo, I'm not real. I'm theater and you and I… This is just rehearsal. I got to get in there."
Her performance of "You & I" pretty much rocked my world and reminded me of the days when she used to set pianos on fire. When she's in the zone she is simply magnetic and you cannot take your eyes off her.
.
The celeb reactions to her performance were most entertaining:
Most candidly (and hilariously), she went on to the MTV press room, only answering reporters who directed questions to "Jo." According to E!, even before getting his photo taken and taking some questions, she walked into the converted hotel ballroom and put his cigarette out on the carpet. Later, when a reporter referenced her (hella awkward) interaction with Britney earlier in the show by asking if "he" would hook up with her later, Jo responded:
"Well, maybe if she wants to… she is f–king hot. Britney's f–king hot. I don't know. Gaga is my girl, but Britney's fucking hot—she's fucking Britney Spears! Didn't you jerk off to Britney when you were a kid?"