Carmen's Team Pick:
"I challenge you to look into the faces of these peopleand tell them that they deserve less than any other human being."
(PS, the latest trailer is only available on Vimeo but it's worth looking at.) Artist iO Tillet Wright began the photo project "Self Evident Truths" with a simple structure: she took portraits of as many people who identified as LGBTQ as possible, or as "not 100 percent straight," and laid stacks of them in a gallery. Viewers could take them home for free. Wright wants the message to remain simple. The message is, "these are people." Wright wants to compile over 4,000 queer faces so that she can take them to the streets and talk about the real, human impact of our inequality. Put a face on the oppressed. Give queer people – without expectations of what queer means – the opportunity to use their humanity to create change. Each portrait takes about five minutes, and each is part of her larger message that equality is imperative for anyone who self-identifies as LGBTQ. Each portrait is one more face, one more person, one more real life. Each portrait is one more living, breathing thing that needs and doesn't quite have full equality. Workplace equality, marriage equality, social equality. And how can you say no to a face like that?
The Human Rights Campaign is helping Wright launch nationally, but she needs help. She has shot 300 faces in New York City, but she wants to shoot between 4 and 5 thousand and hit over 25 cities. She wants more than pictures: an interactive website, a documentary, a book. In her words, it's "a modern day AIDS quilt." You can help iO's dreams come true and also buy an awesome poster in the process. She's selling two prints for 5 dollars each in order to raise money, and how much would you love this one?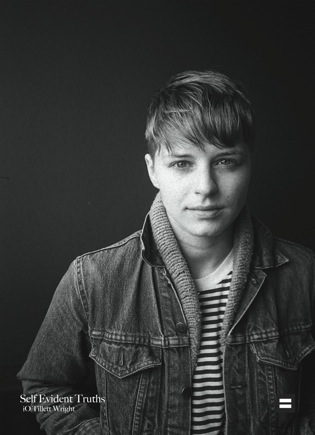 We hold these truths to be self-evident: that we're queer, and we exist. So look closely.