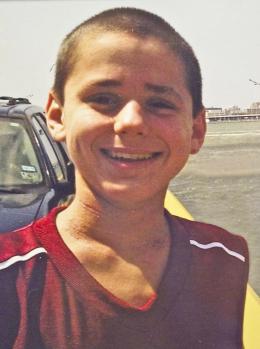 13-year-old Asher Brown's parents, David and Amy Truong, said they'd complained numerous times to Hamilton Middle School officials about their son being bullied. The eighth-grade straight-A student was picked on for being small, not wearing designer clothing, and for being gay. Bullies performed "mock gay acts" on Brown during phys ed.
Amy said her phone calls were never returned and their visits to the school to complain about harassment were ignored.
The torment took its toll. On September 23rd, 2010, Asher retrieved his stepfather's 9 mm Beretta from the closet and shot himself.
When David Truong got home from work at 4:30 PM he found Asher's body on the floor.
School district spokeswoman Kelli Durham says no such complaints were made — not by the Truongs, not by other students and not by school employees.
That statement infuriated the Truongs, who accused the school district of protecting the bullies and their parents.
"That's absolutely inaccurate — it's completely false," Amy Truong said. "I did not hallucinate phone calls to counselors and assistant principals. We have no reason to make this up. … It's like they're calling us liars."
David Truong said, "We want justice. The people here need to be held responsible and to be stopped. It did happen. There are witnesses everywhere."
The commenters on KRIV-TV's Channel 26 website tell a different story. Internet commenters aren't necessarily the world's most reliable source, but sometimes in cases like these, they're the only source we've got, and enough similar stories make a strong case:
+ My son knows who it is, he said that nothing was ever done about it. It has been going on since 6th grade.
+ [My daughter] spent 1.5 miserable years at that school thanks to bullying and we made sure they knew about it. She was kicked, tripped, pushed (including on the stairs), called a freak, a weirdo, and numerous other names to painful to mention in this post. When she was being physically abused, teachers either looked the other way or told her they didn't see anything even though our daughter saw the teacher see what happened.
+ I ACTUALLY PULLED MY SON FROM THIS SCHOOL BECAUSE OF THEIR ADMIN & STAFF. They will TOTALLY cover up everything. EVERY parent that is TRUELY concerned for their children here need to get together and fight this.  They do not protect these children and are only concerned with their image. I have ALL of my documentation from when my son was bullied within CFISD.
+ My son is a good friend of Asher's, too. We spoke with the principal today and their official statement is they have no record of any bullying of anyone. Both of my autistic sons hav been bullied at this school for 4 years. They were teased with gay-baiting language for fun.
+ i go there and in the eighth grade. and the kids accused of bullying will deny and the issue will be dropped. the administration cares more about how many tardies you have rather than a death.
+ I go to hamilton and am in the eighth grade and he was teased a lot and no one even cared about it. i personally never teased him and often felt sorry for him , but speaking up would do no good. Apparently the day before his death he was tripped down the stairs and laughed at.
Someone identifying as a "former CSID teacher" attests:
CFISD is very intolerant of Gay students. As an openly gay teacher in CFISD I too was discriminated against and made to feel inferior. Ultimately, my teaching assignment was changed with no reason given despite all my efforts to find one. Additionally:
– The day of last year's "day of silence" for victims of gay-related bullying and suicides, while many schools supported the practice, my school's assoc principal came over the loud speaker to remind students and teachers that, while they can choose to participate, the school does not condone the event in any way and if any students' silence interferes with the class, they are to be sent to the principal's office.
– The day I agreed to sponsor a "Gay-Straight-Alliance" at the school, my department chair asked me what club I am sponsoring, I said, "the GSA," he asked, "what's that?" "the Gay-Straight-Alliance" I said very uncomfortably, he scoffed and rolled his eyes in disgust while another teacher pursed her lips and looked away.
– The first 2 posters the GSA posted to advertise the club were ordered down immediately as they contained the word "homosexual". The club chose not to fight the order, feeling lucky to be allowed to organize the club at all.
– The first set of posters (following every rule and with no "inappropriate words") advertising the GSA's first meeting where ripped down by a student that night.
Luckily for me, I was able to simply leave. I did not sign a new contract. But what about the students? They cannot simply leave, school is their world and gay students in CFISD live in a world that reminds them everyday that they are different, unwanted, and inferior.
The facebook group "RIP Asher Brown" contains heartfelt messages of support and calls to action to stop this from happening.
The school spokesperson did attest that Amy had emailed them earlier in the month to keep an eye on her son, but that the complaint was related to problems at home, not bullying.
This is tragically unsurprising as new statistics from the 2009 National School Climate Survey found 84.6% of LGBT students reported being verbally harassed, 40.1% reported being physically harassed and 18.8% reported being physically assaulted at school in the past year because of their sexual orientation.
The day before his suicide, another student had tripped Brown — who mainly hung out with a tight-knit group of similarly-harassed children — as he walked down a flight of stairs at school. When Brown tried to retrieve his book bag after hitting the stairwell, another student kicked his books everywhere and kicked Brown down another flight of stairs.
Durham said that without video footage or anyone to corroborate their claims, the investigation of the stair-pushing incident came up short:
The Truongs say they just want the harassment to stop so other students do not suffer like their son did and so another family does not have to endure such a tragedy.
"Our son is just the extreme case of what happens when (someone is) just relentless," Amy Truong said.
To the bullies, she added, "I hope you're happy with what you've done. I hope you got what you wanted and you're just real satisfied with yourself."