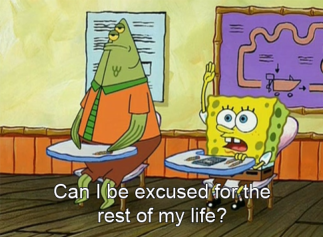 As we brought up yesterday, following the gay news is a real emotional rollercoaster. Lady Gaga has released a new single! But Lilo tweeted something mispelled about Sam Ronson. One Quaker Unitarian Universalist minister voiced their support of gay marriage! But Prop 8 passed. It's not easy being green gay, you know? We're going to give you the bad news first so that the good news will resonate.
SCHOOLHOUSES CONTINUE NOT TO ROCK:
The 2009 National School Climate survey has found a record number of GLBT teen suicides, and that 9 out of 10 GLBT students are harassed in school! This reflects pretty much no change whatsoever from last year. Good job, asshole schoolchildren of America.
Horribly but not surprisingly, the problem is often perpetuated by and/or caused by teachers:
"Two Anoka-Hennepin School District teachers were accused last year of tag-teaming a student whom they harassed, insinuating that he was gay and embarrassing him in front of his classmates. The student, who was not gay, eventually transferred to another district and brought suit against Anoka-Hennepin. The district settled with him for $25,000. The teachers in the case were placed on leave, and remain on leave currently, the WCCO report said."
Other findings of the study:
* 84.6% of LGBT students reported being verbally harassed, 40.1% reported being physically harassed and 18.8% reported being physically assaulted at school in the past year because of their sexual orientation.
* 63.7% of LGBT students reported being verbally harassed, 27.2% reported being physically harassed and 12.5% reported being physically assaulted at school in the past year because of their gender expression.
* 72.4% heard homophobic remarks, such as "faggot" or "dyke," frequently or often at school.
* Nearly two-thirds (61.1%) of students reported that they felt unsafe in school because of their sexual orientation, and more than a third (39.9%) felt unsafe because of their gender expression.
* 29.1% of LGBT students missed a class at least once and 30.0% missed at least one day of school in the past month because of safety concerns, compared to only 8.0% and 6.7%, respectively, of a national sample of secondary school students.
* The reported grade point average of students who were more frequently harassed because of their sexual orientation or gender expression was almost half a grade lower than that of students who were less often harassed – 2.7 vs. 3.1.
* Increased levels of victimization were related to increased levels of depression and anxiety and decreased levels of self-esteem.
* Being out in school had positive and negative repercussions for LGBT students – outness was related to higher levels of victimization, but also higher levels of psychological well-being.
This year saw two more GLBT kids, both 15-year-old boys, commit suicide after experiencing so much gay bullying. These deaths are like many others linked to anti-gay bullying, which counts among its victims children as young as 11.
That 84.6% of LGBT kids reporting being harassed is hardly surprising — how many among us made it through high school without being teased for SOMETHING, ANYTHING? But the fact that so many kids still feel unsafe at school and actually MISS SCHOOL because of it is downright terrifying. What say you, students of the world?
We interrupt this message for an inspirational speech from Hard Harry from the classic film Pump up the Volume!
What about college? Well, that's a mixed bag. Our interns seem to enjoy matriculating at schools like Barnard, Stanford, American University, New York University, Temple  and various other institutions of higher learning. The new 2010 State of Higher Education for LGBT People, however, reveals that not everyone is so pleased, as reported in The Chronicle of Higher Education:
Whether they are students, staff members, professors, or administrators, people who identify themselves as lesbian, gay, bisexual, or transgender report significant harassment at their colleges and discomfort with the overall campus climates, according to a new national report.
About 25% of lesbian, gay, bisexual, and queer students and employees said they had experienced harassment, as did more than a third of transgender and "gender nonconforming" respondents, compared with 12 percent of heterosexuals.
70% of lesbian, gay, bisexual, and queer students and employees felt comfortable with the overall campus climate, the report says, a rate that was higher than that among transgender and gender-nonconforming respondents but lower than that of heterosexuals.

If you wanna know what schools are best for LGBT students, check out campus pride dot org.
Also um, this was printed in a paper today, even though it happened on September 7th and we maybe told you about it then, but Gov Paterson signed a bill Sep 7th protecting students in New York public schools from bias-based bullying and discrimination.
GOOD NEWS:
Things are kind of shitty, but uh, they're better than they were in a very general sense? Most Americans now say that their definition of "family" now includes same-sex families with children and married same-sex couples. Statistically speaking, American's don't even consider unmarried heterosexual couples to be families! We are making huge progress in the Olympics of being approved of by statistically average Americans, kinda.
All derision aside, this is actually a really good thing, because even if you can't force yourself to get excited about a nebulous sense of tolerance by a hypothetical mainstream America that brings you closer to enjoying the status that every straight person in America enjoys, think of it this way: general public acceptance is what gets us things like votes on Prop 8, which get us laws that give us pensions and health benefits and enable us to sponsor the people we love for citizenship, and that allow us to see our children if there's a custody dispute, and that save us thousands of dollars in taxes and living expenses per year that will enable us to provide for those children, as well as feed and clothe ourselves.
General public acceptance makes it that much more likely that you can walk from the grocery store to the bus stop without being physically assaulted for looking visibly queer. It's not the same thing as concrete change, but it's a necessary step to get there.
And the nicest part of the article is that it makes it sound like not only are we in a better place, but all the homophobia and antigay agitating has actually helped get us there. "This indicates a more open social environment in which individuals now feel more comfortable discussing and acknowledging sexuality. Ironically with all the antigay initiatives, all of a sudden people were saying the word 'gay' out loud. Just the discussion about it made people more comfortable."
Isn't that an optimistic and refreshing thought? That as bad as Fred Phelps and Maggie Gallagher are, we're still better off than we were in a place of silence. What's that Gandhi once said? "First they ignore you, then they ridicule you, then they fight you, then you win." Maybe we're just in the "they fight you" stage, which sucks, but also means that the next step is "you win."