Jane Lynch stopped by The Ellen DeGeneres Show yesterday, which we would've watched if Time Warner hadn't cut our cable for 'unpaid bills.' And as we've perhaps mentioned in the past, we love Gay Day on The Ellen Show! We love every opportunity we get to see a GLBT famous person thank Ellen for blazing the trail they're currently tearing through in all of their flaming, homosexual glory! Whether it's Adam Lambert discussing the AMA controversy, Chris Colfer talking about getting bullied in school, Lindsay Lohan processing a public lesbian breakup, Wanda Sykes talking Prop 8, Lady Gaga thanking Ellen for making her feel okay about herself and getting all giggly and humble, you know that Ellen gets it, and that makes the moment far more touching than it is when Phil Freaking Donahue (or 'Dr' Phil for that matter) is listening to the story from their vantage point of straight white male privilege.
JANE LYNCH y'all:
GLEE returns September 21st and they're adding a Filipina character, Sunshine Corazon, a foreign exchange student who sings Lady Gaga in the bathroom with Lea Michelle and is "dazzled by what she sees as the exciting and glamorous world of show choir." Oh GLEE, you special special show, always finding new ways to extract humor from various stereotypes. You know those foreign exchange students, always "dazzled" by fancy America and your special singers! Maybe Lea Solanga will turn out to be her Mom, and then Idina Menzel, Lea Solanga, Sunshine & Rachel can all sing "I Dreamed a Dream" together.
Here she is in her hat: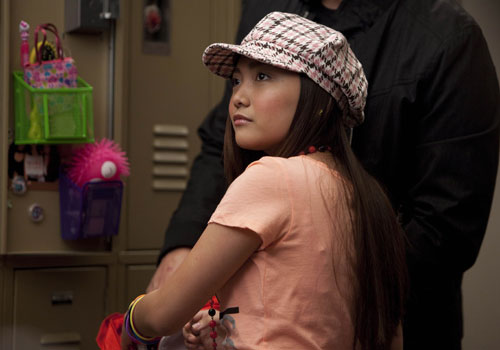 Pay attention to this video because that guy in the shower might or might not be the guy who may or may not be showering with Kurt!