Pause for a second and think about some of your favorite queer Asian characters on television. I'll forgive you if it's a little difficult: according to GLAAD's most recent "Where We Are On TV" report, only about eight percent of the LGBTQ characters on broadcast, cable and streaming television are Asian-Pacific Islander (28 characters).
Izzie from Atypical. Grace Choi from Black Lightning. Leila from The Bisexual. Adina El-Amin from The Bold Type. Kalinda Sharma from The Good Wife. Emily Fields from Pretty Little Liars. Brook Soso from Orange is the New Black. Arthie Premkumar from G.L.O.W. Nico Minoru from Runaways.
No matter what queer Asian character you thought of chances are one thing about them will be true: they will be in an interracial relationship. And while there's nothing wrong with interracial love stories, what does it say about the lens through which we view queer racial identity that this is the story that Hollywood tells so often? Can the world not tolerate more than one queer Asian person at a time? What's more: doesn't it suggest — however unwittingly — that queer Asian people aren't loved by their own communities? This season on Good Trouble, they're rewriting the rulebook about what's possible when it comes to queer Asian relationships on television by creating a love triangle featuring three queer Asian characters. To call it groundbreaking feels like a profound understatement.
I got to talk about Good Trouble star Sherry Cola about the Sumi/Alice/Ruby triangle and her pivotal role in creating and starring in the "Lunar New Year" episode.
Natalie: I talked to Joanna [Johnson, Good Trouble executive producer] a couple of weeks ago about what it's meant to tell Alice's story at this particular moment in our country's history. For you, that must feel intensely personal. How's it been to navigate telling these stories?
Sherry: First of all, Joanna Johnson is my queen. As the creator/producer/showrunner, she's definitely seen my fire and my passion as Sherry and she honors and respects that in Good Trouble and it truly means a lot. Alice and I have a lot of parallels, you know, we're both, we're both Asian, we're both women and I believe we're both immigrants. For so long society, didn't root for those things, but now I'm fully embracing and celebrating these identities. I've never felt more liberated to be honest. As Sherry, I feel a hundred percent whole for the first time in my life, just so proud of who I am and the fact that I get to tell these stories.
For this "Lunar New Year" episode, we started this process of filming at the end of March in the midst of the anti-Asian hate crimes. It was very emotional for me to be shooting this episode in the middle of all of these thoughts and all of these feelings, coping with the trauma and being worried for my community [while also] at the same time, trying to fight for my community. I'm really grateful to Joanna giving me this episode and actually allowing me to have the freedom to write Alice's speech after she does the lion dance. I was really speaking from the heart and it was just — tears, true tears, real tears — because of everything we've gone through.
Good Trouble has been ahead of the time, period. From everything we touch on Black Lives Matter, trans rights, equal pay, etc., now, the queer audience experience. We make sure the audience does not feel left out in any way. The representation on this show is something that every single whole TV show to learn from. I'm not the same person I was before Good Trouble. This show has taught me so much, so I'm beyond grateful.
Natalie: I totally agree with you about Good Trouble. It feels like a show that really takes diversity seriously in an organic way compared to other shows, which are just trying to like check the diversity boxes. I really loved this "Lunar New Year" episode. I think it did a great job of really balancing kind of educating the audience — who, may not know what Lunar New Year is — while also being a really entertaining episode. Can you tell me a little bit about how this episode came about and your role in bringing it to fruition?
Sherry: Honestly, I've been telling Joanna I want a Lunar New Year episode and she gave it to me and I just on Cloud Nine about it. It was such a gift to be able to share my culture and such an important tradition. It was really a collaborative effort. Kara Wang, who plays Sumi, and I had an entire meeting with the writers about this, down to the superstitions and the details that we wanted to implement. I have to shout out the crew —- the props department, set decoration, wardrobe, everyone — who was so absorbing of all of our thoughts and made sure it was important to tell this Lunar New Year story with authenticity. It just was really cool and it was definitely very collaborative and I'm just so thankful for that.
Natalie: One of the things I really liked about this episode is kind of continuing to watch Alice's evolution of her relationship with her parents. I'm not Asian but as a daughter of an immigrant and as black biracial, woman, I really related to some of the stuff that her parents said about making her tough. How is it important for you to showcase this relationship between this young woman and her immigrant parents?
Sherry: Portraying this story on the screen is just everything. Parental expectations are universal to everyone. Being compared to a sibling? Who can't relate to that? But we're showing it in such a culturally specific way…that is really the cherry on top.
I think it's really beautiful to watch Alice find her voice in the comedy world and also with her family. She already came out to her parents and now she's coming out as this person who wants to do comedy and wants to be unapologetically herself. But still, it's hard when your mom is still kind of like hovering and kind of expects you to just take the heat. It's really beautiful that Alice's mom says, "we we just want you to have thicker skin because life can be hard for someone with a sweet hear like" hers. That's a conversation that we don't hear that often, especially with Asian families. I think right now we are catching up with these conversations that are overdue on-screen.
Also with my mom in real life, like, you know, everything that's happened in the last couple of years — with me, being on Good Trouble and with all the anti-Asian hate crimes — I have had real conversations with my mother that I have, I should have had when I was younger. But I'm also learning as I go and she is too. It's never too late to have these conversations. With Asian American kids and their immigrant parents, there's that language barrier, there's that cultural divide, there's that generational gap, so to be able to meet in the middle and to have an understanding conversation. For me to be able to portray that on screen, on mainstream American TV, that just means a lot.
Natalie: With Alice's dad, it was easy for him to understand her brother's type of success — closing this $50 million deal — but not conceptualize what Alice's brand of success looks like. What's been your experience? You're getting to a point in your career, you're doing TV, you're doing movies [including Adele Lim's new comedy], you're doing all of these things. How has it been for you to get your parents to conceptualize what success looks like?
Sherry: Personally, for Sherry, success is making my mom proud and to be able to take her around the world because we all know immigrant mothers, especially Asian immigrant mothers, they never live for themselves, not for a second. It was all about making sure I have a good life, taking care of her parents and sending money back to China, whatever it may be. My mom has never been to New York, my mom has not seen the world. For me, success is making her proud and making sure she sees the world. That is my definition of success and that's my motivation really and everything that I do. My mom, she's my rock, she's my everything.
My mom always wanted me to just have a comfortable life but my dad was very much a dreamer. He also kind of wants to be famous. He was on a Chinese radio station here in LA when I was growing up. Then I ended up also doing radio and then moving into stand-up and TV and movies. They never had a traditional expectation for me when it came to career. I think that they're actually really in awe of what I'm doing and they're very supportive and very proud.
I'm lucky in that regard, but that's the thing: with coming to America, we have these bare minimum expectations, essentially because society didn't let us dream that big. With the AAPI community, we were happy to settle for less. We didn't think we deserved more and that's how we were brainwashed into thinking. But now we're completely reclaiming this experience and kind of redefining who we are and not being put in a box and not being limited. You know, I've never felt so limitless in my life.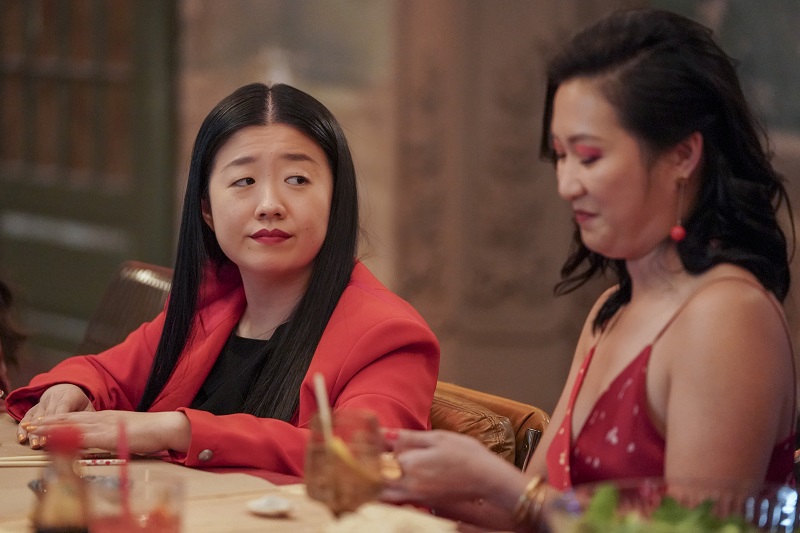 Natalie: We wouldn't be Autostraddle if we didn't ask about the queer relationships on the show. It's kind of unbelievable to any queer Asian representation on television, period, but now we have a queer love triangle featuring three Asian women: we have Ruby and we have Sumi and they're all competing for Alice's heart.
Sherry: Listen, I'm beyond myself. I literally feel taken aback at the fact that I am telling this story that has never been told, period. I challenge everyone to name one other TV show that portrays lovesbetween two Asian women. It does not exist to this level. We've seen it with Alice and Sumi. We've seen them in all three seasons with this push and pull up and down. There's history, there's nuances that there's layers. I can't believe, and then they share the beautiful kiss at the end of the Lunar New Year episode and I'm just shook — I'm shook — that I never saw this growing up. Then we have Ruby, who is also Asian, and you have this Asian queer love triangle, like "what is going on?!" It's so beautiful to see.
It's a real story. It's a real experience. Do you know how many female Asian couples I know? How it has not been on TV before in this way? It's such a full circle moment, especially for Alice and Sumi. And I'm just so delighted to be able to tell this story, and hopefully this is a step in the right direction. I think a lot of other TV shows can take notes from Good Trouble and that's the truth.
Natalie: Absolutely. I absolutely agree. So that means you're team Sumi? Are you Team Sumi?
Sherry: Ah, honestly I've always said: Alice and Sumi endgame.