ETA: You guys are serious about these shirts and we love you for it! We have already sold out of sizes XS and S, and almost M. BUT DON'T PANIC! There will be another shipment very very soon. You will all have an Autostraddle This t-shirt or my name isn't Alex Vega AND MY NAME IS TOTALLY ALEX VEGA.
It's been a long time coming, you guys. Hi, my name is Alex. I don't write much here, but I do all the graphics and things that involve design with Autostraddle.com. Let me tell you the story of the "AUTOSTRADDLE THIS" t-shirt:
This past April when Team Auto invaded Dinah Shore, I worked with a friend of mine who had some airbrushing & stencil-making resources so I could make t-shirts and tank tops for the Team to wear this particular weekend. OBSERVE:
By the end of the weekend, Taylor had her tank literally taken right off of her body by an anonymous lesbian, and I was talked into exchanging my only extra Auto-tank with a Club Skirts merch girl for boy-briefs.
In a way, these shirts passed the test and I set out to get them made so other people could have an 'Autostraddle THIS" shirt too! Only I had no idea what kind of debacle was in store for me with the t-shirt guy. I'll save the details, but I will say that I wanted to have these ready to go the last weekend of June. (You know, in time for the Rodeo Disco and all.) It's the middle of September. I am not happy. BUT YOU WILL HOPEFULLY BE because that's all behind us now and we are ready to roll!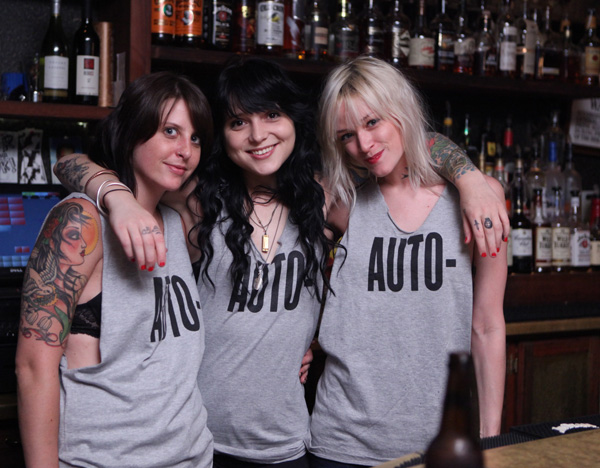 So it's with that that I officially announce: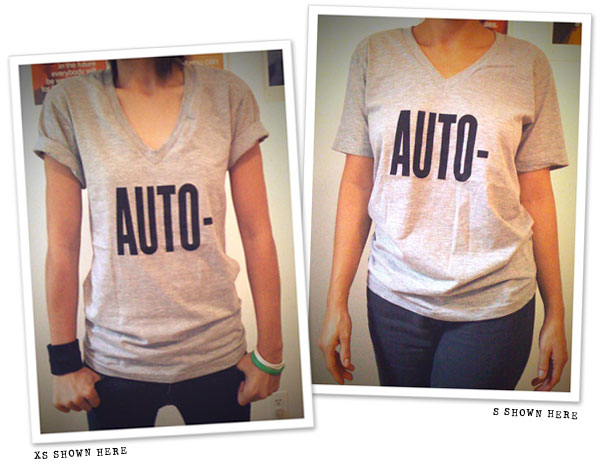 Ladies and lesbos: this is a "unisex" fit! So if in doubt, go small!
To our straight dude reader: Foist, go with a medium probs.
I'm assuming there's a good amount of people who know what size of American Apparel shirt they wear. In case you don't, this is the given size chart for mens/unisex shirts:


I chose this shirt because I have an intimate relationship with American Apparel V-necks, and I feel that all different shapes and sizes and gender expressions of people can rock this style. I'm also of the opinion that they stand up really well to multiple washes. I have American Apparel v-necks from 2005 and they get better with age, I swear.
Also, Laneia and company just wrote a great post about how to cut-up your t-shirt to make it different and cool. Just saying.
So you wanna know where to get these bad boys yes?
At the store I made just specifically for them of course:
Thanks to anyone that has ever bought anything from us or donated, and thanks in advance to those purchasing one of these shirts. It's a way to help us keep running cause really, Tinkerbell has an insatiable desire for vodka-tonics and that habit ain't cheap.