Harry Potter and the Deathly Hallows Part 1 premieres this week and obviously a select group of us have some feelings we'd like to share. A lot of feelings. It's no secret that lesbians have a special place in their heart for Harry Potter — well, arguably, everyone has a special place in their heart for Harry Potter, but we think ours is specialer. This is an ode. This is our Greatest Opus of Life, possibly.
Senior Editor Rachel K
I did in fact grow up with Harry Potter – I mean, I think I was ten when I read the first book, but I grew up with him in the way that you say you grow up with childhood friends, and what you really mean is I can't remember a time before I knew them. I can't remember the world without them in it. I can remember the first time I knew about Harry Potter – my mom gave me a book over the summer and told me that it was "very popular in the UK." In retrospect, it may actually have been a copy of The Philosopher's Stone as opposed to the US title, which makes me feel very cool looking back, very hip and with it and up on my imported pop culture. Anyways, I read this and thought it was pretty great. Then I went to the first day of school in September and found out that EVERYONE ELSE DID TOO.
This was a little scary/annoying; as a general rule I hate liking things that other people also like. But it was also kind of amazing. I'd never been cool. I'm still not cool. I don't do cool things; I read and type and lay on my floor and I spent the years that other high school kids were blacking out in their parents' basements looking up Ani lyrics obsessively. But this time – this one time – something I liked was cool. A book was cool.
I wasn't good at Pokemon cards, Pogs, obsessing over male celebrities, or trying to convince my parents to buy me expensive shit, so I'd kind of given up on trying to relate to any of the other kids or find common interests. But all of the sudden we had one – and it wasn't something I had gamely tried to foster an interest in, it was a BOOK. It felt like I had won something, some small social victory that, had I known how rarely it would ever reoccur, I would have savored even more than I did.
I was a painfully uncool little girl who would spend all of the next few years straightening her hair, caking on makeup, and reading Seventeen in a sad effort to be something, anything else. But for a little while there, we were all talking excitedly about when the next book would be released and whether our parents would let us stay up all night to read it. It was like we lived in a world that made sense to me, where the things I did and loved made sense to other people. It was pretty beautiful.
That feeling didn't last, but it still comes back sometimes even now. When you see Emma Watson interviewed for an international magazine wearing Miu Miu and Burberry and reflect on the fact that she's world-famous for playing a nerdy, overachieving teacher's pet with frizzy hair FROM A BOOK? That's a good feeling, at least for this nerdy overachieving teacher's pet with frizzy hair. That's actually really fucking amazing. That's not something I ever could have imagined happening in our world. The fact that it did, I think, might honestly be magic.
I was 12 when my grandmother gave me a copy of the new hit book Harry Potter and the Sorcerer's Stone. I didn't expect to like it because everyone liked it and how could I ever relate to something enjoyed by the masses? But I read it to appease my grandmother.
I read the entire book in one night.
I wanted to go to Hogwarts: to frolic through the grounds, honing my magic skills with a bunch of other children who didn't fit into the normal world. I wanted so badly to belong somewhere and this book made me feel like I did. I'd dream that maybe in the US, the wizarding age was 13 and I'd get my invitation on my birthday.
At sleepovers, I'd suggest playing Harry Potter games which involved "sneaking around the dark house pretending we're creeping through the halls of Hogwarts on a secret wizarding mission to defeat evil." Eventually people stopped inviting me to their sleepovers.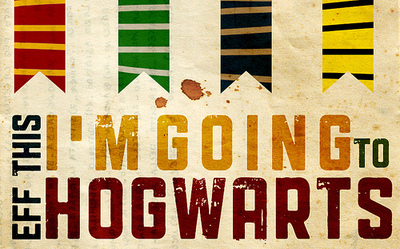 I didn't get my invitation to wizarding school, but normal school gave me the tools to overanalyze my affection for these books.
In Harry Potter, the underdog thrives. Harry starts as a nobody forced to sleep under the stairs and ends up admired and adored within his special community. It was like those stories where you find out you're adopted by your parents and are actually a Princess! I wanted to be adopted and admired because middle school felt like living in a closet under the stairs.
Furthermore, Harry's friends are also misfits and are essential to his success. Hermione, the smartest person in Harry's year / the world, faces double discrimination as a female and a muggleborn but despite this, she's a rock star within the Hogwarts world.
These are the female role models I needed. Hermione is hailed for her brain, not her attractiveness to boys. Ginny is fiesty and confident and never sits back while others fight the battles. Also in Hogwarts, sports are co-ed and everyone is judged based on their ability, not their gender.
Harry Potter is a scrawny kid with glasses who, along with his friends, fight for good, form bonds, study and do awesome magic. In Harry Potter, society's misfits are glorified and encouraged to embrace the skills they've been given. Harry Potter is good for everybody and was especially good for twelve-year-old me.



Next: Rachel B & Emily share their Harry Potter experiences, plus tips for how to survive sans-Harry in 2012.
Pages: 1 2See entire article on one page