Tech Writer Rachel B
I didn't grow up with Harry Potter. In fact, he and I didn't meet until I was nineteen.
It was a lonely spring for me; sitting in my little rented room, watching Donnie Darko over and over and listening to bad 80s pop radio all by myself. I'd just moved 500 miles away from my family in Arizona to California, where I had no job, one friends, and just enough money in my wallet for a library card. So I settled into bed with a stack of plastic sheathed books and read them as my life changed.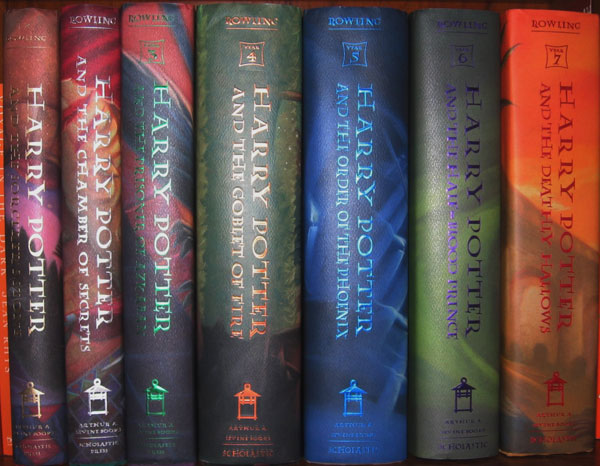 I've often thought that if I were to look into the Mirror of Erised, I'd see something similar to Harry's completed family. Harry Potter was my best friend when I was experiencing my first loss and when he  practised Occlumencey with Snape I realised that I too, wore my heart proudly on my sleeve. I don't think that makes us fools, though. I can't say what precisely makes Harry Potter so special, and "everything" isn't necessarily a satisfying answer but it's the only one I've got. He's my best friend, he's part of me.
Four years after I first sat down with Harry, I'm ceremonially opening my brand-new copy of The Deathly Hallows; averting my eyes to avoid unintentionally reading any chapter titles, delicately sliding off the dust cover and feeling the weight of anticipation in my chest. I was careful to absorb every word/detail of the finale and, honestly, I don't feel the same way counting down to the last film of the last book. Don't get me wrong, I do a Harry Potter Excitement Dance every night before bed but really my number one feeling is, "I'm emotionally incapable of handling this."
Maybe it's because I already know what happens and I'm not prepared to see my beloved characters die. But it's more likely I'm just not ready to see the credits roll and know that the story of Harry Potter and all the fantastic things that come with him are really and truly finally at an end.
I'm just not ready for this to be over.
My copy of Harry Potter and the Philosopher's Stone has been read and read again and it shows; the pages are yellow and there is tomato sauce on some of them. I was coincidentally in London the first time I read it — at ten years old, I was initially turned off by cheesy description and the drawing of the brown bearded wizard on the back. But my aunt had given it to me and said that my older cousin had loved it. So I read it, became hooked, and thus began my lifelong relationship with Harry Potter.
Harry Potter matters to me in a way that's almost ridiculous and kind of selfish. And I feel like this is my one chance to tell you how much Harry means to me. I have to convince you that Harry Potter is serious business, I want you to understand because I love you. But I want to say that Harry Potter's mine, that nobody else understands the way I feel about Harry Potter, and nobody gets Harry Potter like I get Harry Potter. Because, you see, I am Harry Potter.
Or, Harry Potter is in me.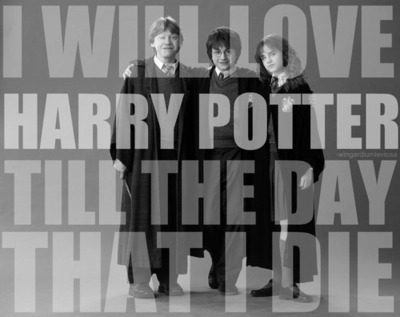 Harry is brave and he wears his heart on his sleeve. He's honest and naturally/modestly talented at most things. He does things because they're right, not because they're easy. And things happen to him, things that he didn't choose, and he has to live with it. Harry's parents are dead and my mother is dead and I am all these things that Harry Potter is. This is a thing that happened to me that I didn't choose and now I have to live with it. When I was 10 I didn't know anyone whose parent(s) had died. But I knew Harry. I know a few other people now.
There's this part in The Philosopher's Stone when Harry discovers a mirror that shows him his deepest desire. And he looks into it, and sees his family.
"The Potters smiled and waved at Harry and he stared hungrily back at them, his hands pressed flat against the glass as though he was hoping to fall right through it and reach them. He had a powerful kind of ache inside him, half joy, half terrible sadness."
– Harry Potter and the Philosopher's Stone
For a long time I felt like no one else understood that ache. It's a different kind of ache than a love ache or a head ache.
Famous Harry Potter gets made fun of too. I was made fun of in high school, and so were you probably, and the kids who did the bullying were probably bullied by their mother or father or older brother, or later by the cashier at the grocery store. No one escapes this world without being bullied, even though sometimes it feels like you're the only one. But books exist in this sort of side-world, one that's not really real, but also one where you're understood, and you can escape to it whenever you want to.
Other things happened to Harry that he didn't choose. You know, like being a wizard and having to kill Lord Voldemort. This is literally not comparable to being gay, or, really, to anything, unless you're a wizard and you have to kill another wizard, which you're not, so. But I didn't choose to be gay, and Harry didn't choose to be a wizard, or to be given this task that makes him different. But he is different. He is different and he feels this difference even though he's good-looking and smart and has friends and is a good person. He gets made fun of, just because he is who he is. This is a feeling gay people understand very, very well.
I wasn't made fun of for being gay, because I stayed in the closet. But the lonely side of me hung on to Harry Potter and I felt what he felt, and that mattered. I mean, it doesn't matter to anyone else. But it matters to me. The books — physical books — were there for me before I went to college and met all these wonderful people. They're a blanket of comfort, like, "here's a world you can dive into. Think no one gets you? Harry Potter gets you."
I have choices though. I could choose to "not" be gay. I could get a boyfriend and then I wouldn't have to come out to my family, or anyone, and I could hold hands with him in public without feeling nervous about being stabbed in the eye, and I could forget about this equality shit and let someone else deal with it 'cause who cares it doesn't affect me anymore. But you know what? Harry Potter would never do that.
"But he understood at last what Dumbledore had been trying to tell him. It was, he thought, the difference between being dragged into the arena to face a battle to the death and walking into the arena with your head held high. Some people, perhaps, would say that there was little to choose between the two ways, but Dumbledore knew — and so do I, thought Harry, with a rush of fierce pride, and so did my parents — that there was all the difference in the world."
– Harry Potter and the Half-Blood Prince
If I may step outside of the books for a moment to point out: Harry Potter has a mass following, not yet overshadowed by Twilight, which is poorly written and doesn't send quite the message that Harry Potter does (and this is the last time you will ever see me compare HP to Twilight). As someone who loved reading even when reading wasn't popular, it makes me so happy to know that J.K Rowling has gotten kids to read. And it makes me even happier that she sends positive messages about standing up for what you believe in, being yourself, and having courage in the face of adversity. She writes about death in a way that makes it seem less scary, and she gives Harry so much life that he's practically bursting with it. J.K Rowling gives us female characters who are equal to the male characters, and she gives us a gay character whose gay identity is so non-consequential that we don't even find out he's gay until the series is over.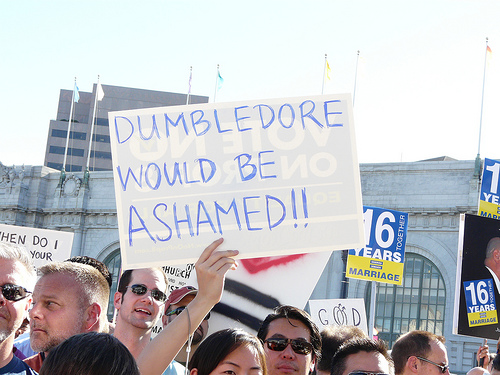 If there's anything that you should take away from Harry Potter, even if you think the books are stupid, or you just don't understand the hype, you should at least understand that Harry is brave. There may have been times when Harry was scared to be himself, hated himself for being him, wished he could just be normal. But he faced the world, and he held his head high. I want everyone to have a little bit of Harry inside of them, to make them a little braver, to help them wake up and face the world, because that's what Harry is for me. Harry inspires me to live as I am. Maybe you think it's stupid because it's just a book and Harry Potter doesn't exist. Well, he does for me. And I'm a better person because of it.
+
Are you still feeling sad / in denial that we won't get any new Harry beyond 2011? That's okay. For starters, there will only be about a year left before the world ends anyway so you won't have to be sad for long! And also, we've compiled a small list of things you can do to help you cope:
+ ALL OF THE BOOKS
Duh. Seven whole books full of all the wonderful little details that the movies didn't include. Did the movie version of The Goblet of Fire have S.P.E.W.? No, it did not, and that is why you can't go wrong cracking open the covers.
+ MOVIE MARATHON
They aren't perfect, but they come damn close. Make a weekend of it! Have your girlfriend make some caramel popcorn and snuggle under a blanket with her and the cats. Look at how pretty all those kids turned out to be.
+ CHANGE OF ADDRESS
The Wizarding World of Harry Potter in Orlando is open now! My girlfriend tells me that it isn't a realistic plan but I'm thinking of just moving in. Florida is too far away for frequent return trips and honestly, I'd like to live in a permanent state of enchantment. You could always just visit for a day though, I guess.
+ EMMA WATSON'S HAIRCUT
What. It's really cute.
+ BUTTERBEER IS GOOD
Remember that part in The Half Blood Prince when the Trio were at The Three Broomsticks and Hermione drank her Butterbeer really fast and got foam on her face? That was cute. You should try making some Butterbeer at home. It's really good. Try the Firewhiskey too.
+ YOU'RE NEVER TOO OLD TO PLAY HARRY POTTER
Seriously, just ask Julia! All you need is a broomstick/cape/stick for a wand, and possibly a few friends. It's even ok if you don't have those, though. There's evil out there just waiting to be fought, and don't even act like you don't have all the spells memorized to fight it.
+ Never let go.
Remember when this happened? It is good to have hope for the future.
Rowling: They're all in my head still. I mean I could write – I could – I could definitely write an eighth, ninth, tenth – I could – easily.
Oprah: Will you?
Rowling: I'm not going to say I won't. I don't think I will. I loved writing those books. I love writing it. So, I feel I am done but you never know.
Pages: 1 2See entire article on one page