Lesbian comedy shows and Real L Word parties are a dime a dozen in LA — why not bring some of that magic back east?  I wanted A) Real L Word stars Rose Garcia and Stamie Karakasidis and B) an all lesbian comedy show.  Stamie, a Philadelphia native, wanted to do a New York show, and Rose has strong family ties in Brooklyn & Long Island. I enlisted nightlife enthusiast Grace Chu to help slap this thing together and by 6 o'clock on Saturday night, The Stonewall Inn, was buzzing with frenzied energy and women (and approximately three guys) were already lining up outside.
Before the show kicked off, Rose and Stamie mingled with the packed crowd including girls who traveled from Philly, Jersey, Indiana and even North Carolina. Really, Papi. They engaged with the crowd, inviting whooping and hollering fans on stage to ask whatever their little hearts desired, bought them drinks, took photos and shared some inside scoop about the rest of the cast.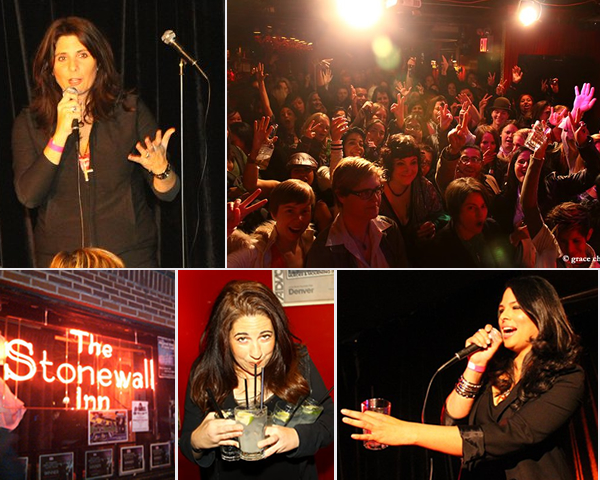 Rounding out the show were three out and proud New Yorkers who knew a thing or two about reality TV: Claudia Cogan (Last Comic Standing), Poppi Kramer (The Biggest Loser) and Jessie Richardson (avid RLW tivo-er).  Stamie has expressed interest in making this a recurring event, with more RLW girls excited to co-host an evening of comedy [*cough Whitney & Tracy cough*]
Keep an eye on ourfifteenminutes.com for more RLW comedy shows and appearances.
photos by Grace Chu
Special thanks to Stacy Lentz of The Stonewall Inn