Hello and welcome to another edition of Autostraddle's College Lesbianage: a glimpse of college life through the wide eyes of six freshly fallen snowflake first-year queers. This month's update finds our Lesbianagelings settling into their respective establishments of higher learning, where cute girls mill around campuses being cute and rugby teams practically fall into people's laps. Also, it becomes increasingly clear that writing for Autostraddle while attending a university is basically a one-way ticket to Getting Luckyville. Glad we could help, girls.
---
+
Kelsey
Bryn Mawr
It was my first real rugby scrimmage and, even though it was only 40 minutes long and not officially a game, I was terrified. When the ref told us to line up on the field, I forced myself to breathe evenly, to think of anything but how any of the girls from the other team could tackle me in an instant. And then suddenly the game began and I had no time to think anymore.
Even though we lost the scrimmage, the experience of actually playing rugby — of running and tackling and being part of a team — was wonderful. I managed to follow what was happening (a rather big accomplishment in rugby, because it can get pretty complicated), was a decent prop (the position I play), and even helped tackle a few people. I have another scrimmage this weekend and a tournament in December and, even though I still worry about getting tackled and not knowing all of the rules, I'm excited to have more opportunities to experience what I've been practicing for since September.
Besides playing rugby, the team also took a trip to a ropes course, where I got to ride a zipline and walk across a cable 30 feet off the ground (attached to a harness, of course). Thanks to our coach, I even have a picture of my circus-esque cable walking stunt to show you!
I've also gotten involved in Bryn Mawr's feminist newspaper, The College News. While my high school's newspaper was more traditional and school news-oriented, The College News is a place to write about my opinions and experiences, especially in regards to feminism and queer issues. But I mostly love this newspaper because it's a place where people aren't afraid, and are even excited, to discuss issues that many people don't talk about.  If you're interested, here's the article I wrote for The College News — plug: I talk about lesbians.
I've also been involved in the Rainbow Alliance's Out Week — I danced at the OUTer Space party and helped write queer-related things to hang all over campus — studied like crazy for a bunch of tests, and even canvassed for Obama. Life's only getting crazier as finals week approaches, and sometimes I get tired of homework and the stress of not knowing people well yet, but mostly I'm loving everything I'm experiencing.
+
Kate
Wellesley College
At the moment I write this, I am sitting in the basement of the Shakes Haus waiting to go onstage. The show is in full swing and so far we've been doing wonderfully. These past couple weeks have been comprised entirely of homework and midterms, but I'm still alive and for the most part very happy.
On Tuesday, I said to hell with homework and went into Boston to see Ani DiFranco! I left my camera at home and went alone, but that meant that I could squeeze my small self between people in the standing room. I was so close to her, guys; I was literally fifteen feet away from Ani Fucking DiFranco. She looked at me and smiled and that's why I started crying and I didn't stop for a full hour because she played The Whole Night and Joyful Girl and Napoleon and Overlap and Dilate oh my god Dilate. And she played most of her newest album except for my two favorites (J and Albacore) as well as two of her new things, which were both great. Everyone was singing along; there was this giant man standing next to me who was getting so into it!
I hadn't gone on a self-date since I left Minnesota and I was long overdue. Aside from being nothing but busy or asleep for the past three months, I don't know the area well enough to venture out alone (and even if I did, getting into Boston is kind of a hassle). For these reasons, everything I've done has been with other people. And while that's nice, I really needed to take some time for me. My mental health aside, life continues on as normal. Hurricane Sandy didn't really hit us much, although classes were cancelled (for the first time in 27 years, I hear).
The first snow also fell on November 7th. In typical Minnesotan style, I got really excited, put on my favorite sweater, made some hot chocolate… and then got very very homesick. But Wellesley in the snow is gorgeous so I returned to being blissfully excited as soon as I stepped outside. There was an impromptu snowball fight outside the Shakes Haus before rehearsal, I made snow angels, and my roommate and I went traying on Severance Hill at midnight.
Her professor had said it was a tradition to go at midnight on the first snow, but it was just us and a group of very drunk kids who quickly dissipated. So we stood on top of this giant hill, looking over our beautiful campus with snow swirling around the streetlamps and all I could think was "I feel infinite."
+
Claire
Wellesley College
The rugby season has ended. Who am I supposed to hang out with, now that I'm not with my teammates at least twelve hours a week? What am I supposed to do with all of this free time? (Trick question: There is no such thing as free time.)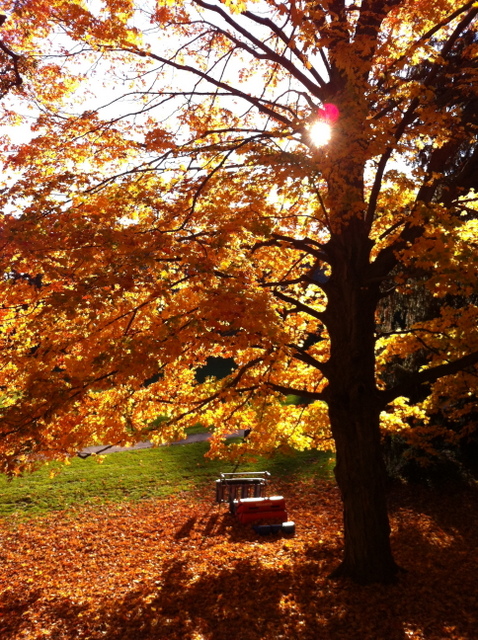 My dad came and I was nervous for him to see me play, because doing well seems to matter more when he's there. It's been about ten years since the last gymnastics meet, and more than ten years since the last soccer game, but having him on the sidelines made me crave orange slices and Gatorade.
He was also quite wonderful when I came out to him. We were just inside the foyer of a tiny Thai food restaurant in Wellesley, shaking off our umbrellas, when I blurted out "So I'm seeing somebody. A girl." When he told me "as long as you're happy," I felt a huge surge of relief flood through my body. It was something that my family had discussed before I came out to either of my parents — my brother used to make a lot of "Claire is obviously gay" jokes, and at one point he and my parents had a conference to discuss my sexuality.  I am very, very lucky that once I chose to come out, it was well received by both of my parents.
Friday afternoon, I took the Greyhound bus to New York City to go visit my mom. She was supposed to be running the marathon, which was cancelled right before her plane landed. Seeing my mom after three months was wonderful; I really missed her. I also got to see a friend from high school. We got Chipotle for old times sake and she showed me around her neighborhood. I also got to meet her dog, Han Solo.
I was in the room labeled MSNBC, but it was actually NBC, which sorely disappointed me, because I am more than a little bit in love with Rachel Maddow. The evening was tense — not only was the future of the country at stake, but also my American Politics professor had us give him betting recommendations. My honor as a political science student was on the line. Unfortunately for me, but fortunately for the country, I was incorrect in my predictions about the outcome of Montana's hotly contested Senate race between the guy who ranches cattle and the guy with the impressive moustache.
+
Next: Sunny, Nita & Lillian
Pages: 1 2See entire article on one page