Sunny
Ithaca College
A follow-up to the previous post: I made it to the Big Gay Ice Cream Shop in NYC! The employees were in fact, very cute and joyful. Oh, and the ice-cream was awesome. In addition to that, my friend and I checked out Cubby Hole; an internet-approved, must-go-to lesbitastic bar in Manhattan. But we were too intimidated by the bouncer in front so we did a subtle turn around the corner and walked onward. I will actually step inside one day, I promise.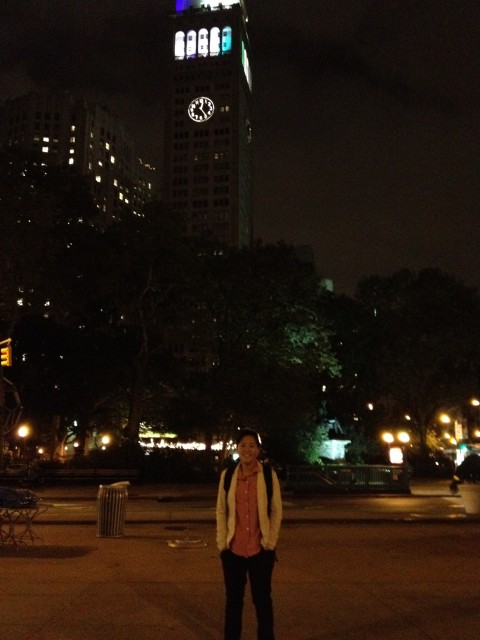 I also got the chance to tour the Met (fulfilling one of my life ambitions) where I died a thousand times walking around the European Paintings section. It was my Disneyland, or whatever land you can compare to that you didn't want to leave when you visited as a kid. I was overwhelmed with genuine curiosity in everything. Unfortunately, I ran out of time before I could reach the Egyptian Art section, which I was looking forward to. My trip there confirmed my strong interest in Art History and I'm thinking of declaring my minor in the subject. I cannot wait to take my 20th Century European Art class beginning January. Below is a photo I took of people observing two of my favorite paintings: "Springtime" and "The Storm" by P.A. Cot. I realized afterwards when I looked at all the photos I took how beautiful it was that all these complete strangers were so peacefully sharing an admiration for these artwork.
Around the time I wrote my previous post, I was also getting to know a cool girl I had the luck of meeting through a friend. One night, when we were hanging out listening to The Beatles, she asked me, "Would you like a kiss?" to which I replied, "Thought you'd never ask." She handed me a Hershey's chocolate kiss. I thought the moment was adorable, even though I was squirming with embarrassment. Anyway, we've hit it off , despite that I didn't expect to get myself in any situation of the sort in my first semester of college.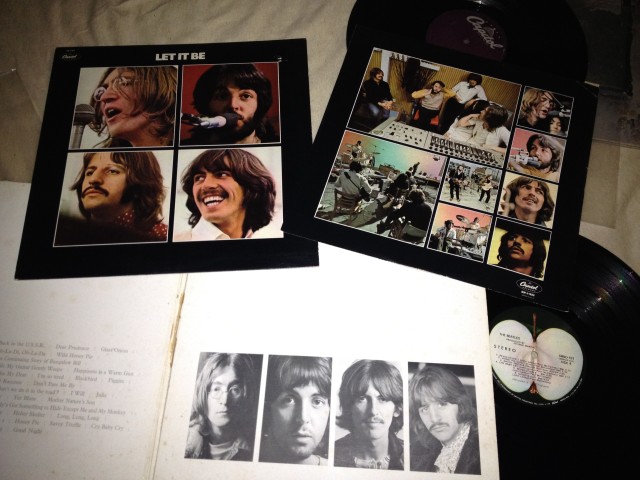 For Halloween, she suggested we dress as John and Yoko, which I thought was epic. But we had a switch of plans and ended up dressing as two very dapper people with no real reply to the question "what are you guys?" She wore a tie, I wore suspenders and a bowler hat. That night, we set off to a neat little house party. I was nervous, because this was my first appearance with my girlfriend—I'd never been with anyone who was out enough to introduce herself as my girlfriend in public. But I discovered that it didn't matter how tense I was about it because she was there and so was I and we could hold hands and give each other glimpses that led to giggles and that was all that mattered.
Things came to a sudden stop a few days ago. As much as I told myself I didn't want to be involved in the first place, I'm glad it happened and I don't regret a thing. But it does (for lack of a better word) suck now, and I'm sort of struggling with the emotional aftermath just because I haven't been in this situation for a long time. On the bright side, now I can watch an excessive amount of Arrested Development and eat cartons of Ben & Jerry's like it's no one's business. I mean, I've always done that but now I don't feel like such a counter-productive twat.
At the beginning of November, I went to my first Kaki King concert in Syracuse. I hadn't heard a lot of Kaki pre-show so needless to say, she blew my mind. We talked to her for a wee bit after the show too, which was exciting. I was looking forward to seeing Tegan and Sara in NYC mid-November, but I couldn't get the tickets in time.
I am writing this as I sit on a pasty-colored bed in a cheap hotel shared with three other friends in NYC. It's the beginning of Thanksgiving break and I am overly excited to have the proper amount of sleep I've been lacking in the last week. Cheers.
+
Nita
The University of North Carolina Greensboro
Ah, North Carolina weather, where one day I'm totally comfy in jeans and a T-shirt and it's a balmy 65 degrees outside and sunny, the next day it's 32 in the morning and I've got my warmest sweaters on.
We're drawing nearer to the end of the semester and I couldn't be happier—I've signed up to take two Professions in Deafness classes in the spring, including a class called "Intro to the Deaf Community." My signing has steadily improved, and I've made a few really close Deaf friends.
A lot of my time lately has been consumed by theatre — I was on Wardrobe Crew for our winter children's show, Junie B. Jones in Jingle Bells, Batman Smells. The show was an absolute blast and reminded me of how much I love the theatre. I'm taking a costuming class right now and I think it's going to be the death of my wallet: I've fallen in love with sewing so much I'm looking at buying a sewing machine and spending my money on fabric.
Speaking of theatre, we had our spring semester auditions this past week, and I got called back for two roles — an ensemble role in The Long Christmas Ride Home, and the female lead in a children's play called If Only the Lonely Were Home. While I didn't land either role (I was actually grateful not to land the ensemble one—for our callback, we had to simulate two puppets having lesbian sex), I was so excited about my first college callback that I didn't even care.
Another hidden gem of Greensboro that I realize I have yet to mention is the wonderful, amazing spot known as Yum Yum's. They were voted best homemade ice cream in North Carolina, and the reputation certainly lives up to its name. Located right across from campus, they've still got that small-town southern vibe, even for a college town—all they serve are hot dogs and ice cream (the red hot dogs, mind you) and you can get a kid's cone of ice cream, a chili cheese hot dog, and a glass bottle of Cheerwine for only $5. It's an amazing place and one I've definitely spent a lot of time at.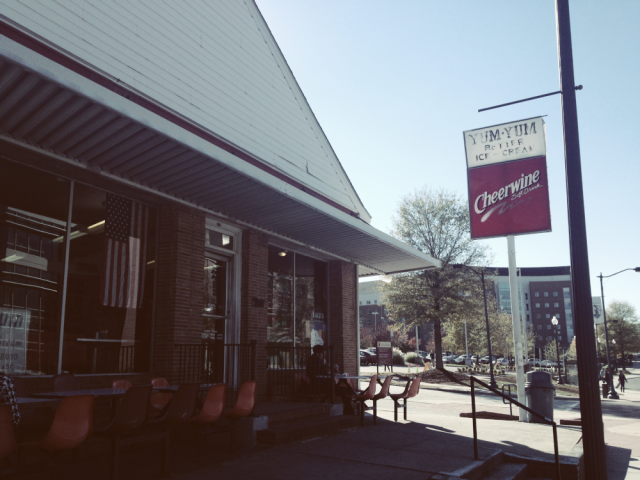 I'm already starting to feel myself changing after coming to college, and I have the sneaking suspicion I'm becoming, well, gayer. Or at least a more-gay version of the queer I already was. There's a difference between how gay I was in high school, where my family was accepting but I didn't know any other queers apart from my girlfriend and kept to myself; and here, where everybody and their mother knows I'm gay and no one gives a shit—I've got so many gay friends now that we dubbed our Thanksgiving party "Gaysgiving." (It was a smashing, smashing success, and my fairy godmothers cooked the perfect turkey the first time around). I've also got way more access to a lot of queer literature here that I didn't have in high school thanks to our extensive library—I've fallen in love with Jeanette Winterson, Alison Bechdel and especially Dorothy Allison; whose Southern upbringing makes me nostalgic for my own. My relationship with Rachel is definitely maturing and changing, but for the better — we've adjusted to the distance and learned not to take each other for granted anymore. She got accepted into Greensboro College, which is just up the road from me, but she's still holding out for Vassar, so who knows what the future holds? All I can say is, I know I'm changing, and I think it's for the better.
+
Lillian
Vassar
These last few weeks have been kind of similar to tonight — juggling school work, fun, and setting aside time to freak out about my future. I'm not really sure what happened on campus but after October break life seems to be moving much faster here.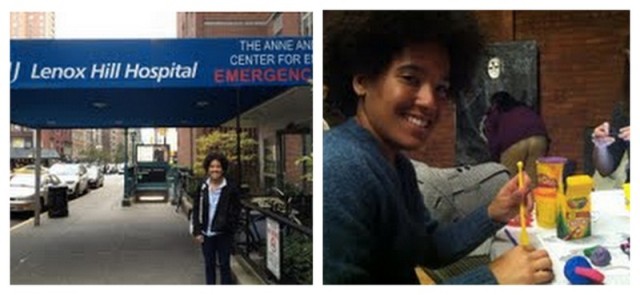 Coming back from October break was a bit weird; I just remember feeling an overwhelmingly empty. I don't know if that had to do with the fact that when I arrived back at Vassar not many students had returned or if the initial novelty of college was starting to wear off. Whatever it was, I didn't really like it. But, surely enough when classes started going again my emptiness was filled with much missed stimulating conversion, too many Chinese characters to memorize, unsatisfying but edible Deece (dining hall) food, and Halloween spirit.
Since we're on the subject of Halloween, I should say that my first Halloween away from home was pretty awesome. Nothing can top going trick or treating in the rich neighborhoods of LA where people go hard with the decorations and are very generous with the candy, but Halloween at Vassar was quite fun. I went as Jimi Hendrix; I thought it was the easiest costume to put together with my hairstyle. It was either him or Rosa Parks but I decided against it because I'd have to straighten my hair and you know, I don't think I could pull it off without things getting awk.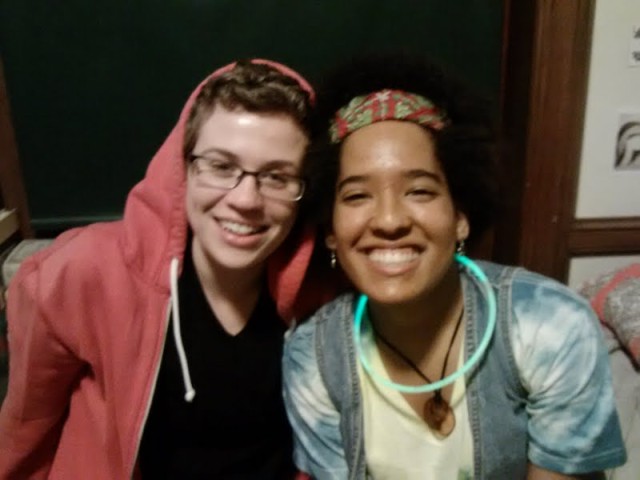 I've experienced my first snow fall, which came as a surprise to a lot of my east coast friends. My west coasters knew my strugs (struggles). While it snowed here, briefly for one day, we west coasters could be seen wearing full blown winter garb, gloves, hats, boots, some even snow suits. I'm sure I annoyed the crap out of my roommate when every five seconds I would squeal, "Look, those white things coming from the sky. What sorcery is this?" That was quite the experience and I'm actually excited for winter even though I'm pretty sure I will freeze to death.
Besides experiencing my first snow, I took a trip to the city with my friends. It wasn't the first time I've gone to the city but it's the first time I've gone with friends and done fun things. We walked around and went to the Metropolitan Museum of Art and went to a semi fancy Italian restaurant where I spent all of my money and satisfied my cravings for good bread and pâté. We also randomly happened to walk by the hospital I was born in which was quite a surprise. It was weird seeing the place where I was born eighteen years later.
Anyways, these last couple days have been filled with random fire alarms (not funny when it's five am and its 40 degrees outside. Still not funny the following day that 8:30 in the morning.), two month anniversaries (well that was only one day) and lots of gay related things. Last Saturday, the queer group I'm involved in organized the Yes Party! to show positive images of sexuality and gender identity. My friend and I got to design the wall which was pretty fun. And after Thanksgiving I'm looking forward to another Queer Lady Social which should be very gay and very entertaining. Well straddlers, thank you for listening to my kind of cracked out version of my college life. Until next time!
---
Are you following us on Facebook?
Pages: 1 2 See entire article on one page