Hello and welcome to another edition of Autostraddle's College Lesbianage: a glimpse of college life through the wide eyes of six freshly fallen snowflake first-year queers. This month's update finds our Lesbianagelings finishing up their finals and heading back to their homelands. What have they learned about the world and themselves during this first semester of college?
---
Claire
Wellesley College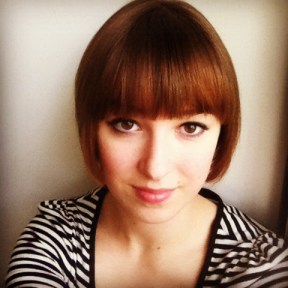 I'm back on campus again, pretending to be a real adult. Most of the time, however, I feel like a four-year-old playing dress up.
Sure, I'm making some real adult decisions, but just wait until I'm back in my dorm, curled in my bed, eating goldfish, surrounded by a mountain of laundry I have yet to fold. The person who I am when I am not being A Student or An Athlete bears a striking resemblance to myself at the age of five, and that person feels more authentic than whoever I'm trying to be when I'm trying to do Real Adult Things. How can I be a real person, with real person responsibilities, if I can't even remember to put extra water in my bamboo plant before I leave for winter break? Part of living as my own person has involved discovering how I like to spend my time. After about ten years of telling myself that I am un-athletic and hate competition, I have finally found a sport that I love. Rugby has just resumed, sort of. Our spring season has technically started, and we've got new additions to the team, but we can't play outside for at least another month because the ground is currently covered in snow.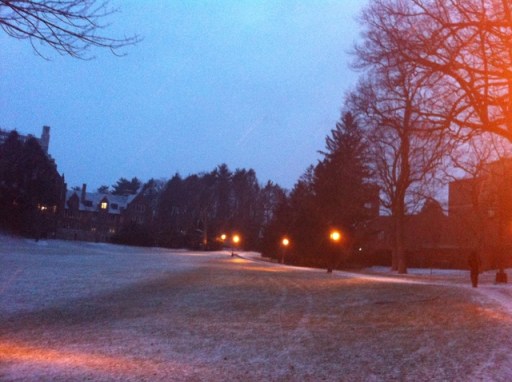 So we have indoor practices during the same time block that we had practices in the fall, but we're not playing rugby yet. Instead, we're playing a lot of touch rugby, which only bears a modicum of resemblance to real rugby, and doing a lot of conditioning. If I don't have a six-pack by the end of the season I'm going to be sorely disappointed, because I've been doing an unholy number of planks, crunches, and bicycles. I also just joined the brand new beekeeping club. None of us have any experience keeping bees, and most of us don't even have the first clue where to start. So we're hoping to have a few hives in the gardens right off campus in the spring. It's ambitious, but if we succeed, there might be an opportunity for a student to end up on campus this summer, tending to the bees as a summer job, which sounds wonderful to me. I would much rather interact with honeybees than with working professionals.
I finally attended the legendary bingo night at Wellesley College. It was the last Wednesday before Nemo, so a lot of the prizes involved non-perishable food items. There were also a few sleds and some board games thrown into the mix. I did not win, but my girlfriend did. She walked away with makeup wipes, which she graciously gifted to me, and a very large bag of candy.
Class was cancelled on Friday in anticipation of the snowpocalypse. My girlfriend and I ventured outside twice during the entire weekend of the storm: the first time was a brave expedition to the neighboring dorm block to find food, and the second time was to play in the snow.
There was supposed to be a campuswide snowball fight at 3 p.m. on Saturday, but it devolved into disorganized snow day chaos. I have never seen so many Wellesley students having fun at the same time. Probably at least a third of the campus was trying to sled down Severance hill, and it was stripped bare of snow by the end of the day. Having sledded two nights before, I was perfectly content to burrow into a snowdrift and observe.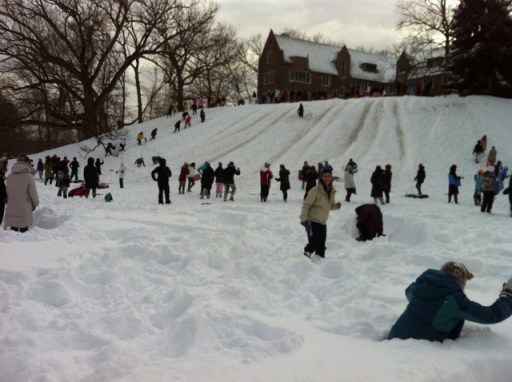 For Valentine's Day, my girlfriend and I went to Chipotle. We wanted to celebrate in a way that we would actually enjoy, and for both of us, this meant consuming burritos.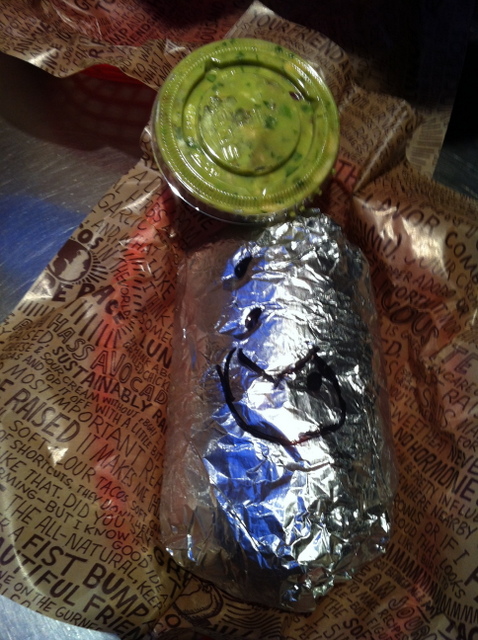 Valentine's Day is so aggressively commercial, and I didn't really want to participate in that. But at the same time, I will take any opportunity I can to make cute things for my girlfriend. So I made her a puzzle, and she made me a flower. I think that of all the real adult life choices I've made so far this year, dating her has been one of my best.
---
Lillian
Vassar
And just like that, we're back in the swing of things. Coming back from break was weird, as it always is, but this time it took a while for Vassar to feel like home again. When I arrived at the Poughkeepsie train station, I was greeted by my friends and my girlfriend was there as a surprise. She's an East coaster and the three hour time difference was just enough to be annoying but nevertheless our relationship managed to survive the holidays. This brings me to the subject that I'm sure sharply divides the Autostraddle community. Either you love it or you loathe it, or you give zero fucks about the matter: Valentine's Day.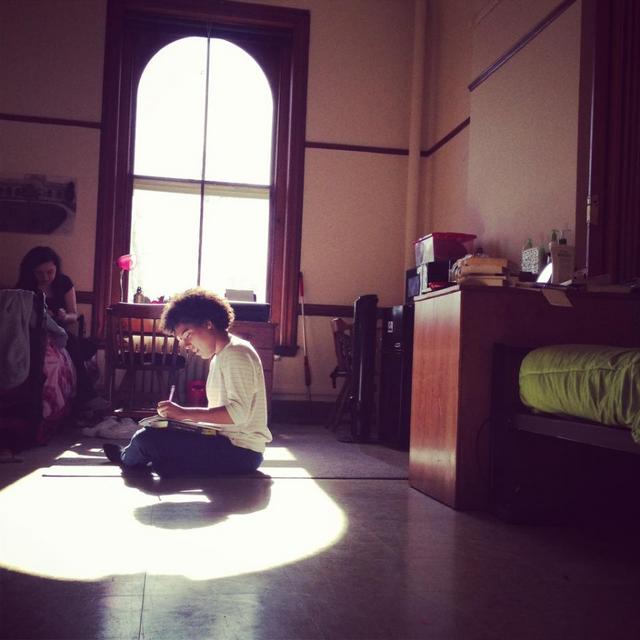 I feel like not writing about this holiday while being in a relationship would be somewhat odd. Generally, I don't really like Valentine's Day.  It's not because I'm bitter or that I think it is too commercial (which it certainly is) but rather because the whole day just sends everyone into an unnecessary anxious mess. It sucks when you don't get flowers or when you do it's possible that you feel a bit undeserving. Or maybe you just don't know what to get your significant other which can be stressful. That being said, for the first time in a long time, I did have a happy Valentine's Day.
I switched my schedule around and decided to take History, Political Theory, and Asian studies, all of which are outside my general interest of Foreign Language. I decided this semester I would try new things and actually take advantage of a "liberal arts" education before I have to declare my major next semester. I'm really trying to work on stepping even farther outside my comfort zone – so far so good.
Unfortunately, in the last week or so I have also had to deal with the loss of a family member. It's been tough because it is my first encounter with the death of someone I was actually close with. It's hard being away from home and not being to grieve with my family. When it happened, though, I was immediately surrounded by love and support which made me feel less alone. Of course, it's still weird waking up and thinking that this person is no longer there. I remember her at the most random times – like when someone reminds me of her sassiness or I put on one of the sweaters she gave me. I feel like there a million things I could have said to her before she passed. I especially wish I could have told her that I am gay and that I have found a girl who is so wonderful that to describe her nature in words would do her an injustice.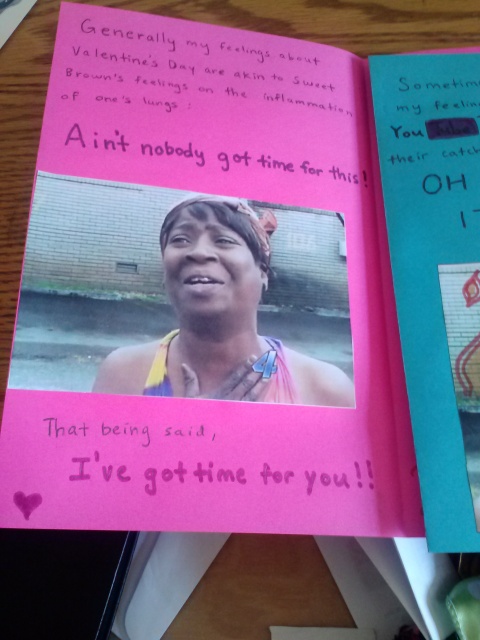 Enough of the sad stuff. So I somehow got into the Valentine's Day spirit. I am actually quite proud of the card I made for K. It's silly and light which is how I roll. I don't do the ooey gooey sappy stuff—not about that life. My girlfriend, though, is quite the traditional romantic. In addition to being rewarded with a certificate of awesomeness, I received a bouquet of roses and a mix tape that took my breath away. We went out to dinner and as any couple on a college campus would, we went to see a hilarious and particularly poignant rendition of the Vagina Monologues. It was a wonderful evening and for the moment my feelings on Valentine's Day have changed, only because of you K!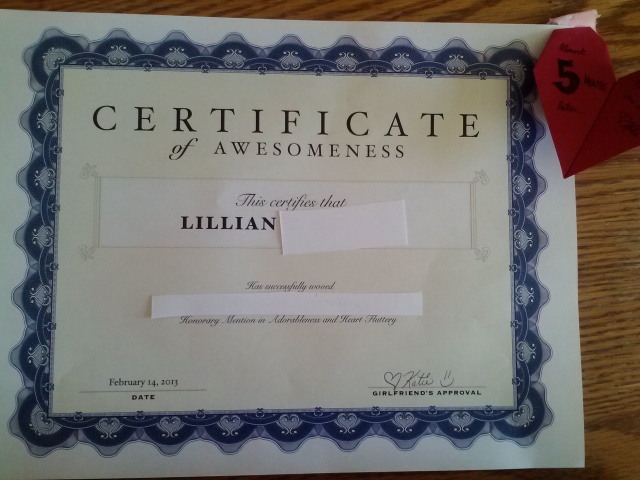 ---
Kelsey
Bryn Mawr
As I try to write this column and remember everything that's happened in the past month, all I can think is, "Hell Week starts tomorrow!" I know that the third of Bryn Mawr College's traditions, a week dedicated to freshmen doing ridiculous and fun things, is going to be fantastic, even though I'm not entirely sure what to expect. Everyone here has talked of little else since we returned from winter break, and all of the anticipation has built up. Now, I feel like I used to on Christmas Eve; bouncing up and down and unable to sleep. Next time I write, I'll be sure to tell you whatever I'm allowed to about the week, but for now I just have to wait for Hell to begin.
My winter break ended spectacularly well for two reasons; I finally got my driver's license, and I saw John and Hank Green in An Evening of Awesome at Carnegie Hall. John and Hank are the vloggers behind the amazing Youtube channel Vlogbrothers, and John is also a novelist; An Evening of Awesome was dedicated to celebrating the one-year anniversary of The Fault in Our Stars, his newest book. The evening was filled with amazing performances, including my favorite band The Mountain Goats, but what the evening really made me grateful for is community and amazing people on the Internet who do amazing things. As I saw Hank on stage, I kept remembering the Youtube videos he made about sexuality and coming out, videos which helped me realize that my feelings were normal, that my sexuality was normal, that it was worth discussing. I am forever grateful to Hank for making those videos, which helped me and those I love accept my sexuality, and also to the Internet in general for being a place that often pushes the boundaries of conventional acceptance. The community we have in this landless place is truly beautiful.
I returned to Bryn Mawr a few days before the semester started to be a student facilitator for Dimensions of Diversity, a program dedicated to exploring issues of power and privilege as they relate to social identity groups. I was really nervous, because I had never student facilitated before, but the program was better than I could have imagined. I met so many amazing people who I would have never met otherwise, people who were instantly accepting of me; I came out over and over again in various conversations, because I knew that I was safe; and together we worked to confront areas of privilege in our lives. One of my favorite discussions was talking with three other white students in the program about our white privilege, because that discussion is had so rarely and is so important. Being involved in programs like this makes me sure of my decision to probably major in sociology; I want to spend the rest of my life confronting power and privilege with people as amazing as the ones I met in this program.
Transitioning back into college and the workload has been busy, but I'm really happy to be back. The Punishment and Social Order class I'm taking is changing my life with each reading; from Michelle Alexander's The New Jim Crow to Loic Wacquant's Punishing the Poor, I have become increasingly appalled by mass incarceration, and dedicated to eradicating it. I'm searching for summer internships and I don't know what I'll be doing yet, but I'm excited for whatever it may be. Basically, I'm glad to be home. During all of fall semester, I was obsessed with determining where my home was; was it with my parents on an island where I lived for 16 years, or in a dorm on a college campus where I'll be spending the next four years? But now I've realized that it's possible to have two homes, if you're lucky enough, and I am. I went home for winter break, and now I'm home again, and I couldn't be more grateful.
Next: Sunny, Kate and Nita!
Pages: 1 2See entire article on one page