by carolyn & riese
Books! They are really great. You just won't believe how great they are. You may think that the Internet's great, but that's just peanuts compared to books. Welcome to Lez Liberty Lit, our column about literary shit that's happening that you should probably care about. We're aiming to put one of these together twice a month.
The name "Liberty Lit" was inspired by the short-lived literary journal produced by Angela Chase at Liberty High School in 1994.
Header by Rory Midhani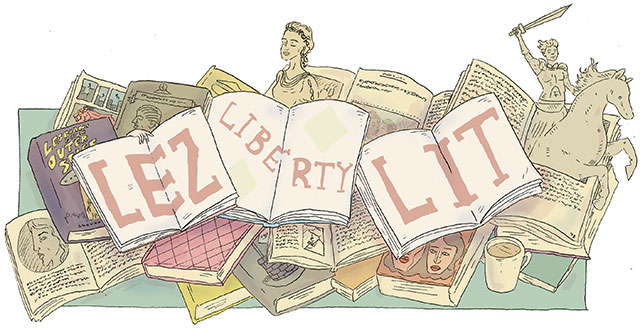 Lit Links
Batwoman might get gay married to Maggie Swagger, her secret longtime crush. Critics have speculated that a lesbian wedding might mitigate some of the backlash DC Comics is facing in light of its decision to hire noted anti-gay author Orson Scott Card to write Superman. And despite that decision, comics are still gayer than ever. (One, My So Called Secret Identity, also has a feminist approach with a fully-clothed female protagonist whose superpower is intelligence.)
Five LGBT authors to celebrate during Black History Month include Audre Lorde, Jewelle Gomez, Pauli Murray, Sam R. Delaney and Angela Y. Davis.
Saeed Jones also has a roundup of the books, films and plays that best represent queer black culture, according to artists and writers.
The first issue of Plunge, a genre literature magazine for queer women, is now available for free.
At McSweeney's, Teddy Wayne writes (what I sincerely hope is) a satiric confession of a book sniffer:
"Okay, I'll come clean: I need to score some books to sniff. I'm going through withdrawal. A few days ago I OD'd on some bad shit—my bookseller told me it was late-period Nabokov, but I'm pretty sure it was The Da Vinci Code cut with a mass-market paperback Danielle Steel. I tried to go cold turkey and recycled my whole collection, but I just need a little something. I swear, I can quit sniffing books anytime. Anything you got, it doesn't matter: remaindered debut novels, B-list-celebrity memoirs, self-published romance. Hell, I'd even take a poetry chapbook by an MFA candidate with a twee second-person title."
In celebration of Audre Lorde's birthday earlier this month, Sista Outsider reviewed I Am Your Sister: Collected and Unpublished Writings of Audre Lorde.
Jeanette Winterson argues that Virginia Woolf's Orlando is a book that refuses all constraints.
A series of lighthearted vignettes of Woolf's family will be released for the first time this summer.
Malinda Lo is not going to write a book about straight people:
"I know for a fact that many publishers do embrace YA with queer main characters — and that's a wonderful fact. But I also believe that right now, heteronormativity is likely to prevent all but the most exceptional exceptions (e.g., if you're David Levithan and/or John Green) from becoming big commercial successes. […] This is why I've sometimes wondered if I should write a book about straight people. It would probably reach a broader audience. But you know what? I'm really ornery. Whenever I start to feel pressure to do A, I pretty much always want to do B. […]

I still think there's a distinct lack of books being published about people like me, and I'm not finished telling stories about us yet."
The New York Times just discovered Goodreads and wants to tell you about it.
Random House has a whole section on its pinterest dedicated to book cakes. BOOK CAKES!
The bird in a mirror on the cover of the 1978 Pocket edition of Joan Didion's Play it as it Lays looks a lot like a mocking jay pin from The Hunger Games.
It is OK to admit you're never going to read that book you're never going to read. (Here's looking at you, Kant.)
At the Rumpus, Davied Biespiel writes about Adrienne Rich. Also at the Rumpus, Julie Morse interviewed poet Joy Harjoabout her latest work, Crazy Brave: A Memoir.
At Racialicious, T.F. Charlton wrote about one parent trying to get Toni Morrison's Beloved, Cormac McCarthy's The Road and Joy Kogawa's Obasan banned in a Virginia school system.
The British Library is digitizing rare manuscripts. Including Beowulf.
Someone has finally explained why books cost more in Canada.
The Internet has been good for short stories.
At the Lesbrary, Erica Gillingham reviewed Between You And Me, by Marisa Calin, a novel written as a film script that explores coming of age where lesbian love triangles are an aside rather than the subject of angst. Katie reviewed Project Unicorn Volume 1, an anthology of YA stories with lesbian heroines by Jennifer and Sarah Diemer. Jill reviewed Hear Us Out, by Nancy Garden, which looks at elements of queer history.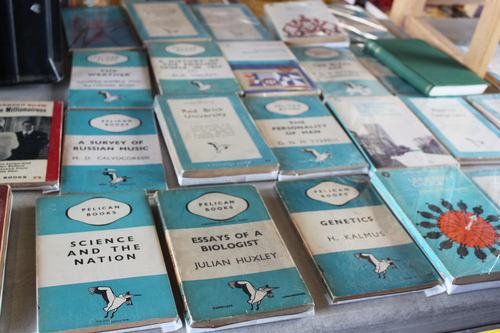 At Lambda Literary, Reginald Harris discusses The Twelve Tribes of Hattie by Ayana Mathis. Julie Enszer writes about Naomi Replansky's collected poems. Anna Furtado reviewed The Furthest City Light by Jeanne Winer.
Don't forget to check out all the awesome book-related things we published recently: Malaika wrote about five queer writers from the Canadian Prairies you should know. Carmen wrote about her crush on Eileen Myles and Leopoldine Core. Hansen wrote about poets talking about their favorite love poems. Cara wrote about AP style. Finally, the deadline for trans*scribe, our next theme issue, is March 1.
Events To Watch Out For:
February 22, Dallas, Texas: Poet Andrea Gibson will be at the Dallas Poetry Slam (7402 Greenville Ave.), 8:00 p.m. Call 818-804-6160 for details.
February 25, Portland: Author and advice columnist Cheryl Strayed is speaking at a Dean's Inaugural Lecture at Portland State University (1825 SW Broadway), 6:15 p.m. Reserve your ticket online in advance.
February 28, New York: Largehearted Lit, a regular series curated by blogger David Gutowski celebrating words and music, presents Jessica Maria Tuccelli's debut novel, Glow, Hillary Jordan and Rachel Loshak at Word (126 Franklin St., Brooklyn), 7:00 p.m.
March 5, Ottawa: Gary Kinsman and Patricia Gentile, authors of The Canadian War on Queers, speak on queer archivist history and how it can queer national security and homonationalism at Ottawa University (Alumini Auditorium), 7:00 p.m.
March 7, Los Angeles: Malinda Lo will be speaking and signing books alongside host Cecil Castelluci. Mysterious Galaxy (2810 Artesia Blvd.), 7:30 p.m.
March 8–9, Chicago: Chicago Zine Fest is on this weekend. Events will be held at Columbia College and Quimby's Bookstore – visit the schedule to see where to go when.
March 11, New York: Jeanette Winterson and A.M. Holmes are having a conversation and you're invited. Purchase tickets online. Leonard Nimoy Thalia at Symphony Space (2537 Broadway), 7:30 p.m.
Know of a queer event with literary merit? Send it to us!
What We've Been Reading:
Riese: Last week my reading was interrupted by some strategic re-reading of Mary Gaitskill's Don't Cry and Lorrie Moore's Like Life, two short story books by my two favorite lady-writers. I hope to finish Without a Net: The Female Experience of Growing Up Working Class, an anthology edited by Michelle Tea that I love so far this week and then I will almost definitely tell you to pick it up.
Carolyn: I read Fire Season, by Philip Connors, which surpassed my expectations in almost every way. I had a really busy week at work, and so reading a memoir from a copy editor who runs away to the woods to be a wilderness lookout four months a year had a certain appeal. I also read Percival Everett by Virgil Russell, by Percival Everett, which was the best contemporary literature I've read in a while — it's funny and sad and philosophical without being A Philosophical Book (one reviewer calls it "like a carnival ride, but not the kind where you vomit"), and it plays with form and narrative in a really interesting way, and you should probably read it.
What book are you never going to read even though you keep planning to?