Hello and welcome to another edition of Autostraddle's College Lesbianage: a glimpse of college life through the wide eyes of six freshly fallen snowflake first-year queers. This month's update finds our Lesbianagelings finishing up their finals and heading back to their homelands. What have they learned about the world and themselves during this first semester of college?
---
Kelsey
Bryn Mawr
In my last column, I promised to tell you about Hell Week, and now that it's happened all I can say is that it was amazing. The tasks my heller gave me were ridiculous and fun: during Linear Algebra, I shot every matrix my professor drew on the board with a marshmallow gun and, during one of the evening performances, I sang and danced to "Pop! Goes My Heart." During "Trials"—a dorm event where every freshman gets a silly crime and punishment—I got accused of loving Doctor Who too much, so I had to carry every Doctor Who thing I owned with me the next day. Even my TARDIS trashcan. No matter what I say, I cannot truly explain Hell Week or what it means to me because it is so much more than the silly tasks and performances, it's a week of community. After going through it, I feel more connected than ever before to everyone at Bryn Mawr, the alumni that came before us, and the students who will come after us.
I'm currently back on Long Island, finishing up the last few days of my spring break. I spent the first half of break in New Orleans, visiting my friend MacKenzie, who goes to Tulane University and has known me since second grade. A few months after my family decided to move back to Long Island, MacKenzie's family decided to move back to Connecticut, and we've been taking ferries to see each other once every few months since fourth grade. Regardless of what we do when we're together, it's wonderful to be around someone who knows me almost as well as I know myself.
One of the best parts of my solo expedition was going inside the St. Louis Cathedral in the French Quarter. Although I am not religious, I always find myself awestruck when I step inside beautiful, old churches. It's more than the architecture and history—there's something humbling about the space. While many of the tourists were snapping pictures, the inside of the cathedral was the one place in New Orleans where I didn't take out my camera. There was something about it that I knew I couldn't capture.
I'm in the process of figuring out what I'm going to do for the summer. I've been offered an internship working on LGBTQ issues at an NGO affiliated with the UN, which I would love to do if my applications for internship funding are successful. I'm also looking into interning abroad, possibly in Ghana or England or China. Waiting to hear about my applications is stressful but as I count down the weeks until my first year of college is over, I'm sure that whatever I end up doing this summer will be amazing.
---
Lillian
Vassar
I first caught wind of the situation from the panic in my Facebook newsfeed. If this was any other newsworthy event I would have felt slightly embarrassed at not having already known, but since this was the touring schedule of the Westboro Baptist Church, I didn't feel too bad for not being on top of it.
As the Facebook statuses accumulated throughout the week, my fellow students at Vassar created pages where we could discuss the possibilities of counter protests. After much deliberation, the different counter protest committees decided to organize non-violent protests to promote love and peace and to show the campus's solidarity with the LGBTQ community.
On the day WBC planned to protest, everyone at school was giddy and a strange excitement hung in the air. A lot of my friends said they were going to skip class for the protest and some of them even made t-shirts bearing the name WBC gave us, Ivy League Whore House, adding that our school colors are burgundy and gay (actually grey). Some of my other friends were completely indifferent to the situation; they recognized that WBC was a hate group but they saw that the best way to deal with them was by ignoring them and go about their days as they normally would.
I intended to go to class during that time because, in my opinion, Political Theory is much more interesting than four haters from Kansas. I also thought that the best way to deal with a small hate group was to show them that they didn't matter. But as I saw the crowd of people forming on the quad, I realized that though this counter protest was against WBC, it was in fact an affirmation of love and humanity on campus. I got swept up in the crowd and before I knew it, I was marching down the street and sitting first behind the caution tape across the street from WBC. It was strange to see them in the flesh. They were just four people who had a knack for multitasking — each was carrying four large picket signs and screaming at 1000+ students while taking selfies to remember the day. After about thirty minutes of picketing, WBC left. I believe our numbers alone was what scared them off or maybe they realized that they really weren't going to change anyone's mind.
I was pleased to see how quickly people moved to organize, but as another friend of mine pointed out, we are all so quick to place blame when we also need to critically examine ourselves. He was referring to the hateful graffiti found on campus earlier last semester, and how people were quick to forget about it, and only when there was an outside threat did people start to mobilize. Being self-critical is just as important in fostering change.
Throughout this whole WBC hullabaloo I've learned two things: that the fight against oppression is not over, and that we need to continually strive for progress. Also, sometimes four people from Kansas can bring an entire beautiful, smart, and passionate community together.
---
Claire
Wellesley College
I have been home for less than thirty minutes and I'm already on the sofa, wearing my pajamas and eating reheated Chinese food leftovers. My puppy is curled up next to my side, trying to subtly gnaw my computer cord. Spring break has officially begun.
It's hard to believe that I've been in college for more than six months already. Though this month has started to feel very long, the semester has passed very quickly. Last weekend, girlfriend and I went ice-skating at Frog Pond. We left campus in the late afternoon and by the time we arrived in Boston proper, it was early evening. Frog Pond was brightly lit and packed with skaters. Small children regularly outpaced us, but I was perfectly content to skate in circles very, very slowly, while my girlfriend held my hand. I'm pretty wobbly on skates, and without her I would have fallen frequently. But with her to cling to, I only flailed occasionally.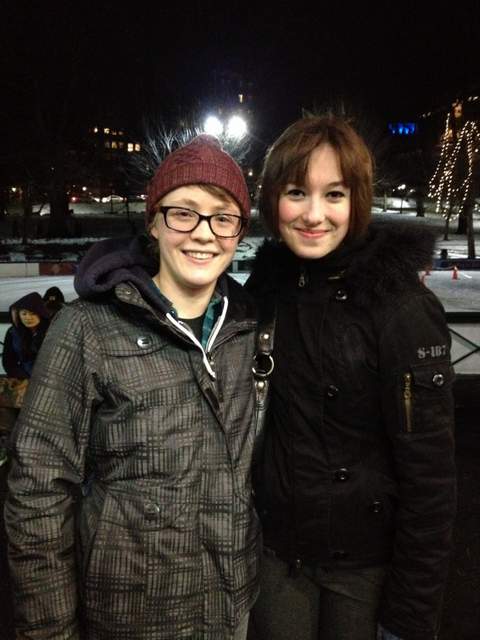 I'm a rugby veteran now which is a nice change of pace; I was worried that I would start the second season and still not have a clue what was happening on the field. Fall season is notorious for being a free-for-all, because the rookies get less than a week of practice before they head off to the Beantown Tournament. I'm pretty sure that I learned to tackle less than 24 hours before our first game. Spring rookies, on the other hand, get more than a month of conditioning before they even set foot outdoors. I'm a little bit jealous, but it seems like I retained most of what I learned last season.
We've also started practicing outside again, which is nice because the winter weather is starting to get to me. For one glorious day, the temperature hit 50 degrees. I took full advantage of the heat by wearing a skirt, but the next day it was back to full-on winter gear. Going to the garment district with friends only fueled my craving for spring: rather than buying practical clothes like sweaters, I made a beeline for the 90's section and bought skirts. Specifically, I bought an orange corduroy skirt with peacocks on it and a red miniskirt with white polka dots. I'll be taking full advantage of the 90-degree heat in Phoenix this week to remember what bare legs and wearing colorful clothing feels like.
---
Next: Nita, Sunny and Kate!
Pages: 1 2See entire article on one page