Lunchtime: unequivocally the best part of the day. But could it be better? Yes sir, it can. You don't have to spend gobs of money going out, but you also shouldn't be packing the same peanut butter sandwich year in and year out; there is a middle way. The path to becoming a lunch box buddha isn't so hard. All you need is a good balance of inspiration and  improvisation. Every week, we'll make one or two packable recipes so that you have something new to fill your lunch box and your stomach. 
---
Real talk: for me, salads don't usually qualify as a meal. As a nice little side to a steak or as an appetizer on one of those nights when I feel like eating popcorn for dinner, sure. But never as an entrée itself. This salad made me change my mind. It's filling enough to serve as the main event as long as I take a piece of good bread and some fruit with me. It's also got the whole sweet/savory thing going for it which somehow always leaves me feeling more satisfied.
And that was important this week because I went to Sevilla and biked absolutely everywhere. It was a little tricker to navigate the already-tiny streets than I'd imagine it would be the rest of the year because right now it's Holy Week. The parades started every day at 1pm and continued until around 3am every night. And when I say parades, I'm not talking about carnivalesque processions along well-marked routes, I'm talking about hundreds of cape-wearing candle-bearers marching for kilometers in front of a giant statue of the Virgin Mary who are constantly being swarmed by spectators. It was massive and beautiful (and also slightly terrifying at first since the hooded nazarenos bear a striking resemblance to members of the KKK) and totally unexpected.
Goat Cheese, Walnut and Sweet Potato Salad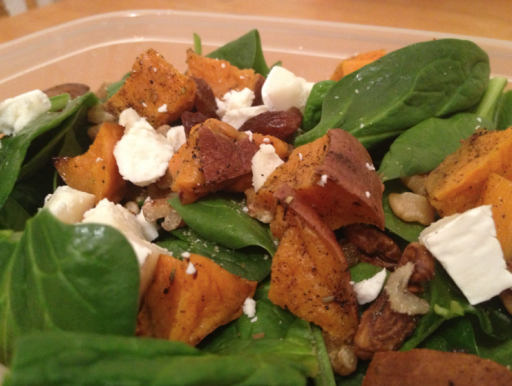 Ingredients:
Spinach
1 roll of goat cheese
3/4 cups of Walnuts
1/2 cup of rasins
2 sweet potatoes
1/4 cup plus 2 T of olive oil
1/4 of white wine vinegar
1 T of honey
Salt
Pepper
Cumin
Rosemary
Nutmeg
Instructions
1. First you'll need to cook your potatoes. Turn your oven to 400°F/200°C and wash the sweet potatoes. Without peeling them, chop them into roughly 1 inch cubes. Spread the cubes onto a pan, coat them with a small amount of olive oil (1-2 T) and then sprinkle salt, pepper, cumin, rosemary and nutmeg over the potatoes. I use roughly equal amounts of salt and pepper and then amount half that amount for rosemary, nutmeg and cumin. Bake them for half an hour or until they're tender and slightly caramelized.
2. Make your dressing. Combine 1/4 cup of olive oil with the white wine vinegar and honey. Stir well and salt and pepper to taste.
+ Storage and eating: Store the potatoes in a container in the fridge as well as the dressing. The night before, place a generous handful or two of spinach your lunch container of choice. Slice off an inch of goat cheese and crumble it on top, followed by about 2 T of chopped walnuts, a few raisins and a handful of the sweet potatoes. Pour a little dressing into a container and store it on the side. When you're ready for lunch, add the dressing and you're good to go.