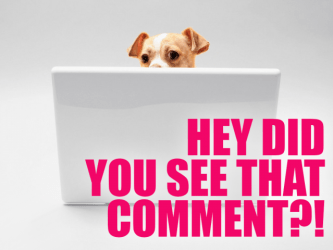 Hello dears! What kind of a week have you had? Let's play roses and thorns. I'll go first. Rose – seeing red for good reason on facebook all week. Thorn – my neighbor is learning to play bass guitar. I'd rather share a hot tub with a shark than hear the Jaws theme one more time.
Luckily Crystal has some music we wouldn't mind hearing through our walls and browsing this gallery of hot women over 45 is the perfect de-stressor (though it will get you all worked up). Hansen broke down why Republican support for gay marriage is still suspect and Carmen turned her idol-worshipping eyes to Iris Apfel.
Lest you forget, our Lesbianage class of 2016 is still powering through freshman year and Brittani still has videos for you to watch. Malaika is contemplating a possible move from the prairie and did you see this epic queer girl guide to SF?.
Trans*scribe continues to deliver, with Mey talking about being fat and trans and working it (while wearing the best glasses sweater of all time). Finally, Laneia reminded us of that winter we spent broken-hearted cry-running in the park while listening to Ani Difranco on a discman. (Just me?). Really though, put the To Be An Emotionally Intense 90s Woman playlist on right this minute and then check out this week's comment awardees!
---
On ​125 Smokin' Hot Actresses, Musicians, Directors & Models Over 45:
The Nip/F*ck Award to ​Marina Saturday: "​Famke Jansen.
She's older than my mother and I do not care. "
On ​ I Swear This Isn't Creepy: Watch Tilda Swinton Sleep at the MoMA This Year:
The World's First Feline Art Critic Award to Sophie's cat: 

On ​Queer Girl City Guide: San Francisco:
The Late Bloomer Dog Groomer Award to Deb: "​I worked at a place called 'fancypants dog grooming', gay-owned, lesbian managed, at 17th and Sanchez,right after I moved up here from LA in 1977. Didn't realize my latent lesbianhood until 6 mos after I left for Oakland Hills… timing is everything."
On ​Fat, Trans and (Working On) Being Fine With It:
The Best Advice From A Stranger Part 1 Award to Carina:

The Best Advice From A Stranger Part 2 Award to Dapper Sara: "Ma'am, you are dang gorgeous, and I'm glad to hear you preaching purposeful body love. Also, props to your killer fashion sense. Please keep your head up whenever the going gets tougher, because the world needs more folk like you."
On ​Playlist: Emotionally Intense 90s Woman:
The Lesbo Lyricist Laureate Award to Meghan:
On The Top 50 Gayest Parts of Pretty Little Liars​ Season 3:
The Do You Cee What I See Award to TAYTAY: 


---
See a clever, hilarious or thought provoking comment around this website-ship? Email it to me at: carrie [at] autostraddle [dot] com!