Homemade Chocolate Covered Matzo
by: Intern Daniela
Greetings from home, a tiny town in the sunny and very Catholic land of Venezuela! Given my town's strong religious leanings, there was no chance I'd find any matzo, so when Passover rolled around we decided to make some of our own. Luckily, matzo is the most straightforward thing ever, with only four ingredients and like 5 minutes of cooking time.
Ingredients – serves 6 regular matzo squares:
2 1/2 cups of flour
1/2 tsp of salt
1/3 cup of olive oil
1/2 cup of water
+ A little extra flour for rolling.
For the chocolate coating:
12 oz of your favorite chocolate – I like bittersweet, but milk chocolate works too
1/2 cup of heavy cream, milk, or milk substitute
A note on following your gut: because the recipe is so simple, the exact amounts to make the dough feel right will vary depending on location, weather, the song playing on the radio, etc.
The little matzo process:
1. Preheat your oven to 500•F, or whatever highest setting your toaster oven has (mine is 450•F).
2. Put the flour in a bowl and mix in the salt. Add the oil and mix with your hands to break up clumps. Add enough water to form a sticky mass that's completely combined.
3. Move the sticky mass onto a floured work surface. Top the dough with flour until it's completely covered and press it into a circular shape. This is not traditional bread, so don't knead it, just flatten it out. Roll out the dough, you want it to be as thin as possible -it should be almost see through when you are done. Also, feel free to work the dough in portions if your rolling space is not big enough.
4. After everything is rolled out it's a good time to put a cookie sheet in the (toaster) oven to preheat it.
5. Cut the dough into sections around 8″ x 8″. Poke rows across each section with a fork -this will keep the matzo from bubbling, so go all out.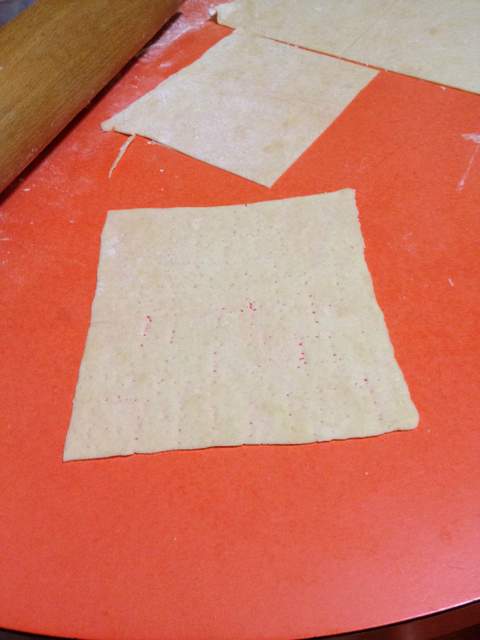 Finally, place each section on the cookie sheet in the oven and bake them for approximately 5 min. Make sure to keep and eye on it because they go from perfect to burnt in a blink. If you have a panini press though, COOK IT THERE -it is my most favorite thing, as it gives it extra awesomeness and texture.
For the chocolate coating:
1. Add the milk to the chocolate pieces and melt it. I melt it all together en un baño de María, aka a double boiler, because it makes it almost impossible to burn the chocolate.
2. Scoop the melted chocolate onto each piece of matzo. I just hold a piece over the chocolate bowl, pour some on it with a spoon, turn it, pour some more and set it to harden on a piece of parchment paper. That process has the added bonus that it leaves me with a little matzo handle, so I can eat the whole thing later without getting sticky fingers or melted chocolate up to my wrist -a good to know if you are eating it in front of your partner's family and other loved ones.