By: Carissa and Erin
---

Here is the guide of guides for the city of cities. San Francisco is held on such a pedestal for us gays and while it's true that the numbers of gays here are vast (something like 1 in 3 people are homos!) it's easy to forget that it's also just a big city with all kinds of people living in it. What makes it one of the best cities in the world, besides its natural beauty (guys, I'm serious, sometimes I catch a glimpse of the bay, and find myself breathless) is its diversity.
The authors of this guide are die hard San Franscicans (one went to Lincoln High School. Go Mustangs! and the other spent her teen years in the Castro's gay clubs), but we definitely don't pretend to be experts and if the comments sections of other queer guides are any indication, we will have left your favorite joint out. Why? Because San Francisco is so friggin' gay sometimes that if we included every spot of "LGBT" interest we'd have have to write up every restaurant, shop, pop-up, park, back alley and service in the whole damn town! So, we apologize in advance for not including your favorite. We really, really do. Let us know which ones we missed!
---
Neighborhoods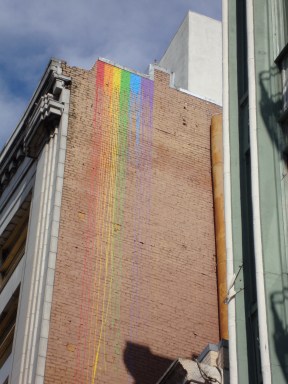 Be warned — for a tiny-ass city we have a lot of neighborhoods and – don't even question it – you're defined by where you live here. While in many cities the first question a stranger asks you may be "So what do you do?" here you will be asked, "So where do you live?" In the interest of steering you in the right direction, we're here to offer a rundown of The Hoods of San Francisco:
The Sunset: Very residential. Nobody will visit you if you live here, but you may have a chance of actually finding an illegal in-law unit to rent.
The Richmond: On the opposite side of the park from The Sunset. Up and coming in terms of people who want to live in the Mission but can't find an apartment are moving out here. Good bars, dim-sum everywhere, Green Apple Used Books, and did I mention dim sum?
The Mission: The place to live if you're queer, arty, a hipster, into ethnic food, live music, dive bars or are in a tech company and want to live near the cool kids. Used to be cheap until the techies started actually buying places here. Now it's a mix of Latino families, down & outs, hipsters, queers and the young gentry.
Potrero Hill: Adjacent to the Mission. Did you used to be a hipster Missionite? Do you have a kid now? Boom.
The Castro: Are you a white, gay male between the ages of 30 and 90? You live here.
The Marina: If you're blond, hetero and really into French manicures and boys who party like they are still in college but work in Finance now, this is your jam.
Nob Hill Russian Hill/Telegraph Hill: Like the Marina, with fewer solo cups and more strollers. Sort of like graduating college.
Tenderloin/Nob: In general, Tenderloin is one of the city's more unsafe neighborhoods and has a reputation as a hot-spot for violent crime, drugs and liquor stores. It's also home to Little Saigon and some good bars and is looking to promote local tourism about the city's history with historic renovations and a booming art scene in the area. (If an apartment ad says TenderNob — that is not a place.)
North Beach: The Little Italy of SF. Think tourists, strippers and old Italian restaurants.
Pacific Heights AKA "Pac Whites": Unless you have an incredibly large trust fund and you're 70, you're most likely not ever going to live/go here.
Western Addition (recently called NOPA by real estate types): Definitely a difficult 'hood to define these days. A real mix of hipsters, old-time residents, upscale restaurants and hole in the wall bbq joints.
Presidio: The country. Want to go hiking from your front door? Great! N.B. You will need a car if you live here.
The Haight (Upper & Lower): Once hippie-land, The Haight is now all designer shoe stores and gentrification. Upper is very different from Lower; tour buses drop people off in the Upper and Lower has locals bars and a good mish-mash of shops.
SOMA: Night clubs, leather joints, industrial condos. Folsom Street Fair calls SOMA home.
Noe Valley: Strollers. Cafes. Strollers. Dogs. Organic juice. Strollers.
Hayes Valley: Now-gentrified area now filled with edgy fashion, high-profile galleries, restaurants, bars and indie shops.
Bernal Heights: Once you and your lady love decide to settle down and get that golden retriever, this is your destination. Lots of subarus and organic veggies.
The Getting on of Your Groove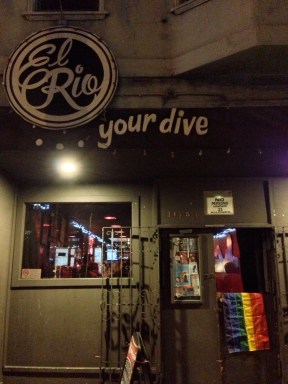 El Rio, Mission District (3158 Mission Street) There is so much to say about El Rio that I don't know where to start. It's the place to find dandies serving up vegan chili, glitter-covered gayboys in hotpants shaking their stuff, older lesbians enjoying conversation with a trans* biker, bikini-clad femmes wrestling in lube, cute baby bois making out while playing shuffleboard, punk boys thrashing out some music on the live stage, burlesque beauties and daytime drag queens all downing cheap drinks, and a true sense of community.
Wild Side West, Bernal Heights (424 Cortland Avenue) The big outdoor garden is the real draw here. Grab a Bloody Mary and find yourself a cozy spot in the sunshine.
Stray Bar, Bernal Heights (309 Cortland Avenue) A true neighborhood bar run by a dog-loving gal! Bring your pooch and saddle up for the big game and a drink special.
The Cafe, Castro (2369 Market Street) While back in the day this was a ladies-only location, The Cafe has evolved into an all-inclusive danceteria. Go shake that booty.
QBar, Castro (456 Castro Street) Mostly boys, but girls are welcome to shake their booties too—especially on Tuesday nights.
Toad Hall, Castro(4146 18th Street) An outdoor patio and strong drinks.
The Lexington, Mission District (4146 18th Street) The last standing lesbian-only bar in San Francisco. The clientele can be pretty cliquey and territorial, but the Lex is a must as a queer-gal-in-SF rite of passage.
Public Works, SOMA (161 Erie Street) This space holds revolving parties, many of which are queer friendly if not outright gaytastic. You know that queer hip-hop artist/DJ/performance artist you love? This is where they'll throw a party.
The Attic, Mission District (3336 24th St between Bartlett & Osage Street) One of the darkest, diviest, dingiest (sometimes stickiest) bars in town. And one of the best. Cheap drinks and a good happy hour. Not necessarily an overtly queer bar, however its a mixed crowd and all are welcome.
Dolores Park, Mission District (566 Dolores Street) There is an entire section of the park known as "Gay Beach" – 'nuff said.
Party Time
Mango – 3:00 p.m. on the 4th Saturday of every month at El Rio (3158 Mission Street) A "sweet & sexy" dance party packed with girls, dandies and ladies of every persuasion.
She Said… – 4:00 p.m. on the 3rd Saturday of every month at Slate Bar (2925 16th St) "Back by Popular Demand For all you Beautiful Queers. Always a Queer Affair"
Hard French – 2:00 p.m. on the first Saturday of every month @ El Rio (3158 Mission Street). A seasonal soul dance party like no-other. Definitely a scene where you want to be seen.
Cockblock – 10pm every 2nd Saturday @ Rickshaw (155 Fell Street) A hot & sweaty dance party for the girls. Crowd is generally on the younger side but the drinks are strong and plentiful.
Sissy Strut – 10:00 pm every 4th Friday @ Underground SF (424 Haight Street) Wear your dapper best for the awesomest queer soul night in San Francisco.  Dance to your favorite soul, oldies, doo wop, motown and R&B. At $3-$5 sliding scale (no one turned away for lack of funds) it has to be one of the cheapest nights in town.
Feel the Bass
Whether you're into Tegan & Sara, The Gossip, Scissor Sisters or an obscure folk duo from Atlanta, San Francisco has a world-class venue that will be featuring your fave. You'll find that most venues used to be bordellos, speakeasys or both. Most are historical, all are fantastic. Try hitting up: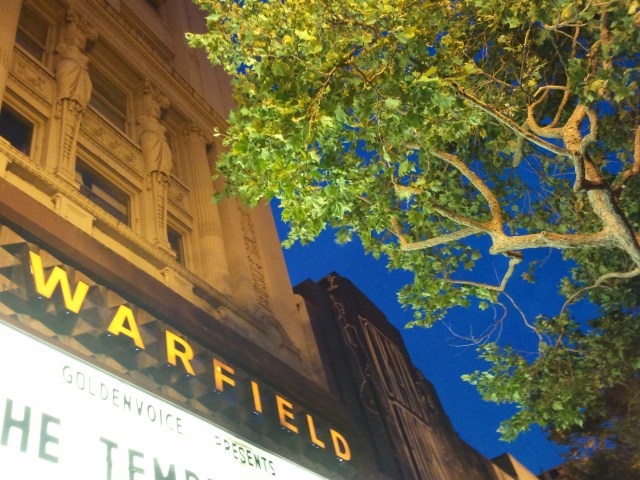 The Warfield (982 Market Street), Cafe du Nord (2170 Market Street), Slims (333 11th Street), The Fillmore (1805 Geary Boulevard), Regency Ballroom (1300 Van Ness Avenue), Great American Music Hall (859 O'Farrell Street), Bimbos (1025 Columbus Avenue), The Chapel (777 Valencia), Dolores Park (566 Dolores Street) (No really. There's lots of live music here. Concerts (generally in support of something political or activist-style ) take place more often than you'd think.)
Get Your Noms On!
Oh my god noms.  SF has all the noms you could ever hope for.  Here are just a few:
Radish (3465 19th Street) Cute tattooed alternative girls and serving up local organic American food with a southern twist. Bottomless mimosas and waffles for Sunday brunch are always a winning combo.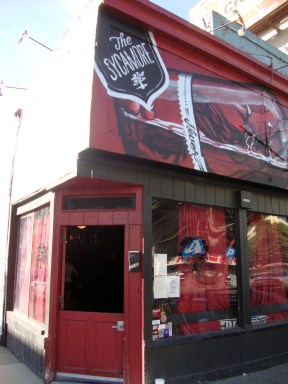 Mosto (741 Valencia between 19th & 18th) – Sexy bar area, outdoor seating, a crazy-thorough tequila bar, killer margaritas and $1.50 tacos.
Sycamore (2140 Mission Street) A backyard beer garden where you can sip a belgian-style blond while playing Cards Against Humanity with a group of strangers at one of the picnic tables. Fast friends are made here over plates of delicious sliders and pork belly donuts. Also, the kale dip is amazing.
Herbivore (531 Divisadero Street) For the vegetable-inclined, this outpost of the small chain has everything you could want from veggie lasagna to hand made veggie burgers. Plus booze!
Gracias Madre (2211 Mission Street) Vegan mexican food in the heart of the Mission. One of the few vegan places you can drag a carnivore to for margaritas and chips with to-die-for guacamole. The tacos filled with butternut squash and mushrooms are a must.
Arizmendi Bakery Panaderia & Pizzeria (1268 Valencia Street) A bakery? A co-op? A Latina-owned-and-operated business? Amazing food and great coffee? CHECK! Stop in for an award-winning pastry and linger to chat with the girls in yoga pants and dads with babies strapped to their chests.
Super Duper Burger (2304 Market Street) This small San Francisco chain makes everything in house, including their addictive pickles. The burgers are the star here, but I happen to know from experience that their already delectable milkshakes can be spiked with an adult beverage if you ask nicely.
Cafe Flore (2298 Market Street) A meeting place for the community since it's inception, Cafe Flore features lots of outdoor seating and cute boys with even cuter dogs vying for attention.
Emmys (18 Virginia Avenue) A tiny place that looks like a roadhouse and features one exceptionally-well-done dish: spaghetti and meatballs. Don't knock it. Head over for a mason jar full of booze, a crisp ceasar salad and a heaping bowl of the house special.
Humphrey Slocombe (2790A, Harrison Street) Two words: Secret Breakfast. Its bourbon and cornflake and delicious. Just a tip, the line bouncer does not take bribes. When it time to close, they close!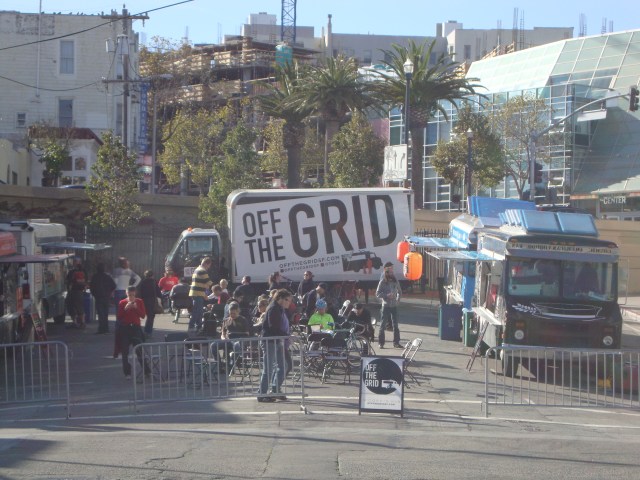 Off the Grid Food trucks have become super popular in SF. Off the Grid is a roaming street food extravaganza. Different trucks participate every day allowing for a wide variety of food from Korean BBQ to burgers to cupcakes to a truck entirely dedicated to bacon – chances are you will find something yummy to eat. Check the website to see where in SF they'll be on any given day and what trucks are participating.
Udupi Palace (1007 Valencia Street) Another vegetarian option, this one with flavorful South Indian dishes. It's reasonably priced (cash only) and has really friendly staff.
Burma Superstar -(309 Clement St, between 4th & 5th Avenue) With three locations in the Bay Area, this is the go-to for Burmeese cuisine (influenced by shared borders with India, China, Loas & Thailand) and a favorite for locals and visitors. Prepare for a wait — they don't take reservations. But waiting is worth it.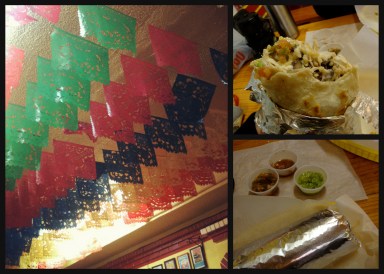 All of the Taquerias (Located everywhere between 15th and 25th streets on Mission and Valencia) Taquerias are where the burritos come from and the Mission district is full to the brim with them. Each one of them has its merits. I cannot even presume to list the "best" taqueria here because it's such a hot button issue around here. Everyone has their favorite taqueria and everyone thinks that they're right. For some, taquerias are more important than politics, I'm serious. But honestly, I haven't been to a taqueria that wasn't tasty. They mostly serve the same types of things: burritos, tacos, nachos etc. with vegetarian choices as well as meaty choices. Some have salsa bars, some don't, but all seem to make their salsa fresh. Most taquerias will have bottled beer, aguas frescas and coca cola and other sodas in glass bottles. I usually order a super vegetarian burrito, with black beans and everything which includes salsa, sour cream, cheese and guacamole.  I like to wash my burrito down with a negro modelo beer, if I'm not feeling the beer, I will usually get an horchata (a Mexican cinnamon-rice drink) or a coke. Honestly, you can't go wrong with taquerias, they are usually a nice cheap option.  Try them all.
Coffee
Almost as contentious a topic as taquerias in San Francisco are coffee purveyors, but again, you can't really go wrong here. Blue Bottle and Ritual are the big two, but there are up-and-coming roasters like Four Barrel and Sight Glass, as well as the ubiquitous Philz Coffee. All do pour-over coffee, that takes a little longer to brew than your regular cup of Joe, but not that much longer. All have competent baristas that can whip up great lattes, cappuccinos and macchiatos. Of particular note are the Blue Bottle locations at the Ferry Building and near the Old Mint, and the original Ritual in the Mission. Go in, have a great cup of coffee and kick back for a while.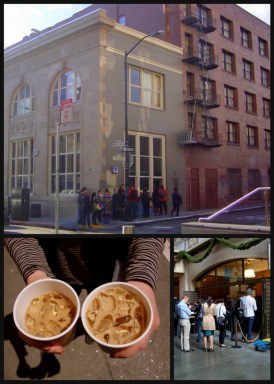 Blue Bottle (1 Sausalito – San Francisco Ferry Building) Try the New Orleans style iced coffee, it's seriously the best. All the Blue Bottle locations are less for reading/studying/writing, and more for social coffee drinking. All of the staff tend to be really helpful, they treat coffee much like wine. Get ready for long lines on the weekends.
Ritual (1026 Valencia Street) At first glance this place is too school for cool with all the hipster baristas and customers, but the good coffee and the free wifi it make it a good place to get some work done. Also always crowded on the weekends.
Four Barrel (375 Valencia Street) The coffee is good. No wifi, so it's a good place to get reading done as well as writing that does not require the internet. They have lots of bike parking and they built an outdoor patio which is awesome for sitting, thinking and people and dog watching.  Also also always crowded on the weekends.
Sightglass Coffee (270 7th Street) The only one of this short list that doesn't have a location in the Mission.  If you find yourself out of the gayborhood and in SOMA (south of Market), definitely give this place a whirl.
Philz Coffee (3101 24th Street) Considered a San Francisco institution, this place boasts a wide variety of roasts. They also do pour-over coffee and will cream and sugar it for you, with sometimes a mint leaf? The mint always confuses me, I usually just order it with cream.
The Gayborhood
The LGBTQ community is everywhere in SF, but is highly concentrated in the Castro and the Mission District. On the surface the Castro and the Mission seem to have segregated themselves (Castro for gay boys and the Mission for the rest of the queers) the two neighborhoods have something to offer to everyone and are so close together that it's almost a moot point.  The community tends to be all-inclusive and welcoming no matter gender, color, gay, straight, queer, questioning, poly, etc. And even though the Castro/Mission (ugh, misstro?) are where there are a lot of gays all the time, the gays can be found most everywhere in San Francisco, and generally speaking no one is going to think twice when you and your honey walk down the street hand in hand. That being said here are some community centers that offer a wide variety of things for the LGBTQ community: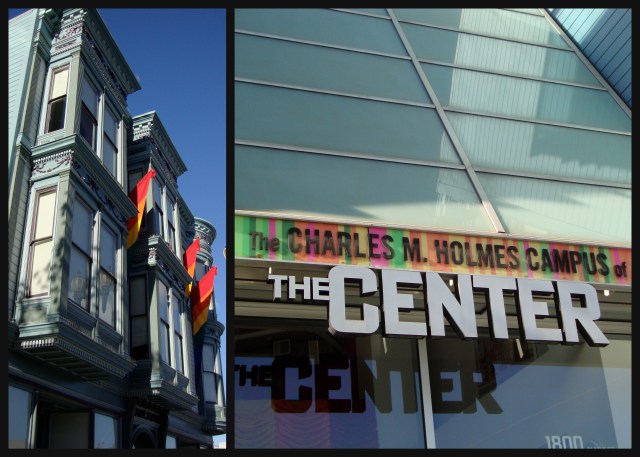 LGBT Center
A community center that hosts a number of groups, group meetings and events for LGBT folks of all different backgrounds.
Lyric (127 Collingwood Street) Builds communities for LGBTQQ youth and their families and allies.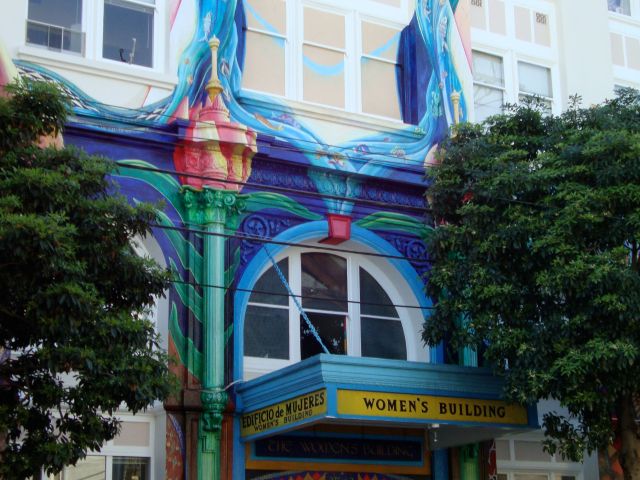 The Women's Building (3543 18th St #8) This place is hard to miss. Situated in the heart of the Mission with its beautiful murals, it's hard not to want to go inside to see what community is happening here.  The Women's Building mission is "to provide women and girls with the tools and resources they need to achieve full and equal participation in society." Though it's less LGBT-focused it's definitely worth a visit.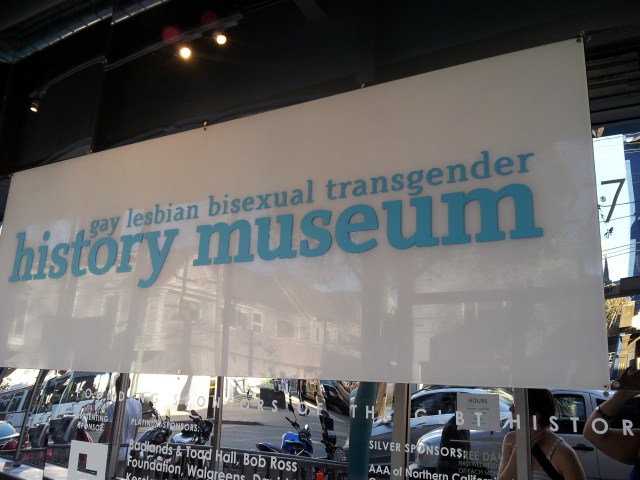 GLBT History Museum (4127 18th Street) Billed as "A Home for Our History" and located on 18th St. in the heart of the Castro District, the museum focuses on over a hundred years of history and is the first museum in the U.S. dedicated solely to the history of the GLBT community in San Francisco. With both rotating and permanent collections, the museum always offers an enlightened insight into our past.
Tops and Tails
Damn you look good.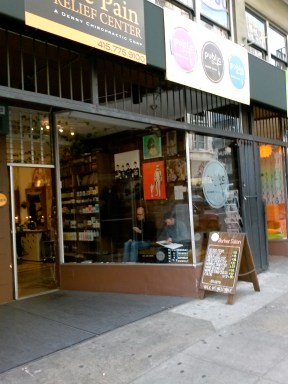 Kabuki springs (1750 Geary Boulevard) Nothing makes you more confident about your body than shuffling around a zen, water filled atmosphere surrounded by naked women of every size, shape and persuasion. Take a hot steam, a warm soak or a cold plunge. Get a massage then relax all day if you like. You'll never feel better.
Glama-Rama (304 Valencia Street) The owner, Deena Davenport, has got quite a magical thing going on here. Part art gallery, part salon, part community center, all fabulous. From alternative chopped cuts with swaths of pink to ultra-glamorous up do's, Deena and her staff will treat you right.
Black & Blue Tattoo (381 Guerrero Street) Turns out both me and my fellow collaborator have gotten work done here. For me it was my first and I wanted my tattoo-virginity taken by only the best in SF. They bill themselves as "A Woman Owned, Gender & POC Inclusive San Francisco Tattoo Shop" and they don't disappoint; they are highly regarded, queer-centric, and ultra-clean.
Public Barber Salon
Don't worry about not feeling cool enough in this salon/art gallery, just have a complimentary beer and relax while getting your hair did.
Lost in the Stacks
Writing the bookstore section honestly made me a little weepy. This city used to be chock a block full of LGBT-specific book stores. Now, we have to be content with "Gay Lit" sections in integrated stores and one "progressive" store.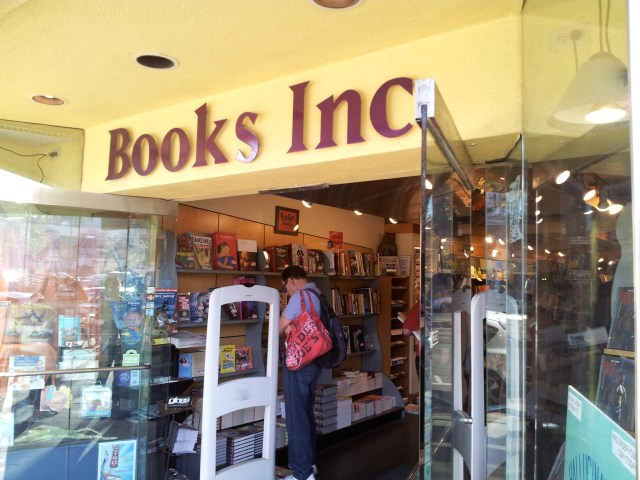 Books Inc. (2275 Market Street) These guys have been around since 1851 and are very proud of being The West's Oldest Independent Bookseller. My favorite location is the Castro location because their clearance section is massive and stacked with great stuff. If gay interest lit is your thing, this is the place.
Modern Times Bookstore Collective (2919 24th Street) In its newly-opened location Modern Times offers tomes on politics, sexuality and gender, Latin@ history and culture, children's books and everything in between.
Dog Eared, Phoneix, Red Hill & Alley Cat (900 Valencia Street) All owned by Kate Rosenberger, these are amazing neighborhood shops. Selling used, collectible, new and discounted books along with magazines and hard to find ephemera these are among my favorite bookstores in the city.
City Lights (261 Columbus Avenue at Broadway) – Alternative culture's only "Literary Landmark," founded in 1953 and still going strong, is best known for its press's key role in Beat Culture. The all-paperback bookstore has an amazing literature selection, as well as an extensive 'zine nook and a second-level chock-full of poetry as well as City Lights Press publications and entire sections devoted to Beat literary icons. Check their blog for events, they have a lot of them.
Good Vibrations (603 Valencia Street) A bookstore in that it's a great book resource if you're interested in 101 new strap-on erotica tales, anal sex instruction, how to keep the spark alive in that three way you've been living in. You can find everything from The Whole Lesbian Sex book to Best Bondage Erotica.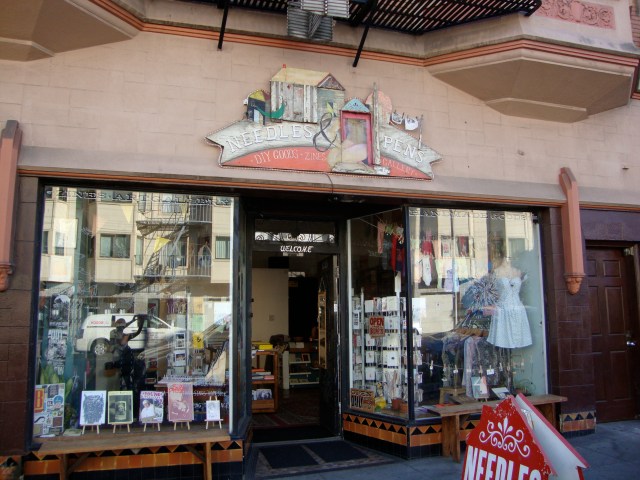 Needles and Pens (3253 16th Street) Art gallery, zines, books, homemade goods, I never leave empty-handed when I walk into this store.
Green Apple Books (506 Clement St (@6th Ave) – While other bookstores keep imploding, this one continues chugging along  — it's got 8,000 square feet of new and used books, including a notable children's book seciion and lots of indie touches.
Go Buy Some Stuff
Community Thrift (623 Valencia Street) This is my father's favorite shop in the city. Here you can pick up a disco instructional album, a '60s Hawaiian shirt, an Art-Deco dresser and that 8-track player you were looking for. All proceeds go to various community charities that are chosen by each person who makes a donation. Plus, c'mon…. it's got a giant rainbow painted on the doorway!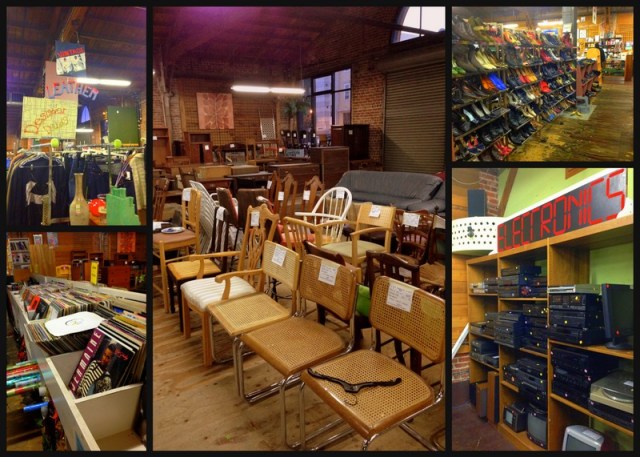 Buffalo Exchange (1210 Valencia Street) It's a nationwide chain, but whether you're selling a few pieces for quick cash or picking up a new outfit for a night out, Buffalo can be a great resource. They've got designer stuff, basics like jeans and jackets, vintage and retro plus shoes & accessories, all 'gently used.'
Crossroads Trading Co. (2123 Market Street) Started in San Francisco in 1991 another national chain with a local feel is Crossroads. They focus on being green and keeping clothes in the recycle cycle. The shops buy & trade used designer clothes that are in great shape and cost a fraction of retail.
Clothes Contact & Mission Thrift Both owned by Retro City and my two favorite vintage shops. Clothes Contact shop sells vintage finds by the pound! My go to for vintage dresses and leather. Mission Thrift is where you go when you're willing to hunt for the perfect 60s cowgirl shirt or 80s tweed blazer.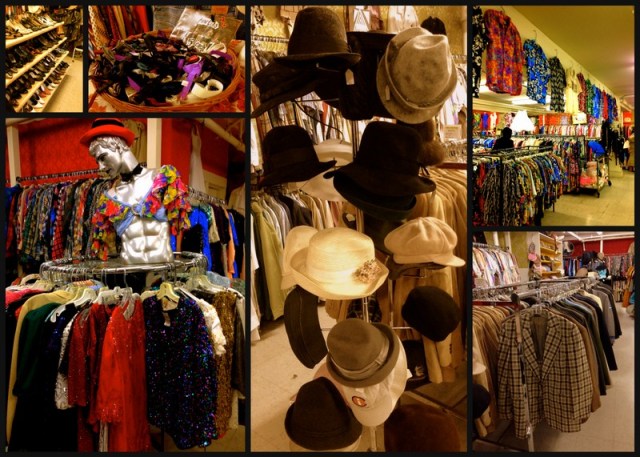 Rainbow Grocery (1745 Folsom Street ) Founded in 1975, Rainbow has a mission to provide affordable vegetarian food while caring for the members of the Co-Op. Lentils by the pound, organic locally sourced tofu, vegan tamales, and everything else your hippie-health food loving-cooperative grocery could ever have. It's a mecca for healthy eaters around the city.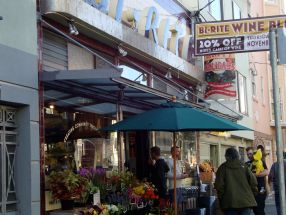 BiRite (3639 18th Street) As much a community center as a grocery store, BiRite is stocked with local, organic, amazing products served up with community spirit and sustainable ideals. BiRite has become world-famous for changing the way we shop. ** Also drop in to their community center 18 Reasons for some food themed events and education.
Tomboy Tailors (50 Post Street, Level One, Crocker Galleries) – This brand new spot specializes in custom-made suits and shirts for "butch/boi lesbians, trans-masculine individuals, and women of any identity who have a strong sense of self-expression and like to wear fine custom-made clothing." The friendly owners genuinely delight in getting you into your spiffiest state of affairs.
Sex Shops
For when you'll need them.
Good Vibes (603 Valencia Street at 17th Street)
Glass Kandi (569 Geary Street)
Madame S (385 8th Street)
Performing Arts
In terms of performing arts, the city has a lot to offer.  It just depends on what you're looking for. Some queer-specific performance companies are listed below, however, if the performing arts are your thang, definitely check out the SF Opera (they do sometimes have tickets available for $10), SF Ballet, SF Symphony, American Conservatory Theater, SF Playhouse, The Cutting Ball Theatre, Magic Theater, The Marsh, Z Space, The Dark Room, ODC Dance and so many many many more.  A lot of them do special LGBT nights so check their calendars.
Theatre Rhinoceros (1 Sansome St. Suite 3500) A queer theatre celebrating its 35th season and is (according to the website) "the world's oldest continuously producing professional queer theater."
THE OFFCENTER (848 Divisadero Street) THE OFFCENTER is a performing arts group focusing on queer identities and definitions. Experimental, diverse and definitely worth a gander.
Trannyshack Drag Queens performing episodes of the Golden Girls?  Um, yes please! (This performance is seasonal, but still, rad)
Fresh Meat Fresh Meat produces different performances including dance, theatre, music and more all focusing and exploring the trans experience.
The Castro Theater (429 Castro Street) Even though the Castro Theater is a movie theater, there is still a surprising amount of performances that happen here. The performances usually go along with a particular film that they are showing. They host a variety of films from different film festivals throughout the year as well as special events like the Sound of Music Sing-A-Long, or the Little Mermaid Sing-A-Long both of which are exactly what they sound like. Also, the theater has a pipe organ and before most showings there is live organ music played, it sounds cheesy but it is one of the things that makes The Castro Theater unique and awesome.
All Gay All Day!
Surprise! There are a lot of gay events in this place.
Pride
Officially "The San Francisco Lesbian, Gay, Bisexual and Transgender Pride," it takes place at the end of June. A three-day event that's been going strong for over 40 years, the event is considered the largest Pride event in the country. Friday afternoon kicks off with the trans* picnic and march. Saturday is the all-day festival, comprised of dance floors, performance stages, food, events, and general gayness. The parade itself is held on Sunday morning and it's a long one, usually from about 10am all the way to 2pm ending up at the Civic Center. In 2013 the event will be June 29th & 30th. Be sure to catch the Dykes on Bikes who are always the first contingent!
Trans* march
It all starts with the trans picnic and march on the Friday of pride weekend in, you guessed it, Dolores Park. The trans* march is a fairly new addition to the Pride celebration, but it gains more and more support every year.  And it's one more day to get together to celebrate pride.
Dyke March
Takes place the Saturday of Pride in Dolores Park. There are speakers and performers all afternoon followed by a rally in evening. The march itself starts later in evening (usually around 6 or 7) and makes it's way through the Mission.Pink Party
An unofficial, raucous street party in the center of the Castro district (Market, Castro, Noe and 19th streets) following the Dyke March. The Sisters of Perpetual Indulgence have been throwing this shindig for 15 fabulous years. Wear your best pink fashion, grab your new friend that you picked up at the march and party in the streets.
Frameline
Frameline is the premier LGBT film festival in the nation (shh, don't tell New York). Beginning a week before Pride, Frameline showcases the best the world has to offer, from docs to shorts. They also put on year-round film and educational programs.
The Queer Women of Color Film Festival
Sponsored by the Queer Women of Color Media Arts Project, this annual weekend-long event, which showcases shorts as well as feature screening programs, takes place in June and last year was hosted at the Yerba Buena Center for The Arts.
Folsom Fair
Held on the last Sunday in September, this is an event like no other. While not specifically a GLBT event, it's very heavy on the GLBT, specially for those in the leather, BDSM, and other 'subculture' sexuality interests. It's the culmination of Leather Pride Week and has evolved into a huge charity event that happens to feature public spankings and bondage demonstrations.
Castro Street Fair
Founded by Harvey Milk in 1974, this is like the gayest county fair you've ever been to. It's a big rainbow colored street party, that feels a lot like a more casual Pride. Held in October when the weather gets nice and warm around here.
No Insurance?  No Problem! (No Excuses)
San Francisco Department of Public Health/Healthy SF
One of the really awesome parts of living in SF is that the city puts its money where its mouth is, to mangle a saying. The Department of Public Health (DPH) encompasses a network of health services for everyone inside San Francisco, from immunization to urgent care. Programs like Dimensions, a clinic for queer and trans* youth (under 25) and the Tom Waddell transgender clinic are overseen by the city, and operate on a sliding scale through Healthy SF and SF PATH. It's a real boon to those of us who can't afford to get insurance on the open market.
Lyon-Martin Health Services
If you haven't heard of Phyllis Lyon and Del Martin, that's a tragedy as their work is damned important. The health nonprofit named after them started in 1979 and continues to provide health services to (according to their website) "lesbians, women of color, low-income women, older women, women with disabilities & transgender people."
Bay Area Health Collective
Alternative medicine practitioners who come together in pop-up clinics for the LGBTQI and allied communities. Check the website for upcoming dates.
Shout it Out
It's San Francisco, there is activism, and there's a lot of it.  There's so much that it's impossible to list all of the groups, but here are the biggies in town. Even though it is San Francisco and LGBT rights and things are usually a way of life here, there is still a lot a lot to do so, go out, and get involved!
Human Rights Campaign (HRC) (575 Castro Street) Now located in what used to be Harvey Milk's camera shop, a simple visit reminds you how far we've come. (For better and for worse)
National Center for Lesbian Rights (NCLR) (870 Market Street Suite 370) This is an important one, focusing on a wide range of issues like marriage equality, immigration, healthcare and so much more.
Transgender Law Center (TLC) (870 Market Street, Suite 400) Focusing on trans issues such as healthcare, housing, identification documents, as well as trans inmate issues in prisons.
Equality California (EQCA) (2370 Market Street, 2nd Floor) Working so that the gays can get married right here in California, long overdue.
GSA Network (1550 Bryant St., Suite 800) One of the many queer youth organizations in the city.  This one empowers youth to fight homophobia and transphobia in their schools. I had one in my high school and it literally changed my life.
Support for families
Our Family Coalition
For more than a decade, Our Family Coalition has been serving LGBT families with children in the Bay Area and beyond.
San Francisco Recreation & Parks
Though maybe not as glamorous as Pawnee, SF is not too shabby in the parks and rec department. There is a metric ton of classes and activities on offer for kids and adults, and a number of community and early childhood services run through the recs and park office.
Family Caregiver Alliance
Has online support groups for different communities in addition to caregiver services.

Young and in College
There are a ton of schools within the city limits of San Francisco and I'm sure the that the big schools here have a college life feel to them in and around their campuses. Because San Francisco is such a big and well-established a city, it isn't your classic college town. It is, however, chock-full of young people so there's always something to do if you get bored with school. Here are the big ones (just remember that there are a lot more than are listed here).
San Francisco State University (1600 Holloway Avenue) One of the big schools in the city with a large campus and a large student body. Offers a bunch of programs, both graduate and undergraduate.
City College of San Francisco (50 Phelan Avenue) Another big one in the city. It used to be that you could pick up a class or two at City just to expand your education, but as tuition prices have gone up at other Universities, more and more people have decided to attend City as it tends to be the more affordable option. With the increase in matriculating students as well as its own budget being cut, City has become a lot more strict about who can enroll. Not only that, but it has had to cut down on its class offerings due to its own budget being slashed. That said, it's still an excellent school. There is a great transfer program between this school and into the University of California program. Think, UC Berkeley or UCLA.
University of San Francisco (2130 Fulton Street) This is a private Catholic University, but it offers a lot of different programs from nursing to law and you are sure to find other queers attending here.
University of California San Francisco (505 Parnassus Avenue) A premiere medical school.
The Free University of San Francisco There are also a lot of non traditional learning opportunities and The Free University of SF is one of them. According to their Facebook page "The Free University of San Francisco makes the highest level of education available, completely free, to any individual who wants it, regardless of color, creed, age, gender, nationality, religion or immigration status—a university free of money, taught for free." Worth a look, though I don't believe that they are currently in session for spring.
YAY Sport!
The Giants. What can I say? We won the series! San Francisco is Giants territory. Oh and Niners, and Golden State Warriors and A's and Bulls. We love us some sports. Whatever you're into (hell, we probably have a curling team kicking around) – we've got a team to suit you.
Bay Area Derby Girls: Flat track Derby where hot, tough broads have been showing off their skills since 2004. Grab a seat, a PBR and shout your lungs out for your favorite badass on wheels!
Fog Rugby Club: I don't play sports, but I know a lot of the gays who like to play rugby. Check this league out, it's for gay men and women as well as other groups of people that they consider traditionally under-represented in rugby.
San Francisco Bay Blades: Rowing anyone? Just don't fall out; it's freezing in the bay.
Dolores Park: Whether you want to watch, play or just look like a jock Dolo has it all: tennis, basketball, soccer, jogging, frisbee, hula hooping…
There are a lot of unofficial leagues as well. Check out www.meetup.com for all of the other sports opportunities.
Getting Around
First, get yourself a clipper card, it will make using public transport that much easier.
MUNI
Like most public transpo in major cities, MUNI has its problems, but for the most part it can get you where you need to go. There is the underground subway along with the above ground electric buses. You might want to download their MUNI+ app for maps, schedules and arrival info.
BART
Our other subway, the BART (Bay Area Rapid Transit), goes all over the Bay but can be a quick way to get through parts of the city too. Just hit up m.bart.gov for maps and schedules on your phone.
Homobiles
(415) 574-5023
A not for profit service who's motto is "Moes getting hoes where they needz to goes!," can make sure you get where you need to go safe and harassment free. The rides are donation-based, available 24/7 and available by text!
Lyft
Download the app. Now. I'll wait…. ok here's the deal. You tell the app where you are and confirm a pickup. The app tells you how long it will take the driver to get to you and shows you a picture of them and their car. They roll up in a car, fronted by a giant pink moustache. Yes. Pink moustache. Get in the front seat, fist bump, and off you go. It's more like a friend giving you a ride than a cab. You pay through the app so no cash on hand is not a problem!
City Carshare
A non-profit carshare service in the spirit of Zipcar. Reasonable rates and reliable vehicles with lots of pick-up locations.
Cost of Living
High. No seriously. Like really, really high. According to Kiplers, San Franciso is 3rd most expensive city in the U.S. Be prepared to pay $1500 a month for a studio in a not-great part of town. Unless you're loaded, plan on lots of roommates. Lots. For those of us that live here the tradeoff for paying 35-50% (no really) of our salaries in rent is worth it. Then there's always the East Bay.
Safety
San Francisco is a city, it's fairly small in size compared to NYC, however you should be of aware of what's going on around you no matter what part of it you find yourself.  Since the city is so small, if you happen to find yourself in a not-so-nice area, chances are if you keep walking you will get yourself out of the not so nice area just as fast.If I had to choose, the following are the neighborhoods you should be hyper-aware in:
The Mission:
Unfortunately this neighborhood is part of the gayborhood. Most of what we talked about in this guide can be found in the Mission and while it's not the safest, that doesn't mean you shouldn't hang out in the Mission, you just should be aware of what's going on around you while you are getting your gay groove on.
The Tenderloin (The Loin, TL, Lower Nob Hill)
It covers the ground between Union Square (which is the downtown fancypants shopping area) to VanNess Street. The trouble is, that there are some great things going on in the Tenderloin, some of the places that we have recommended are located there. But again, just try to be aware of where you are, who's around you, and you should be fine.
Bayview/Hunter's Point
Same deal.
For quick safe rides, if you ever need one remember Homobiles and Lyft as mentioned above.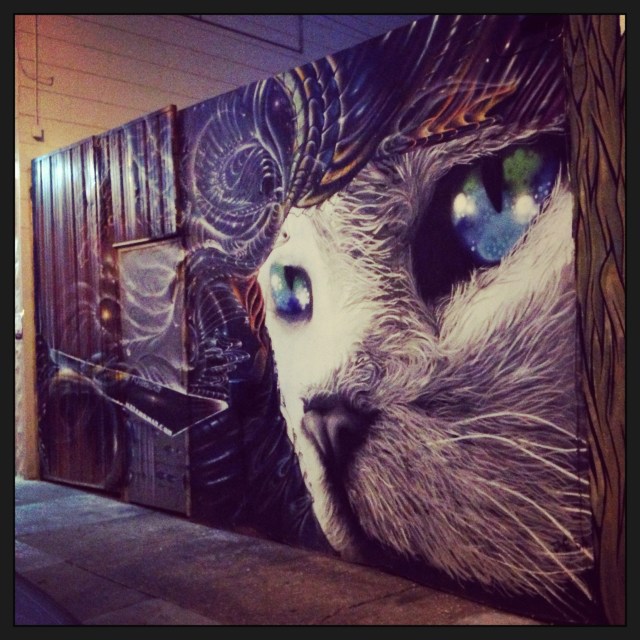 Diversity in San Francisco
It is an odd thing, but everyone who disappears is said to be seen in
San Francisco. It must be a delightful city, and possess all the
attractions of the next world.
— Oscar Wilde
There is some truth to Mr. Wilde's statement. Everyone is here. Anyone is here. This is truly one of the most diverse cities on earth. It's a town where old Russian women share bus seats with lesbian moms, Cambodian cooks, gender questioning emo punks, Latino cowboys and homeless men. San Franciscans pride themselves on their diversity. There is no place in the city where members of every race, gender, color, ability, height and hair color aren't represented. If you are an East-Asian, gender-queer, stilt walking, OBGYN, with a shaved head, there is a meetup group having a drink in the vegan Thai place around the corner. Here are just a few:
SF Bay Queer Women of Color Meetup
Asian Pacific Islander Queer Women and Transgender Community
Queer Women of Color Media Arts Project
The Center for Young Women's Development – Nelly Velasco Project
And there a lot more groups for women of color that are not necessarily for queer women.
---
San Francisco For Tourists & Visitors
by riese
There's obviously heaps to do for tourists in San Francisco and what's especially nice is that we have no weather, so really any time of year is appropriate for any type of activity! It gets a little cold and rainy in December, but 75% of the time, our days are sunny, bright, and between 65 and 70 degrees. (But it gets cold at night, so bring hoodies/jackets!)  Most of what you'll wanna check out is mentioned in other parts of the city guide, but here's where I fill in some of the gaps for non-residents.
Basics:
If you're a gaymo in the city for the first time, you'll definitely want to set aside a day or half-day for The Castro/Mission — checking out the aforementioned shopping and restaurants, chilling in Dolores Park and taking a quick jaunt to the super-small-but-worthwhile GLBT History Museum. You should also consider taking a day or two to head up north to wine country — Napa or Sonoma — it's ridiculously gorgeous up there with lots of cute hotels and shopping but the point is obviously the wineries, so make a plan for which vineyards you wanna hit up and then drink until you feel like a human grape. This city guide is specific to San Francisco, there'll be a separate Oakland/Berkeley guide, but there's also shit-tons to do and see in the East Bay!
I also recommend picking up a Walking Tour book or, better yet, these handy waking tour cards, San Francisco is an awesome place to walk because there's so much to look at and the weather is so nice.
Museums:
SF MOMA (151 Third Street, between Mission & Howard) (Adults: $18, Students w/ID $11) – The MOMA is planning a big renovation starting June 3rd, 2013, scheduled for completion in 2016, and in the meantime the "SF MOMA will be on the go, presenting new art experiences around the Bay Area as our building is transformed." But if you can pop in to its present home before that happens, it's definitely worth a visit for its innovative exhibits and consistently awesome permanent collection (lots of photography!). Admission is free the first Tuesday of each month.
California Academy of Sciences (55 Concourse Drive, Golden Gate Park, San Francisco, CA 94118) (Adults $29.95, Students $24.95) Honestly I've never been here but it sounds neat, like it's "the world's only aquarium-planetarium-rainforest-living museum." Virtual safaris! The depths of a Philippine coral reef! Magic and wonder!
The Beat Museum (540 Broadway  San Francisco, CA 94133) – If you're a book nerd and obsessive-Beat-lover like me then this hidden gem will rock your socks off: staffed by wiry hipster boys and replete with a topical gift shop, the museum itself contains a seemingly endless supply of Beat memorabilia and history, set up like the best school project ever.
Fisherman's Wharf
Fisherman's Wharf has become more and more touristy over the last few decades, shedding some of its inherent charm in favor of a more commodified experience, but it's still super-fun. You can stroll (or jostle, depending on the crowds) along Pier 39, which's packed with great waterfront restaurants, as well as some kitschy shopping, sea lions, and the truly fun Musée Mécanique Penny Arcade. At Hyde Street Pier you can check out some historical ships, if that floats your boat. (GET IT??)
Food-related spots to hit on the wharf include the legendary Ghiradelli Square Original Ice Cream & Chocolate Manafactory (900 North Point Street), the Boudin Sourdough Bakery & Cafe or Bistro (160 Jefferson Street) for a quick lunch or a teddy-bear-shaped loaf of bread, Normans Ice Cream & Freezes (2801 Leavenworth Street) for innovative flavors and an authentic experience not available at the adjacent Coldstone or Ben & Jerry's locations and Asian-Fusion restaurant Butterfly (Pier 33 at Bay Street), which has a kickass happy hour and amazing waterfront views.
Alcatraz (Alcatraz Landing at Pier 33) ($30) – Okay Alcatraz is honestly kinda creepy and overrated. If you feel at all slightly conflicted about the romanticastion of American hyper-masculinity, the prison-industrial complex and the instutitionalized racism that fuels our crime/punishment system, then you will feel conflicted at Alcatraz and totally weirded out by the 2.5 hour audio tour, complete with "prisoner's voices" and dramatic sound effects. You can get a great view of the bay from Alcatraz however and the boat ride sure is pretty! The only way to visit Alcatraz is by purchasing a ticket for an Alcatraz tour, and they truly do sell out ahead of time so MAKE A PLAN.
The Great Outdoors:
Twin Peaks – Oh, Twin Peaks. You can see the whole g-damn city from up here, it's lovely. The drive up is twisty and can be really spooky if it it's dark, rainy or foggy, but if you like to sit on top of a city and smoke a joint while watching the sun set, then this is probably the best place ever to do that. They film a lot of car commercials here.
Point Lobos/Land's End/Ocean Beach/Lincoln Park – This is a pretty significant area of land that I'm attempting to compact into one paragraph. So, if you're more into eating than hiking, you should definitely come here, have some clam chowder at the Cliff House (1090 Point Lobos) and enjoy the view of Ocean Beach. You'll undoubtedly become intrigued by the bathhouse history on display at Cliff House and then you'll want to visit the ruins of the Sutro Baths. Land's End is a much-adored three-mile walking trail offering spectacular views of the ocean and the Golden Gate Bridge. The Legion Of Honor Museum (34th Ave & Clement Street) is out here, too.
Filbert Steps (Sansome St & Filbert St) – The next day your calves will hate you, and the day after that you will love your calves! While actually walking the Filbert Steps, you will love the secret garden feel and the spectacular views.
Golden Gate Park – You can easily spend half a day or more here, it's super-gorgeous just for biking or walking, but there are plenty of things to see within the park, like the Japanese Tea House & Gardens, the Botanical Gardens/Strybing Arboretum and the old-school Carousel.
Also Worth Mentioning:

Lusty Lady (1033 Kearny at Broadway) – This is a feminist landmark 'cause it was the first strip club/peep show to unionize (there's a documentary about it called Live Nude Girls Unite!). It's mostly private booths, where you put money in a slot and then the screen is lowered and there's the girl!
Chinatown– Chinatown in San Francisco is the largest Chinatown outside of Asia and has some really amazing dim-sum. I had a friend who took a guided walking tour of Chinatown and said they got to visit a fortune cookie factory and stuff so you know, look into that.
Hardly Strictly Bluegrass Festival – If you can coordiante your visit to be during Hardly Strictly Bluegrass Festival, then you ought to. It's held in October in Golden Gate Park and is free, thanks to venture capitalist Warren Hellman, who also wanted to eschew corporate sponsorship. It's not just bluegrass anymore. Frequent performers include Emmylou Harris, Gillian Welch, Earl Scruggs and Steve Earle. I think The Indigo Girls played one year, even.
Hotel Mirabelle (1906 Mission St between 15th & 16th street) – If you're low-maintenance and looking for a cheap place to crash in the city for less than $100/night, try the Hotel Mirabelle. This super-cute, tucked-away place in The Mission "is a quiet Victorian guesthouse" with a nice outdoor patio area, continental breakfast and a friendly staff. It's similar to a hostel in that the bathrooms are shared and the other guests are often looking to make friends, but it's like a B&B or hotel also for the comfortable, clean and well-furnished private rooms and other amenities.
Now it's your turn to let us know what this guide is missing!