Header by Rory Midhani
Welcome to Crystal's Track Stop, where every week I bring you a selection of the raddest tracks from my record collection and also from the internet. All killer no filler.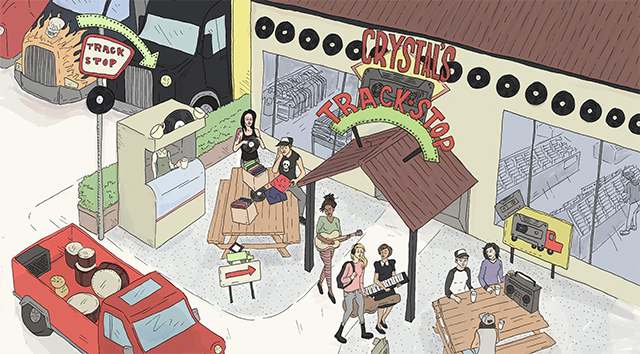 "We The Common (For Valerie Bolden)" – Thao and the Get Down Stay Down
Do you miss Thao + Mirah? Do you still watch their cover of Salt 'n Pepa's "Push It" on the reg? Yeah, me too. We The Common, the new-ish album by Thao and the Get Down Stay Down, will maybe satisfy at least some of our collective yearning. To the surprise of absolutely no one, it is delightful. The one song I can't get enough of is the title track, which's dedicated to a woman Thao befriended while volunteering for the California Coalition for Women Prisoners. Sounds heavy, but with the plucky banjo work, soaring chorus and generous application of "oo-hoo"'s, it's mostly rallying.
If you dig this then another track worth hearing is "Kindness be Conceived", a duet with Joanna Newsom that is pretty darn cute. I'm calling for a Nguyen + Newsom collaboralbum next.
"Chelsea Hotel #2" (Leonard Cohen cover) – Lana Del Rey

Lana Del Rey's cover of "Chelsea Hotel #2", the 1974 ballad about Cohen's affair with Janis Joplin, is such a beautiful thing. Not everyone will love the fact that she's 'gone there', however, at the risk of sounding like a judge on The Voice, I think she's really respected the song. Even the super 8 style video is working for me- it's a subtle tribute to the landmark and the era that could've easily been gross and over the top. So, yeah. I have a lot of love for this.
"Pilgrim" – MØ
MØ, aka Karen Marie Ørsted, is a Danish musician who has been around for a while but just created a whole lotta 'buzz' at this year's South by Southwest. From what I can gather she's basically the Grimes of 2013 but even more hip because she's got a cool looking moniker that probably only Europeans and people who read Pitchfork will confidently pronounce on the first try. Reader Erica tipped me off to track called "Pilgrim" which came out in 2012 and which I now share her obsession for- partly because hand claps and partly because I can't tear my eyeballs away from the video, which is a little lol wut-ish but in a good way.
"Glass" is also pretty great.
[soundcloud url="http://api.soundcloud.com/tracks/73955990″ width="100%" height="166″ iframe="true" /]
"Never Should Have" – Ashanti
Ashanti's written a sad sad song. "Never Should Have" is a fairly typical heartbreak ballad, or at least it was in 90s but I actually kinda dig that. It's no "Foolish" but the vocals are seriously smooth, sadness sounds good on her. In other Ashanti news, I just read a fascinating conspiracy blog about how she's been brainwashed by the CIA. The more you know. Her new album, Braveheart, drops in June.
[soundcloud url="http://api.soundcloud.com/tracks/84948984″ params="" width=" 100%" height="166″ iframe="true" /]
"Motorway" – Little Boots
Little Boots is back! Is her new song, "Motorway" a teeny bit repetitive? Well, yes. You could say that. I just did, to my cat. But then I also just guffawed over a youtube comment describing it as the "best song about breakdown services evah", so maybe don't trust my judgment. What I really dig about this track is that it's SO chill, it's the chillest- it has this relaxed flow that I could listen to forever, which is a good thing because that's exactly how long this song goes for.
[soundcloud url="http://api.soundcloud.com/tracks/80758707″ params="" width=" 100%" height="166″ iframe="true" /]
The new album is called Nocturnes and its comes out May 6. Not to be confused with that other electro-pop album called Nocturnes.
"The Phoenix" – Fall Out Boy
To be totally truthful, this is actually the track that I've listened to the most this week. If loving Fall Out Boy's new single is wrong then I don't wanna be right. (Fair warning: the vid's gory).