I discovered Iris Apfel in 2009, around the time of what I like to call my "sabbatical" from life in general. I was spending a lot of time in the library drinking coffee, or outside smoking cigarettes, or really just pretending I had something to do when really I was just running away from everything. My friend told me about her because she wore huge glasses and he knew I would like it. He was right and I was smitten from the start.
It starts with the frames and it ends with the bravado. Iris Apfel is a standout. I printed photographs of her out on the university printers and hung them on my bulletin board.
By that time, I had a collection of readers (read: fake eyeglasses) in literally eight variations or more available at any given time, all of which I kept in a small floral satin-lined box. It was no surprise to anyone when I started to order her books from the library or when I insisted I'd bumped into her on the street in Manhattan and talked dreamily of the whole thing. Iris Apfel embodied every single punch line I'd ever appeared as: a "geriatric starlet." I was (and proudly remain) a grandma chic enthusiast and Iris Apfel was my fashion icon.
Apfel's eccentricities, which are really more a form of elaborate artwork than anything else, manifest in her apparel and her home dressing approach. She collects, stacks, layers, and exhibits beautiful items all at once with such fearless confidence that you have no choice but to celebrate her. Apfel told the New York Times "that when you don't dress like everybody else, you don't have to think like everybody else," and as I was coming into my own I liked to harken toward her self-assurance and grandeur as a form of inspiration.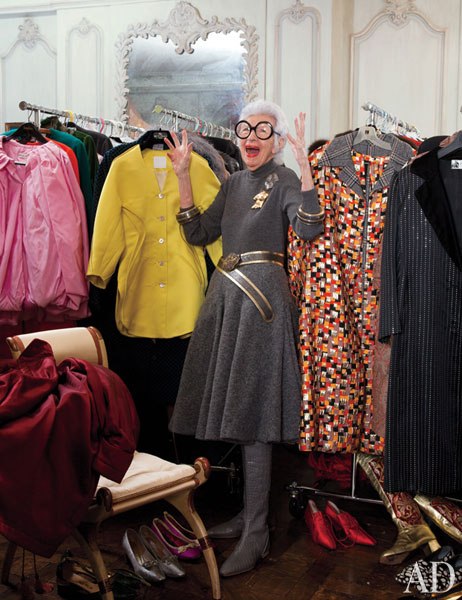 Apfel was my unspoken style hero first while I was on the brink of adulthood and I didn't know what I looked like anymore, and lately I think of Iris because I sometimes feel the same way now. I think what I wear tells people about me. I've always liked to feel like I look like myself. And if what we wear is the prologue to who we are, Iris Apfel wears a series of short stories.
Apfel's rise to fame was of no one's accord but her own. She went to university, studying art and art history at NYU and University of Wisconsin. She opened Old World Weavers in 1950 with her husband Carl, and became a designer in such demand that she was hired by Presidents Truman, Eisenhower, Nixon, Kennedy, Johnson, Carter, Reagan, and Clinton, and went on to curate a flawless and awe-inspiring wardrobe, as well as building a personal fashion following of her own. She eventually branched out into designing jewelry and handbag collections, as well as – duh – eyewear, cementing her place in the fashion world as innovator, leader and ultimate empress.
Now, Apfel is the subject of more admiration and curiosity than ever, as well as a growing spectacle on the fashion scene. All of it is deserved, and I have reveled in it.
For coffee-table sorts, there's a book:
For the doting, interviews like this one from Advanced Style, showing her confident allure and her spectacular oddity:
And the greatest prize of all: the travelling "Rare Bird of Fashion" exhibits of her very own outfits.
I'm not sure yet if I'm ready to meet her or if I'd be too embarrassed about what I was wearing to even stutter out my name. But no matter where we each are on our journeys, it's nice to imagine that as I get older and wiser I'll get even more fabulous, too.