Welcome to yet another crafty installment of Make A Thing, where we make handmade gifts for people. Or ourselves. Or our cats. Who doesn't need something special in their life? Join in on the DIY fun and avoid the unnecessary consumerism of the world (and I promise you'll save a few dollars while you're at it).
Header by Rory Midhani
Hello sunshines. I just moved from the tiniest apartment ever into a big girl apartment, complete with a kitchen large enough for me to open the fridge without the door hitting the oven. I know, it's remarkable. The worst thing about moving is moving. The second worst thing about moving is figuring out where everything is going to go in your new place. Essentially, moving is the perfect time for you to reorganize your life and also your office/craft room/craft area/tiny desk in the corner of your dorm room.
Even if you aren't moving, there's something about the warmer weather that makes us want to clean up our acts and also living spaces. In autumn we hoard our nuts like little squirrels, in spring we realize we don't need twelve half-used lint rollers (true story).
Where Do I Store All Of This Craft Shit?
Let's begin with the storage basics. Kristen and I talked a little bit about organizing in the Crafty Little Bitch gift guide. Namely, the best way to organize small bits and bobs is with tool boxes and clever repurposing of other tool boxes.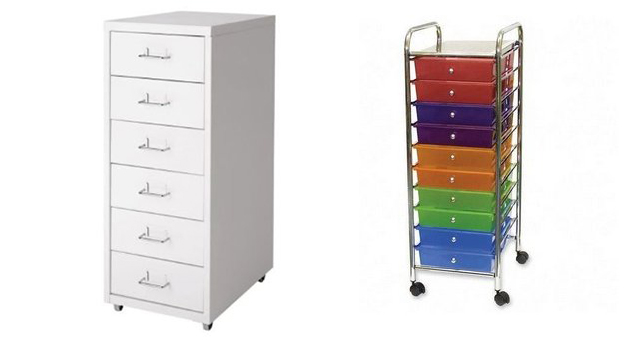 I love file cabinets for craft stuff. I have a mini-filing cabinet from IKEA that works perfectly for cards, buttons, small sketchbooks, prints, scrapbook paper and other stuff that would get lost at the bottom of a larger drawer. The rainbow one would obviously fit your queer lifestyle. Don't particularly like the look of boring filing cabinets? Here's eight tutorials for re-doing the front of the filing cabinet to spruce it on up.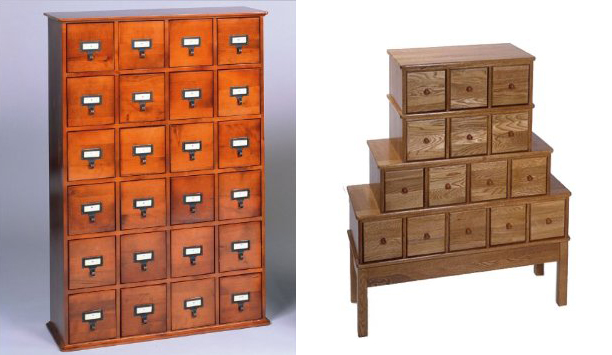 Looking for something a little fancier? Apothecary cabinets or library card holders also look incredible. Buy them nice and new or scour Craiglist to find a fixer-upper for cheap (disclaimer: if you live in a city where bed bugs are a big thing (hey, Denver) then please make sure you know the person giving you furniture).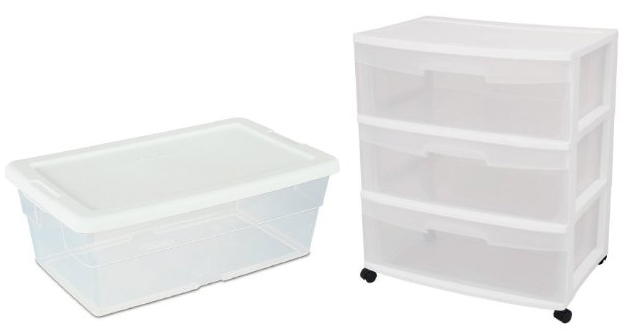 The best craft storage for my frugal budget has been small, plastic storage bins. I have six or seven of them that I bought for 74 cents each and I store almost every craft supply inside. Also amazing are plastic 3-drawer organizers. I have survived my entire adult life by using stacked plastic organizers as storage for clothes, shoes, junk and/or craft things.
Some things are too beautiful to hide in drawers or bins, you know? What about your three million Martha Stewart craft paints? Or your really impressive button collection? Well, why not get crafty and display these things with pride? Here are some clever ideas for storing difficult or small items that you still want to display:
Mason jars are both beautiful and handy. They're also pretty cheap, and if you're into the blue tones like me, you can tint the plain ones yourself. Making a hole in the top of a mason jar creates an easy way to pull string or ribbon with no tangling.
Craft paint is one of the most difficult items to store. Creating little shelves to house them is ingenius because they're so pretty, plus you'll never forget what colors you already have.
I hate searching through tons of boxes to find the right button. Using clear topped spice jars makes it super easy to find what you're looking for, and having magnetic spice jars makes everything seem instantly cooler for storage purposes.
See a theme here? Repurpose, repurpose, repurpose. Tins and jars for markers or pencils are a classic idea. Here's 25 other really amazing repurposing tricks for craft storage and organization, like tic-tac containers for storage and sugar shakers for twine. Who thinks of these things? Genius.
Next week we'll get to the cleaning part of Spring Cleaning by going over when things are worth repairing or repurposing or when it's time to say goodbye. In the meantime, any other great storage tips I should know about?