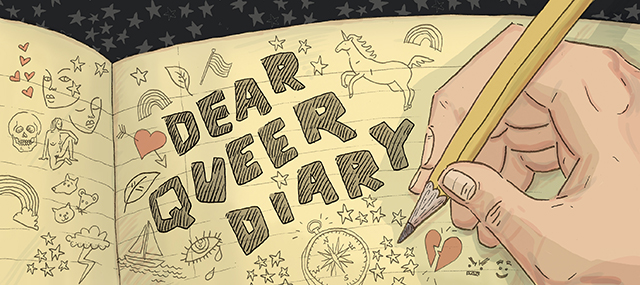 My grandfather is an avid birdwatcher, and when I was yet a wee thing, a typical afternoon with Papa Dave consisted of a walk through the forest/fields/swamps toting my special child-sized binoculars in search of avian life. This was one of those grandparental bonding activities that I eventually grew out of—by the time I hit thirteen or fourteen, the sight of a nesting grouse no longer provided sufficient compensation for the discomforts of wading through itchy grass under the hot sun. But while I left the black-billed magpies and sagebrush sparrows in my past, those early ornithological sessions engendered in me an aptitude for observation that I have been able to adapt to certain other (air-conditioned) environments.
I consider myself to be a star people-watcher — I've only just stopped short of preparing my acceptance speech for the award for Best People-Watcher in a Mid-Sized New England Coffee Shop, a distinction that recognizes excellence in observation, eavesdropping, and a deep and abiding fascination with utter strangers. Some of my favorite places to people watch include the grocery store, where I am fascinated by the contents of people's carts, and the airport, where I have been known to spend layovers wondering where that man in the three-piece suit is going and what possessed him to wear a vest in the middle of July.
Last week, I visited one of my favorite bakeries on planet earth, an establishment whose lack of WiFi only enhances my ability to devote my full attention to the people sitting at the tables around me. While in residence, I spent a good hour and half creeping on the generally adorable people eating cakes and sipping artistically prepared lattes around me. There was the older man with the cup of black coffee, the twenty-something reading some very large textbooks, and the beautifully queer-looking ladies (in hiking boots) rehashing some serious workplace drama (there were tears right there in the bakery!).
The tables were arranged in such a way that I couldn't help but overhear their conversations, and it seemed only natural to glance up in between nibbles of lemon currant scone to observe certain details. Before I knew it, I was describing the people around me in the middle of the journal entry I had started when I sat down. Once I started listening, I was hooked—trying to figure out exactly what the relationship was between the two women to my left and why the girl in front of me looked so excited.
Although I'm aware that this isn't necessarily a hobby of which my elementary school teacher would have approved, I'm more than happy to defend it. Yes, I have always had trouble minding my own beeswax; however, I'm of the belief that this is a sign of my natural curiosity and appreciation for the individual qualities of the people around me rather than any kind of immoral tendencies. And though it is entirely true that writing in one's journal is a great cover for seriously stealthy people-watching, I think the connection between people watching and my dear queer diary actually goes beyond that.
Journaling is an activity that requires us to think, at least subconsciously, about what it means to be a person. In the pages of my diary, I hash out my priorities, contemplate what it meant when so-and-so said such-and-such, and try to understand where I have come from, where I am going. Some of these same questions are naturally raised in the process of observing people being people, whether it is in a coffee shop, on a park bench, or at the library. Why did she use that tone? What was he hoping to achieve by carrying that particular briefcase?
Arguably, the relationship between the people-watcher and her people-watch-ee is analogous to the relationship we have with ourselves while we are journaling—we take a step back from doing what we are doing in order to observe ourselves, to notice (and write about) our actions and our moods. In my mid-size New England coffee shops, I am a reporter on the human condition, a detective of caffeine-ingesting individuals; in my journal, I am a reporter on and a detective of me, myself, and I.
In fact, eavesdropping is a common assignment for actors and fiction writers — I have taken classes in which I've been instructed to go and find a conversation to "overhear" in the hopes that this will allow us to create truer characters or more authentic dialogue. If people-watching helps an actor understand a character for the stage, why wouldn't it help a person understand herself in the pages of her journal?
What are your favorite people-watching locales? Have you ever found yourself writing in your journal about the conversation of the people next to you? Are you disturbed by my utter lack of regard for the privacy of the people around me? What say you journaling geniuses?
---
Dear Queer Diary is a column about the joys (and occasionally, the pains) of journaling. We crack open our tiny notebooks and break out the rainbow-colored pens on the regular, so get ready to limber up your writing hands and document all your beautiful feelings!
Header by Rory Midhani