by Hansen and Kristen
Buying a gift for a crafty person can be difficult if not impossible. We are the type of people to analyze a gift and immediately shout, "I could have made that!" Before we go any further, the two of us would like to apologize for all of the accidental insults uttered by other Crafty Bitches. But take heart, brave soul, because there is hope for gift givers. Here's a good rule of thumb: give crafty people something they can make or at least feel like they made. Maybe a kit, an Etsy gift card, a craft book or something handcrafted by a fellow Crafty Bitch? If there's a demographic for the handmade industry, it's other people who are making things with their hands as well. We ladies love using our hands.
Infinitely Cool Projects They'd Never Buy for Themselves!
These are some fun projects to distract them from whatever form of crafting they love to do. Maybe they have had a crafting block and need something to get them out of the funk? These projects would do the trick. Plus, crafting kits and projects are the things you almost never buy for yourself but love to receive.
I don't even cross stitch but I would learn because this phone case is so cool. Imagine the possibilities. Cross stitch a unicorn or a funny saying or a heart or your girlfriend or boifriend's name. Limitless, dare I say?
You know your grandmother's framed embroidery? It probably says, "Home Sweet Home" or "Bless This House" (my grandma has both of these in her house). Sublime Stitching patterns put your grandmother's embroidery to shame. There're derby girls and guitars and and pin up ladies to embroider and hang up to make your home look badass. It's easy, too. There are tutorials and transfer pages and ugh, it's just so cool, isn't it?
This thing is awesome. I used to make many buttons in my youth, but none of them were this classy and fantastic. It may be titled "indie rock" but it's just cool patterns that can span a broad spectrum of musical stylings. Except for that one with the cassette tape that says indie rock. Who cares? Buttons are universally loved, I can assure you of that.
The Black Apple's Paper Doll Primer
Emily Martin of the Black Apple is one of the most successful sellers ever on Etsy. She's adorable and makes adorable things. Your crafty person probably already knows about her and loves her, too, because I'm sure your crafty person has fantastic taste just like us. Who doesn't love paper dolls? Who doesn't love kitschy and cute paper dolls? No one worth knowing, that's for sure.
Help Them Get Organized!
I feel like we've all complained about Martha Stewart at one time or another, but I'm sure most Crafty Bitches can agree that she's one lucky lady. Her attic crafts room organization is drool worthy and something few people can hope to attain in their twenties. If you can't give your giftee an entire attic, provide them with compartments, storage boxes or even a repurposed tool box to keep their shit organized. As a bonus, simple clean lines mean your MStew can personalize the fuck out of it.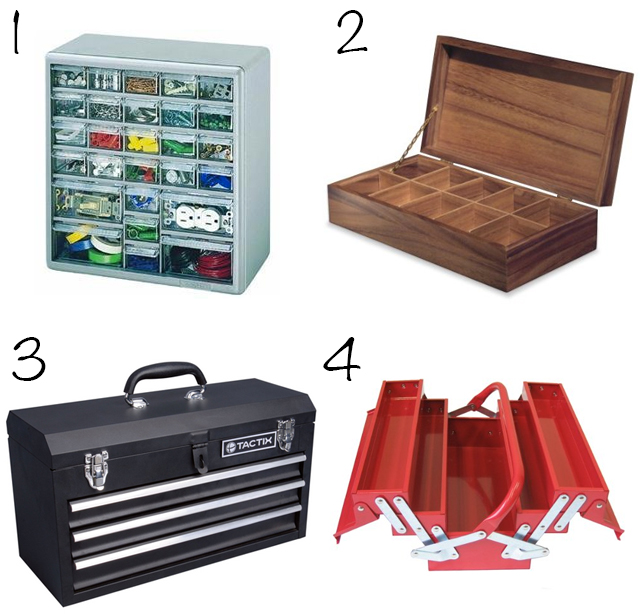 1. Look at all the possibilities! That Stack On storage cabinet can store all of the weird knick knacks that come with the job.
2. If you feel weird giving someone an empty box for the holidays, fill it with shittons of glitter or purchase a wooden teabox and fill it with their favourites.
3. I'm partial to wood myself, but there's something to be said for industrial design, like this black beast of a box. Pull out drawers are perfect for glue guns, soldering irons or sheets of scrapbooking paper.
4. Get your giftee a craft box to match their toolbox.
Craft Books
How about giving the gift of inspiration? There are so many amazing craft books out there. There are also a lot of shitty ones. Take our advice and pick from our favorites.

For home and art inspiration: DIY Art At Home, Design*Sponge at Home and Domino: The Book of Decorating. Do they have an Etsy shop? The Handmade Marketplace is basically the bible to selling your handmade things online.
Now don't fuck the whole gift up with ugly wrapping, because we Crafty Bitches really pay attention to that stuff, okay? No pressure. You'll be great.