In My Top 8, various members of Team Autostraddle tell you which writers made us who we are today and invite you to like all the same things we like. Today, Contributing Editor Ali waxes poetic on her affection for great authors like Shakespeare and J.K. Rowling.
---
Junot Dìaz
Books Read: Drown (1996), The Brief Wondrous Life of Oscar Wao (2007)
Books I Haven't Read Yet : This Is How Your Lose Her (2012)
Favorite: The Brief Wondrous Life of Oscar Wao (2007)
Junot Dìaz is the reason I write fiction. Here's why:
"You guys know about vampires?" Diaz asked.  "You know, vampires have no reflections in a mirror? There's this idea that monsters don't have reflections in a mirror.  And what I've always thought isn't that monsters don't have reflections in a mirror. It's that if you want to make a human being into a monster, deny them, at the cultural level, any reflection of themselves. And growing up, I felt like a monster in some ways. I didn't see myself reflected at all. I was like, "Yo, is something wrong with me? That the whole society seems to think that people like me don't exist?" And part of what inspired me, was this deep desire that before I died, I would make a couple of mirrors. That I would make some mirrors so that kids like me might seem themselves reflected back and might not feel so monstrous for it."
Junot Dìaz is the reason I write about queer people. I write queer protagonists, genderqueer protagonists, because I create mirrors for myself and for others like me. He's also an inspiration to writers because his stories are uphill slogs for him. He is painstaking. And he gets that shit done. Start with the Brief Wondrous Life of Oscar Wao. He writes this book with footnotes that are hysterical and the story is in both Spanish and English.
Alison Bechdel
Books Read: Fun Home (2006), Are You My Mother? (2012)
Books I Haven't Read Yet : All of Dykes To Watch Out For (1986 to 2008)
Favorite: Fun Home (2006)
I don't like her just because she's gay, though it is nice to see a real-life mirror of our community. I like her for her structure. Both times I've read her books, her structure has felt so solid that I can't imagine the story told any other way, in any other order. Her form and her plot also go hand-in-hand. I was just recently telling my girlfriend that I couldn't picture Bechdel's life story told as anything other than a graphic novel. I also love the way she weaves these epic themes and historical stories into her own memoirs, like Icarus into Fun Home and Virginia Woolf into Are You My Mother? When you're examining a story for how specificity relates to universality, her stuff comes to mind for that reason– a grand myth intertwined with her family's life. You can't get more universal than Icarus and you can't get more specific than the Bechdel family. Her story becomes universal in its specificity. And the illustrations are beautiful. Start with Fun Home and DO NOT READ ARE YOU MY MOTHER? UNTIL YOU'RE FINISHED WITH FUN HOME. Or I will come find you.
Sherman Alexie
Books Read: The Absolutely True Story of a Part Time Indian (2007), The Lone Ranger And Tonto Fist Fight In Heaven (1993), the Smoke Signals Screenplay (1993), assorted short stories and poems because Sherman Alexie is EVERYWHERE.
Books I Haven't Read Yet : y'all, there are way too many to list here.
Favorite: The Lone Ranger and Tonto Fistfight in Heaven (1993)
Sherman Alexie is another reason I hold the views I do about writing characters that specifically share my identity. He is the embodiment, to me, of being universal through being specific. And he writes very specifically about a culture of which I am undereducated, so his topics fascinate me. He's also got some beautiful language and some characters that are very positive in the face of being shat on. And also, this is how he speaks to other writers:
Tamora Pierce
Books Read: Alanna: The First Adventure (1983), In The Hand of the Goddess (1984), The Woman Who Rides Like a Man (1986), Lioness Rampant (1988), Wild Magic (1992), Wolf Speaker (1994), Emperor Mage (1995), In The Realms of the Gods (1996), First Test (1999), Page (2000), Squire (2001), Lady Knight (2002), Trickster's Choice (2003), Trickster's Queen (2004), Terrier (2006), Bloodhound (2009), Mastiff (2011), Sandry's Book (1997), Tris's Book (1998), Daja's Book (1998), Briar's Book (1999), Magic Steps (2000), Street Magic (2001), Cold Fire (2002), Shatterglass (2003), The Will of the Empress (2005), Melting Stones (2007).
Books I Haven't Read Yet : Battle Magic (2013).
Favorite: Squire.
Tamora Pierce is a YA author, has been my favorite author since middle school, helped me survive my awkward childhood and taught me how to be a strong woman. Her female characters are wonderful, well-rounded people. People who want to be knights, who won't accept the conventions that society throws at them, people who are confident, important, have flaws, have jealousies and joys. And I am a grown-ass woman and I will still buy and read everything this woman ever writes. Her books are my stress ball– if I feel out of control or shitty in any way, I re-read them. Perhaps I should have listed her at the top, because I have read more Tamora Pierce than anyone else. She had a real formative influence on who I am as a human, on my vocabulary as a child, on my feminism. It doesn't matter how old you are. Pick up a Tamora Pierce book. Start at the beginning, with Alanna: The First Adventure. Work your way through from there, in order. You'll fall in love.
William Shakespeare
Books Read: The Tempest , A Midsummer Night's Dream , Much Ado About Nothing , Taming of the Shrew , Twelfth Night , Hamlet, Julius Caesar, King Lear, Macbeth, Othello, Romeo and Juliet, and assorted sonnets. (First Folio 1623)
Books I Haven't Read Yet : All's Well That Ends Well , As You Like It , The Comedy of Errors , Cymbeline , Love's Labours Lost , Measure For Measure , The Merry Wives of Windsor , The Merchant of Venice , Pericles, Troilus and Cressida , Two Gentlemen of Verona , Winter's Tale , all the Histories, Antony and Cleopatra , Coriolanus , Timon of Athens , Titus Andronicus , other assorted sonnets. (First Folio 1623)
Favorite: The Tempest
"We are such stuff as dreams are made on

And our little life is rounded with a sleep."
Act IV, The Tempest.
You cannot beat the language in Shakespeare. It is not possible. I used to be an actor. I've played a few roles, I've subbed in for assistant director in a bilingual version of Romeo and Juliet. I want to direct/produce The Tempest someday if anyone will give me the money to do it. I have been obsessed with Shakespeare since high school. I can't even think of what to write about him and his work right now because my heart is beating so fast because Shakespeare. When I was in Stratford-Upon-Avon, I bought a huge green and gold-gilded complete works and transported that million pound wonder book back to the states, such is the love I feel for this work. I even named my cat after the fairy in A Midsummer Night's Dream. Puck.
In fact, if you'd like to make the worthwhile investment in your brain and life by getting into Shakespeare, begin with A Midsummer Night's Dream. I find that this is one will really ease you into the style and vocabulary. It's fairly simple to understand. And don't shy away from it because you think it's hard or because you hated it in high school– Shakespeare is not actually meant to be read, though I do it all the time. It's meant to be watched. To dip your toe into these stories, you may want to see a production. Then grab the book. Don't worry about "the story being ruined" because you'll get something new out of each play every time. I'm on my fifth or sixth read of the Tempest and I've definitely done Hamlet at least three times.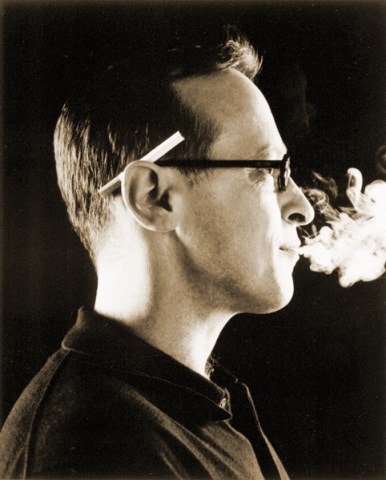 David Sedaris
Books Read: Holidays on Ice (1998), Me Talk Pretty One Day (2000), When You Are Engulfed in Flames (2008)
Books I Haven't Read Yet : Barrel Fever (1994), Naked (1997), Dress Your Family in Corduroy and Denim (2004), Squirrel Seeks Chipmunk: A Modest Bestiary (2010)
Favorite: When You Are Engulfed in Flames (2008)
The thing I love about David Sedaris is he can make a story, and a good story too, out of anything at all. I always marvel at how so many interesting things can happen to one person, like moving to France or living in Japan for a while. And then I remember that some of his essays are about a bad babysitter he had, or the house he lived in right after college. Experiences we've all had, things we could all talk about. Basically, Sedaris is my reminder to continue on when I think I don't have any stories. I close my eyes and recall my life and it turns out I do have things to say. Sedaris is also a) gay and b) hysterical. Begin anywhere you want, really, because these aren't essays that have to go in order. But make sure you read the closing essay in When You Are Engulfed in Flames, entitled The Smoking Section. It's about Sedaris attempting to quit smoking by moving to Japan and taking Japanese for a little while. It's basically the best thing ever.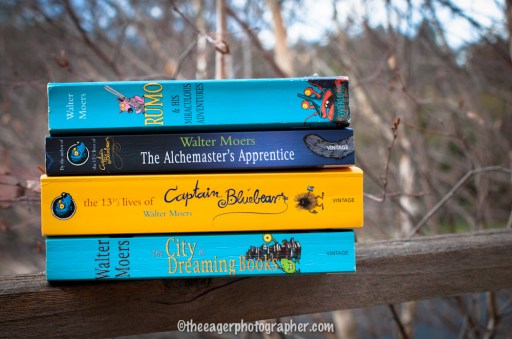 Walter Moers
Books Read: The 13 1/2 Lives of Captain Bluebear (1999)
Books I Haven't Read Yet : The City of Dreaming Books (2004), Rumo & His Miraculous Adventures (2003), A Wild Night Through the Night (2001), The Alchemaster's Apprentice (2009), the Labyrinth of Dreaming Books (2012). All the books in German because I don't speak German and probably never will.
Favorite: The 13 1/2 Lives of Captain Bluebear (1999)
Yes, it is strange that I have only read one book by this man and I consider him one of my favorite. Walter Moers is a wonderful writer, but the fact that he is on my list has more to do with what he represents for me.
I lived in Paris during 2009 for school, and I lived with one of my best friends in the entire world. We decided we were going to spend a pretty penny that spring and take The Most Epic Spring Vacation Ever. So we took a train trip from Paris to Munich, then to Vienna, then to Prague. I finished reading the material I had brought and we had quite a long train ride from Prague back to Paris, so I ran into the bookstore at the train station and picked out the first thing that looked interesting. That thing was The 13 1/2 Lives of Captain Bluebear.
Now I'm not sure you know how I feel about traveling. My heart rises to the surface of my chest when I think about it, especially traveling on trains. I love sitting and reading, sipping tea in the dining car and tipping my eyes over the top of my book to watch the world transform before (The Czech Republic looks like West Virginia.) And guys. The 13 1/2 Lives of Captain Bluebear is HUGE. There was no way I'd run out of pages to read. And we both read and watched and wrote and slept in our sleeping car and met this great girl from Canada and finally we were back in Paris. But I wasn't done with the book. Because HUGE.
So I spent the next few weeks sipping wine and coffee at various cafés as it began to get warmer, reading this book and watching the people transform before into the crazy images that existed in Moers's world of Zamonia. His book is so imaginative and contains nothing of what could be in the real world, and yet they make perfect sense. It's how I feel about travel. Everything is so different and everything clicks into place. The illustrations are also beautiful.
j.k. Rowling
Books Read: All the Harry Potter everything ever (1997 to 2007). And The Casual Vacancy (2012)
Books I Haven't Read Yet : I have read every single thing with Rowling's name on it.
Favorite: Harry Potter And the Goblet of Fire (2000).
I grew up with Harry Potter. The very same friend that lived with me in Paris also gave me Harry Potter and the Sorcerer's Stone for my eleventh birthday. I was eleven and so was Mr. Potter– I so badly wanted my letter to come, but even when it didn't I felt a connection with Harry. Before receiving this book, I wasn't a big reader, at least not by myself (I loved when my mom read to me because she did all the voices for everything.) But I stayed up for three nights in a row with my flashlight reading because I couldn't stop and they inexplicably wouldn't let me read this through fifth grade math, to which I still say WTF ARE YOU TALKING ABOUT, THIS IS WAY MORE IMPORTANT THAN FIFTH GRADE MATH. After that, I became obsessed. And I remained obsessed with reading. I remain obsessed with reading.
My favorite is the Goblet of Fire because this is where the series took a turn for the dark. This is where the deaths started. And I felt like Rowling was giving us a little nudge. Telling us it was time to grow up, just a bit. Letting us know that the world didn't always have happy endings, not for every character. Not for every person. But that it was still important to do the right thing. Even when it's hard. Even when the stakes are high and the cost could be more than you were ever willing to give. J.K. Rowling taught me morals. She helped me grow up. And she taught me that books contained the keys to the kingdom, the lessons for life, and my truest love.