This dish is not pretty, but it is excellent for lunches you want to make in advance when impressing with visual aesthetics is secondary to flavor and a longish fridge life.
I used only one bag of spinach, but next time will probably use two. You can also use bone-in, skin-on chicken thighs, but make sure to skim the fat off after cooking and skip adding the extra tsp. of olive oil to the pan. (Bone-in is a must for flavour in any case.)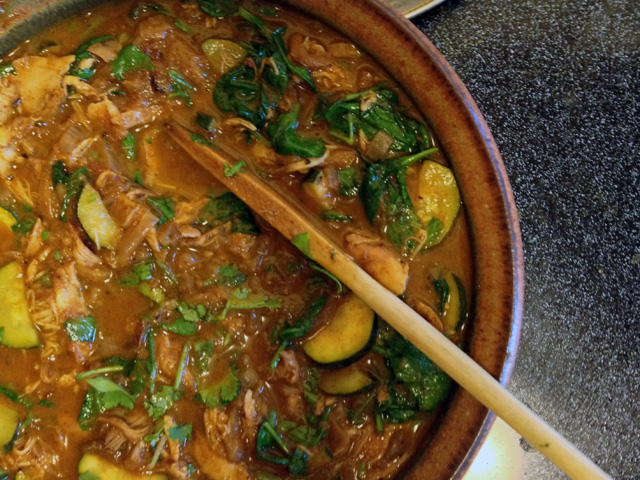 Braised Chicken with Spinach and Zucchini
Ingredients
6-7 bone-in, skin-off chicken thighs
Kosher salt and black pepper, freshly ground
2 tbsp. + 1 tsp. extra virgin olive oil
1 large red onion, peeled and sliced
1 1/2 tsp. ground ginger
1 1/2 tsp. ground cinnamon
1 tsp. ground cumin
1 1/2 cups carrot juice
1 cup low-sodium chicken or vegetable broth
12 dates, pitted and sliced lengthwise
1 lemon's worth of freshly squeezed lemon juice
2 tbsp. cilantro, coarsely chopped
2 small zucchini, chopped into half moon chunks
spinach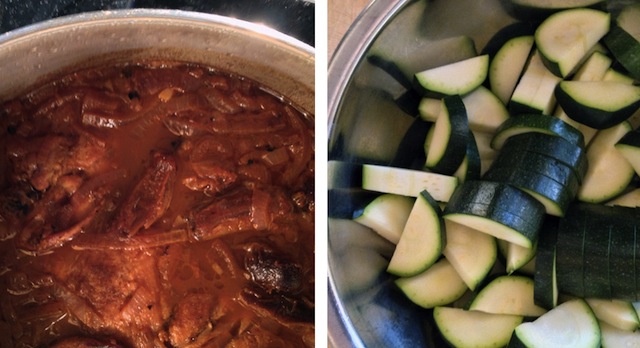 Directions
1. Preheat the oven to 350°F.
2. Heat 2 tbsp. of olive oil in a deep oven-proof sauté pan over medium heat. Season the chicken pieces with salt and pepper, arrange in the pan and cook until browned (about five minutes). Flip and cook for an additional five minutes. Transfer to a plate.
3. Add an additional 1 tsp. olive oil to the pan. Add the onion and cook until soft, stirring often (about seven minutes). Watch the bottom of the pan closely, and if it looks like it's getting brown add a splash more oil or everything will stick. Add the ginger, cinnamon and cumin and cook for another minute. Add the carrot juice and bring to a boil, scraping the bottom of the pan with a wooden spoon. Add the chicken pieces to the pan again.
4. Cover and braise in the oven for 15 minutes. Add the dates, stir and braise for another 30 minutes. Add the zucchini and braise for another five minutes.
5. Remove from oven and use a slotted spoon to transfer anything solid in the pan to a serving bowl. Bring the sauce to a boil over medium-high heat, then reduce the heat and simmer uncovered until it thickens — about five minutes. While you wait, remove the bones from the chicken in the bowl. Add the lemon juice and spinach, mixing quickly until it wilts. Remove from heat and pour over everything in the bowl.
6. Sprinkle with cilantro and serve over couscous.