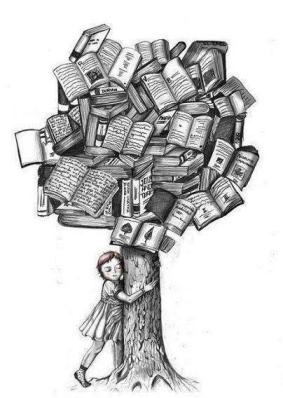 It is a truth universally acknowledged that people like to make lists of the 100 Best Books Of All Time. For example, Ms. Magazine's 100 Best Non-Fiction Books Of All Time, The Guardian's 100 Greatest Non-Fiction Books and The Modern Library's 100 Best Novels. We like making lists too, but when it comes to parsing out the 100 Best Lesbian Fiction & Memoir Books of all time (yes, graphic novels included), that's  feat we can hardly accomplish on our own. It's gotta be a group decision.
So, we need you to vote on the best queer lady themed books of all time in the Fiction and Memoir category. As for what it means to be considered a queer-lady book, we figure that'll actually be up to you — your votes will determine what counts and what doesn't.
Here's how to vote:
Go to Goodreads to nominate books and vote on books that have already been nominated. Feel free to add a lot of books to the list! If you don't have a goodreads account, it's pretty easy to register — you can sign up and vote and never return again, if you so desire. Wanna jog your memory? Check out the many lists of LGBT books we've made on this website.
On November 25th, voting will cease and we'll publish The Autostraddle Readers' List of The Top 100 Lesbianish Fiction & Memoir Books Of All Time.
PSA: Also a reminder that whenever you buy books on the internet, you could be buying that book AND incidentally giving ten cents to autostraddle if you access amazon via this link or the book depository via this link or indiebound via this link.
What are you waiting for? Go vote!