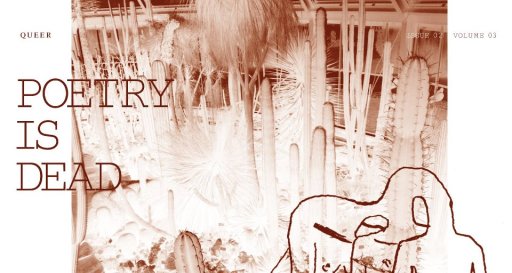 As a rule of thumb, I wait until I'm halfway through a literary journal before checking in with myself to see if I'm actually enjoying what I'm reading. Anthologies and lit magazines are a lot like dollar store grab bags. For every "This is amazing work," you feel after reading a poem or essay, there might be three items that make you sigh, "What the f-ck is this mess?" Assessing the quality of a literary journal is another issue: Do I go for a majority-rule and weigh the number of works I adored versus works that I loathed? But what about this one tremendous work which is still lingering in my mind? Is it worth calling this a "good lit journal" just because it introduced me to this fantastic writer whose career I will follow until one of us keels over?
When I received a copy of the Queer Issue of Poetry is Dead this weekend, I didn't have to ask myself any of these neurotic questions. I didn't have to "check in" with myself halfway through, either. My body told me everything that I needed to know. I nearly teared up while reading the editor's letter. When I answered the phone or went to make a leftover turkey sandwich, PiD found its way onto the countertop beside me. I wasn't conscious of my hands turning the pages–just that I had to stop because there weren't any more. I enjoyed everything about it until the end.
Despite its tongue-and-cheek name, Poetry is Dead is pleasant evidence to the contrary. When I began reading the first essay (a piece by Lisa Foad on her Jehovah's Witnesses' upbringing), it wasn't until I revisited the table of contents that I realized that I was reading an essay and not a poem. One, the page formatting is reminiscent of that for poetry. Two, the work is a fragmented narrative which is broken down into 15 sections. Three, it reads with the fluidity of a poem:
My grandmother hasn't read my book. It
sits on a shelf next to her collection of
Watchtower publications. She's proud of the
spine that bears my name. But she doesn't
want to know what's inside.
My mis-genre-ing felt oddly appropriate. In a subsequent essay, Leah Lakshmi Piepzna-Samarasinha writes about poetry being "the rock which everything rests on":
Chrystos said, "Poetry is the song of the people, not the painted bird of the academic machine."
Audre Lorde said, "The white father said, I think therefore I am. The Black mother inside–the poet–whispers in my dreams: I feel, therefore I can be free."
June Jordan, in her letters to her publisher, insisted that she was a poet first and always, regardless of her prodigious efforts writing nonfiction, essays, and kids books. And her editor (Toni Morrison) agreed…
Along with beautiful essays masquerading as poems, PiD's Queer Issue features plenty of poetry masquerading as poetry, including work by Pam Dick and Oana Avasilichioaei, Kierst Wade, John Barton, Steve Giasson, and accidental Autostraddle sweetheart, Leah Horlick:
We are so busy counting everything that's been inside of me
since my last check-up: tampons, ex-girlfriend,
Diva cup, ex-girlfriend, yeast infection, ex-girlfriend
that I don't hear the doctor call my name.

– Excerpt from "For queer grrrls who have considered silence/when the pap smear is too much"
For only being 64 pages in length, PiD's Queer Issue has so much to offer. Whether you're into queerboy lust poems inspired by Plath (Nick Comilla), poems about kissing lover's scars (Wade) experimental email poetry (Dick and Avasilichioaei), scanned heartfelt poems penned onto receipts (Alexander Sebag) or poetic comic panels (Sarah Leavitt and Jen Currin), this tiny lit journal has as many forms of poetry within its pages as it does previously-inarticulated queer experiences.
PiD can be snagged through the publication's website.